At the age of 19, a transformative chapter unfolds in the lives of most individuals.
Being 19 means being marked by self-discovery, independence, and the challenges of moving from adolescence into early adulthood.
A great number of artists have captivated the emotions behind these characteristics and documented them in their songs.
Nostalgia, distress, anxiety, optimism, possibilities, doubts, love, and adventures. All of these and much more are on this list with 31 songs about being 19.
Let's dive into it!
1. 19 and Crazy – Bombshel
19 and Crazy is about regrets. More precisely, about not having them.
This is the storytelling of a girl who lived her youth to the fullest, falling in love with guys, and not caring what the neighbors said.
2. Hey Nineteen – Steely Dan
In this song, we find a relationship between a man and a woman.
There's a generation gap that makes the affair all the more unequal, and, as a result, problems arise.
3. I Was Only Nineteen (A Walk In The Light Green) – Redgum
When thinking about songs that talk about being 19, we picture rebellious lyrics discussing youth and stamina.
This one, however, couldn't be further from the truth.
Redgum created this tune to pay respect to Australian Vietnam Veterans who fought in the war at such an early stage of life.
4. Nineteen – Movements
Being a teen is fun, but also chaotic.
During those periods, it's of paramount importance to gain confidence and assertiveness.
Movements wrote this song to help their lost fans during the final teenage periods and the beginnings of early adulthood.
5. Nineteen in Naples – Jonathan Richman
This one's the narration of a 19-year-old boy who travels to Naples, Italy.
The spirit of adventure and the thought of endless possibilities dissipate once the narrator finds himself facing his emotions: fear, doubts, and insecurities.
6. Coxton Yard – Title Fight
Once again, we are in front of a song that deals with the gloomy and depressing side of being at this age.
Insecurities and fear of the unpredictable future will always arise during those years, but there's always a way out.
7. Nineteen – Tegan and Sara
Canadian duo Tegan and Sara wrote this song that appears to be about a love relationship that happened when the narrator was 19 years old.
Paramore's Hayley Williams made a cover of this one for the album The Con X. You don't want to miss on that one either!
8. She's 19 Years Old – Muddy Waters
Blues singer Muddy Waters has this song about frustrations.
To be more precise, frustrations related to intimacy.
The musician is dating a young girl who is still too immature for him, and thus, creates these kinds of issues within the relationship.
9. Not Nineteen Forever – The Courteeners
Not Nineteen Forever discusses the problematic relationship between a man and a woman.
This woman, who is much older than the 19-year-old man, takes advantage of her age to influence the poor man and use him for her own benefit.
10. Kilby Girl – The Backseat Lovers
Yet another song in which there's a loving bond between two people of different ages.
As usual, the experience turns out to be quite a mess, with both parties finding themselves in arguments and problems.
Nonetheless, they still manage to keep together and sweep the dirt under the rug.
11. Perfect Places – Lorde
Perfect Places comes from the personal experiences lived by the singer.
She would find herself both in endless parties, but, simultaneously, facing an inner turmoil of negative emotions.
12. I Don't Like Who I Was Then – The Wonder Years
Depression and suicide are some of the topics dealt with in this track.
Hopefully, this is just the very first part of the song.
Eventually, the 19-year-old narrator realizes that there's still something worth living for, and decides not to surrender.
13. Nineteen and Aimless – Joshua Lee Turner
Here there's a song where reality feels like being splashed with a bucket of iced water.
Indeed, certain periods involve tearing down the pillars built during our prime years.
This is pure chaos, but it's necessary to construct a brand-new future. One that goes according to our new version.
14. Once And Never Again – The Long Blondes
Although Once And Never Again also covers a problematic relationship, this one does it with people of the same age.
The Long Blondes wrote this song in which a mother warns a young 19-year-old daughter about the dangers of dating her current boyfriend.
15. nineteen – Lil Peep
Based on experiences lived by rapper Lil Peep.
All in all, the song is about being at this age and steadily climbing the ladder of fame, which, even though seems juicy, has quite a handful of disadvantages as well.
16. Dear John – Taylor Swift
Dedicated to one of Swift's ex-boyfriends, whom she dated between her 19 and 20 years old.
17. Please Don't Tell My Father That I Used His 1996 Honda Accord To Destroy The Town of Willow… – Pet Symmetry
The lyrics to this one are fantastic. And yeah, the title is pretty much self-explanatory, in case you didn't notice.
They narrate a series of criminal events made by a barely 19-year-old person.
After stealing their father's car, the youngster vandalizes, crashes, and destroys everything in sight.
The next morning, the 19-year-old wakes up in bed. Will he or she face the consequences?
14 More Songs About Being 19
| | |
| --- | --- |
| Title | Artist |
| 19 | Old 97's |
| 19 | Paul Hardcastle |
| Fast | Juice WRLD |
| Twinkle Lights | The Sonder Bombs |
| Balance of the 19 | Secret Chiefs 3 |
| Anything You Want | Spoon |
| Trouble | Imagine Dragons |
| Falling Down A Hole | Crywank |
| We've Been Had | The Walkmen |
| Thumbs | Lucy Dacus |
| 19 | Landon Cube |
| Pushing 20 | Sabrina Carpenter |
| Nineteen Forever | Joe Jackson |
| 19 Somethin' | Mark Willis |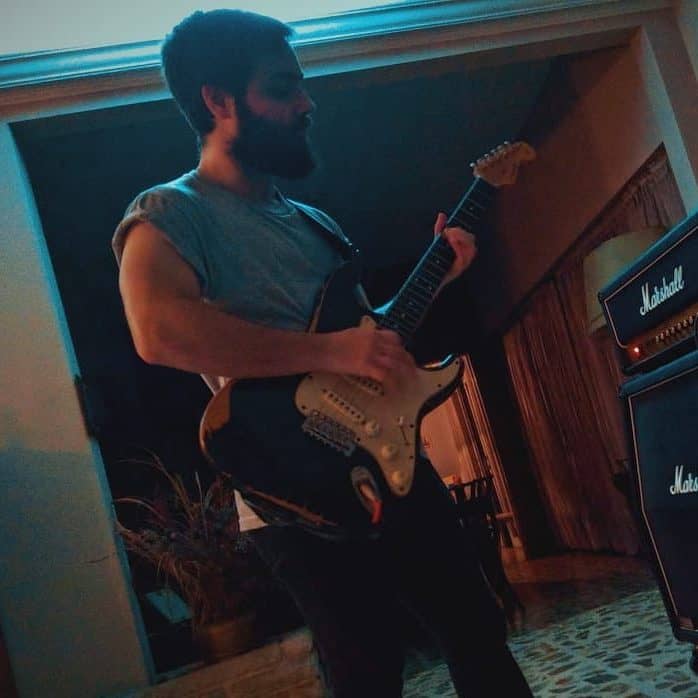 Hello there, my name is Ramiro and I've been playing guitar for almost 20 years. I'm obsessed with everything gear-related and I thought it might be worth sharing it. From guitars, pedals, amps, and synths to studio gear and production tips, I hope you find what I post here useful, and I'll try my best to keep it entertaining also.