Are you a fan of peaches?
Did you know that there are countless songs that have been written about this delicious fruit?
From classic rock to indie pop, peaches have been a popular theme in music for decades.
In this article, we've compiled a list of the best songs about peaches.
You'll find some well-known hits as well as some hidden gems that you may have never heard before.
Whether you're looking for a catchy tune to add to your summer playlist or simply want to appreciate the fruit in a new way, these songs are sure to satisfy you.
From the iconic "Peaches" by The Presidents of the United States of America to the recently popular "Peaches" by Justin Bieber, we've got you covered.
We'll delve into the lyrics and melodies of each song, exploring their unique interpretations of the fruit.
So sit back, relax, and get ready to discover the best songs about peaches.
You may even find a new favorite that you'll want to listen to on repeat!
1. Peaches – Justin Bieber
If you haven't heard "Peaches" by Justin Bieber, you're seriously missing out on some good vibes!
This hit song from his "Justice" album is like a juicy peach on a hot summer day – sweet, refreshing, and impossible to resist.
Bieber teams up with Daniel Caesar and Giveon to bring us a smooth and catchy tune that'll have you humming along in no time.
The lyrics are all about living your best life and enjoying the finer things – think fast cars, designer threads, and beautiful people.
And it's not just fans who are raving about "Peaches" – it's been dominating the charts worldwide and racking up billions of streams.
Bieber has proven once again that he's a true pop icon who knows how to bring the party.
So, what are you waiting for? Take a bite out of this musical peach and let the good times roll!
2. Peaches – Jack Black
For the release of the Super Mario animated movie, Jack Black, who plays Bowser, the villain, decided to record this fun piano track about peaches.
But actually, it refers to Princess Peach, another important character in the Super Mario franchise, who is kidnapped by the evil dinosaur turtle.
Jack gives us his all in this performance, and the tune has a deep, but clearly joyful and fun vibe to it.
3. Peach – Future Islands
On a more serious note, Future Islands is a great band not many know about.
Famous for their driving grooves, and amazing vocals, they have a ton of great indie or alternative tracks, and "Peach" is no exception.
This a great song about life, its imperfections, and finding balance.
4. Peach – Kevin Abstract
American rapper Kevin Abstract comes at number four with his take on the topic.
He uses the expression "peaches and cream" throughout the song as a stand-in for good things and good times.
It's a callback he goes to when talking about a relationship with a girl.
A must listen if you enjoy hip-hop.
5. Peach Pit – Peach Pit
You can't get more peachy than this.
Peach Pit is a band I've been following for a while now, and that I'd recommend you give a listen to.
Songs like "Alrighty Aphrodite" are real bangers.
Now, for this track that shares the band's name, the guys use the life cycle of peach as an analogy to someone's life and its hardships.
From the safety of growing at home to being surrounded by rotten fruit.
6. Peach – Oscar Scheller
Oh boy, this song is all about loving yourself and feeling fabulous!
The singer is really getting in their feelings and admiring themselves in the mirror.
They even playfully flirt with their own reflection, thinking they're not too bad looking and calling themselves a king!
The lyrics are all about feeling good in your own skin and being happy with who you are.
It's like wearing your Sunday best and being proud of yourself.
The singer is feeling love-drunk on their own power and doesn't want to turn sour.
They're just loving themselves like a peach!
It may seem a bit self-obsessed, but hey, they're feeling themselves and that's all that matters!
7. Peach – Slothrust
Slothrust takes build us up in this song with language that makes us think of childhood memories, and perhaps taking revenge on a bully.
However, all the expectations are subverted at the end when she remembers that she's soft as a peach.
It's a great reality check for many of us that get easily pumped up in our heads, but when it comes to taking action, we realize we are not built for it.
8. Peach – Prince
"Peach" is all about the joys of summer and the thrill of having a crush on a total babe.
Prince is head over heels for this lovely lady, and he can't help but gush about her every feature, from her gold hot pants to her perfect peachiness.
But let's not forget the carefree feeling of summertime that pervades this song! It's all about having fun and feeling alive, even if that means being a little bit silly or a little bit daring.
And hey, even though he may not have a shot with this gorgeous gal, that doesn't mean he can't appreciate her beauty from afar and have a little fun with it!
9. Peach Dream – Sniffle Party
The lyrics of this tune talk about the feeling of freedom and excitement that comes from staying up all night with friends, enjoying the company and the beauty of the world around us.
The singer describes being outside, by the riverside, and feeling so alive that their heart is beating fast and their eyes are wide open.
The chorus repeats the phrase "We make our own time," emphasizing the idea that when we're with the people we love, time doesn't matter as much.
It's like we're creating our own little world where we can stay up all night and watch a thousand rising suns without any worries.
10. Peach Dream – Lucki
This one is all about a guy who knows exactly what the girl he's into wants from him.
He misses her and her friend and wants to hang out with them again.
He's bragging about how he's done everything himself and doesn't need anyone else to make him successful.
He talks about how this girl is too good to be true, like a popular type of cough syrup called Actavis.
He's also talking about taking pills and mixing them with Sprite, which he refers to as his medicine.
Perhaps not the most healthy thing to do, but really a catchy tune!
11. Peaches – MIYNT
12. Durazno Sangrando – Luis Alberto Spinetta
13. Peaches En Regalia – Frank Zappa
14. Heavenly Peach Banquet – Monkey
15. Peach Eyes – Wave to Earth
16. Peach – Ai Otsuka
17. Peaches – Kai
18. Peach Fuzz – Tyler, The Creator
19. Peach – Aaron Childs
20. Peach – Seaway
21. Peach – Chevelle
22. Peach Trees – Ax and the Hatchetmen
23. Peaches – Nenei
24. Peaches – The Presidents of the United States of America
25. Georgia Peaches – Lynyrd Skynyrd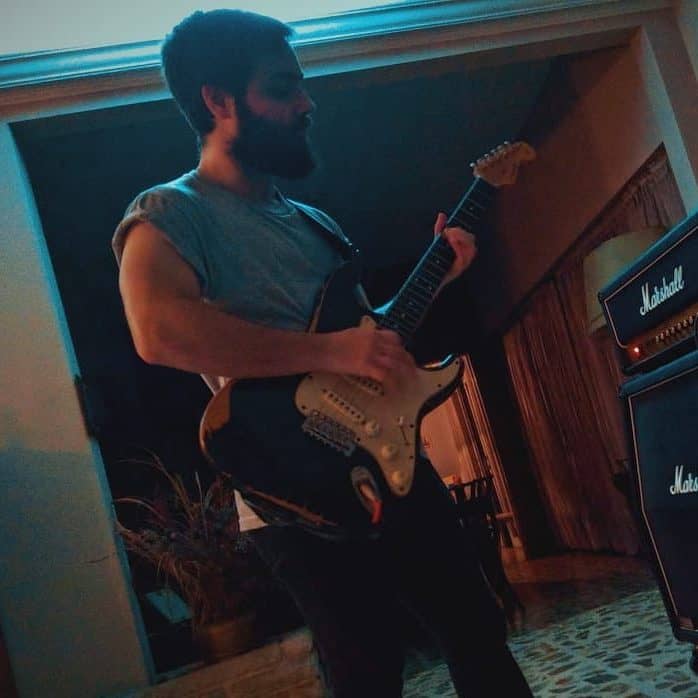 Hello there, my name is Ramiro and I've been playing guitar for almost 20 years. I'm obsessed with everything gear-related and I thought it might be worth sharing it. From guitars, pedals, amps, and synths to studio gear and production tips, I hope you find what I post here useful, and I'll try my best to keep it entertaining also.