Sundays are bittersweet days of the week.
On the one hand, it's the day that most people are free from work and school, so they can relax and enjoy themselves.
On the other hand, it's also the closest day to Monday, which means that the tiresome routine is prowling just around the corner.
Either one or the other, we are glad Sundays exist. So, we're honoring it with a list of 23 songs dedicated to this day of the week.
1. Sunday Best – Surfaces
First one on the list is a celebration of this last day of the week (or the first one, for some).
Sundays are meant to be enjoyed, and Surfaces honored this fact in this "cheer-yourself-up" song about being grateful and looking on the brightest side of a day.
2. Easy – Faith No More
Originally written and composed by The Commodores and covered by Faith No More as a B-side for the Angel Dust album.
It's the only song here in this list in which the word "Sunday" doesn't appear in the title.
The reason it's here is that long story short, the singer says he's "easy like a Sunday morning" after breaking up with his girlfriend.
3. Everyday Is Like Sunday – Morrissey
"Everyday is like Sunday / Everyday is silent and gray"
As stated in the intro, Sundays are not always bright and uplifting moments.
For many, a Sunday is a day spent in solitude and boredom.
4. Sunday Morning Coming Down – Johnny Cash
Written by Kris Kristofferson but popularized by the man in black.
5. Sunday Rain – Foo Fighters
In 2017, Concrete and Gold was released, featuring this fantastic song in which Sir Paul McCartney is in charge of the drums, while drummer Taylor Hawkins (Rest In Peace) steps in front of the microphone to sing it.
6. Sunday – Sonic Youth
In 1998, Sonic Youth released A Thousand Leaves, featuring Sunday, the only single that came off of that album.
7. We Don't Celebrate Sundays – Hardcore Superstar
This Swedish hard rock group released this track in their self-titled album.
In my opinion, this song is about having a blast on Friday and Saturday, then dealing with the consequences on Sunday (thus, not celebrating it). However, it also has some "non-religion" connotations.
8. Sunday Morning Calling – Oasis
Believe it or not, many musicians write songs just to end up hating them.
This one on the list is a vivid example of it.
Oh well, and Wonderwall too, but that one is not a surprise.
9. Sunday Morning – The Velvet Underground, Nico
The song was written on a Sunday morning, as the title implies.
According to artist Andy Warhol, the lyrics are about the paranoia and depression that comes when the drug effects are wearing off.
10. Blue Sunday – The Doors
A love song that dates back to the early beginnings of the group. Nonetheless, the song appeared for the first time in the group's fifth studio album Morrison Hotel.
11. Sunday Morning – No Doubt
It seems that Sunday mornings are a personal favorite moment for many…
Nonetheless, in this case, the song lyrics are far from being an "easy morning" whatsoever.
12. Sunday Morning – Maroon 5
Sunday Morning by Maroon 5 is about spending a rainy day with your significant other… well, kind of…
It is about missing that special one on a rainy Sunday morning.
Once again, we find yet another song in which Sunday mornings are far from being a moment of joy.
13. Sunday Bloody Sunday – U2
Sundays are generally associated with days for relaxation. Unfortunately, this song is an exception.
This U2 classic is, in part, about a Bloody Sunday that took place in Ireland in 1972 when British paratroopers killed 13 Irish protestants.
However, lyrics are also related to social clashes in general.
14. Sunday Afternoon In The Park/One Foot Out The Door – Van Halen
There's nothing related to Sunday on this song, other than the title. After all, this track is an instrumental intro for the final track on Van Halen's fourth album Fair Warning.
Here you'll find the two tracks combined in one video.
15. Sunday Sunday – Blur
British group Blur made a song about British Sunday activities, such as walking in the park, gathering with your family, and having something to eat.
Naturally, the lyrics have a deeper meaning, other than that.
16. Lazing On A Sunday Afternoon – Queen
The title says it all.
If you worked your fingers to the bone during the entire week, then you've earned a good day of leisure.
17. I Met Him On A Sunday – The Shirelles
A song from the 60s that tells different situations, each happening on a specific day of the week.
The singer meets a man on Sunday, then dates him on Wednesday, kisses him on Thursday, and so on.
Spoiler ahead: the woman ends up cutting all ties with the guy just because he didn't appear on Friday.
There you have the most patient person in the world.
18. Sunday Girl – Blondie
This one has a weird and particular meaning behind it.
Chris Stein (Blondie's guitarist) wrote the song for singer Debbie Harry who was sad after finding out that her cat ran away when the band was on tour.
Now, you may ask yourself what's the relationship between a cat and a Sunday?
Oddly enough, Harry's cat was called "Sunday Man."
19. That's What I Love About Sunday – Craig Morgan
Country singer Craig Morgan released this song in 2005 in his album My kind of Lovin'.
What's interesting about this song is that it was the first independent single to reach the #1 spot in the country chart since the year 2000.
20. A Sunday Kind of Love – Etta James
21. Closed On Sunday – Kanye West
22. Sunday – David Bowie
23. Never Mess With Sunday – Yppah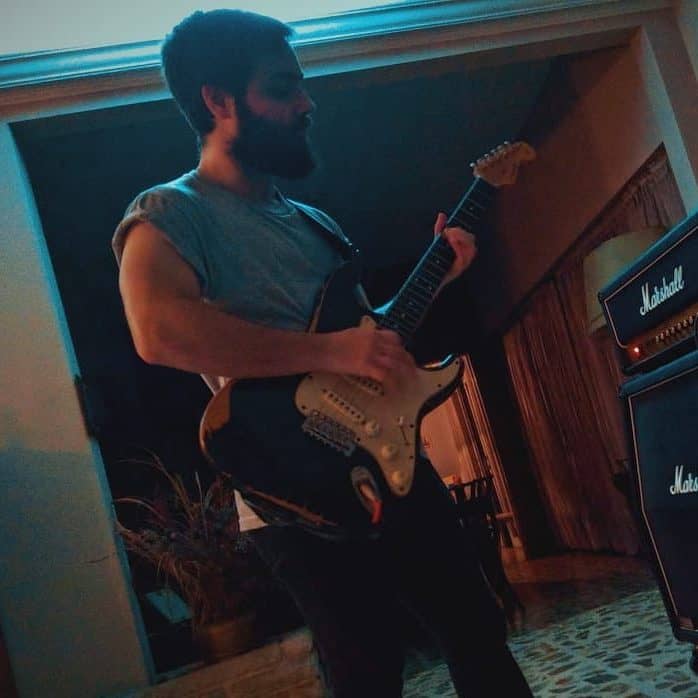 Hello there, my name is Ramiro and I've been playing guitar for almost 20 years. I'm obsessed with everything gear-related and I thought it might be worth sharing it. From guitars, pedals, amps, and synths to studio gear and production tips, I hope you find what I post here useful, and I'll try my best to keep it entertaining also.