Skin is the largest organ in the human body and it serves as a canvas for self-expression.
For example, it can be used as a metaphor for vulnerability, intimacy, and of course, sensuality.
Bands and singers have written songs about skin, exploring its physical, emotional, and cultural significance.
From the smooth texture of a lover's touch to the scars that tell the story of one's journey, skin can reveal a lot about a person.
We will explore some of the most iconic and meaningful songs about skin, and how they capture the essence of this complex organ.
Whether you're a music lover or simply curious about the art of songwriting, these 23 songs will inspire you to appreciate the beauty and complexity of the human skin.
1. Fuck Tha Police – N.W.A.
Unfortunately, this song needs a spot on the list.
I say unfortunately not because of the song itself, which is one of the greatest rap songs in history.
I say it because this is related to a problem black people have been struggling with for centuries: racism.
Indeed, this N.W.A. classic is a call out to the police brutality certain people suffer just because of their skin color.
Nonetheless, it's great to know that the core message of the song is to reject this unacceptable behavior.
2. Skinned – Blind Melon
Trigger warning, the inspiration behind Skinned is quite morbid.
Skinned appeared in Blind Melon's 1995 album Soup.
It's about a serial killer known as Ed Gein. If you are a horror enthusiast, you already know about this man.
Ed Gein inspired the Texas Chain-Saw Massacre saga. Naturally, Gein would dig up graves and remove the skin from dead women and build masks, gloves, lampshades, and much more with them.
Ed died in 1984 of respiratory failure, which means that this song was made more than a decade after the killer's death.
3. Skin and Bones – Cage The Elephant
Skin and Bones is a metaphor for life.
After "running for so long" and struggling with adversity over and over again, one feels there's nothing left other than skin and bones.
It may also be considered a form of resignation; all you've got is skin and bones, so there's nothing else to lose.
Although it might seem tragic, this is a liberating thought.
4. Dead Skin Mask – Slayer
Yet another song about Ed Gein and his atrocious crimes.
The song is narrated in first person, through the eyes and mind of Gein. Ironically, it makes you put yourself "under his skin."
Probably the best line of Dead Skin Mask is the one that says "In the depths of a mind insane / Fantasy and reality are the same"
As Joseph Conrad said, "reality, as usual, beats fiction out of sight."
5. Killing In The Name – Rage Against The Machine
Similar to the case of N.W.A., Killing In The Name points out the lack of empathy from police officers toward the black community.
Come to think about it, lack of empathy is barely the tip of the iceberg. The song points out hatred and null sensitivity.
RATM is not afraid to compare authoritative abusers with the Ku Klux Klan.
Unfortunately, skin color still makes a difference even in the 21st Century. 
6. I've Got You Under My Skin – Frank Sinatra 
The man singing this song is having a secret affair.
He wants to cut it out, but unfortunately, he's already too deep into the polemic relationship. He tells himself to wake up from reality, in a futile attempt of getting rid of her.
I've Got You Under My Skin was covered by Lady Gaga and Tony Bennett in the 2021 album Love For Sale. It's a beautiful cover, and you should check it out if you haven't already.
7. Skin O' My Teeth – Megadeth 
From the classic album Countdown To Extinction comes Skin O' My Teeth, the opening track of the album.
The title's based on a theater play called The Skin Of Our Teeth, written by American novelist Thornton Wilder.
8. Skin – Rihanna 
We have covered plenty of meanings related to skin: discrimination, atrocious crimes, and the hardships of life.
However, Skin by Rihanna gives a more obvious meaning to the word.
Indeed, this song's about sex, where we have the singer begging her man to take his clothes off.
After all, skin contact and love are what make intimacy possible.
9. American Skin (41 Shots) – Bruce Springsteen 
What a wretched reality some Americans face every day.
Violence, ignorance, sexual and racial discrimination. These are some of the issues discussed by Springsteen in this song from the 2014 album High Hopes.
Nonetheless, American Skin appeared first on the 2001 live album recorded in New York City.
10. Rose Tattoo – Dropkick Murphys 
Tattoos are beautiful.
A short phrase or a little drawing could carry dozens of anecdotes and memorable moments.
Of course, not all tattoos need to have meaning. Some of them are on one's skin just because they're beautiful.
Or as this song says "others are for showing off…"
What's really important is that you show them proudly on your skin.
More often than not, tattoos are scars with colors.
And talking about scars…
11. Made of Scars – Stone Sour 
Whether metaphorically or literary speaking, scars are a sign of survival.
You had it rough and got almost beaten by death. But you're much stronger now and can show your scars to the rest of the world.
They are also a reminder that you're living better days, or in the worst of cases, that you will survive once again this terrible present.
12. The Skin Game – Janet Jackson 
13. Salt Skin – Ellie Goulding 
14. Skin Deep – Buddy Guy 
15. Skin to Bone – Linkin Park 
16. Skin and Bones – Foo Fighters 
17. Brown Skin Girl – Beyoncé feat Blue Ivy, SAINt JHN, WizKid 
18. Satellite Skin – Modest Mouse 
19. Skin – Mac Miller 
20. Skin Trade – Duran Duran 
21. My Skin My Logo – Solange 
22. Skin – Rag'n'Bone Man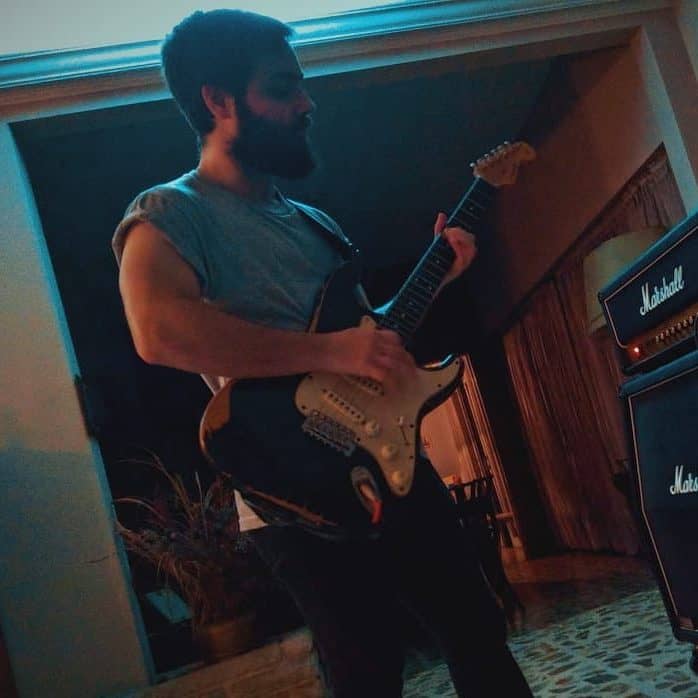 Hello there, my name is Ramiro and I've been playing guitar for almost 20 years. I'm obsessed with everything gear-related and I thought it might be worth sharing it. From guitars, pedals, amps, and synths to studio gear and production tips, I hope you find what I post here useful, and I'll try my best to keep it entertaining also.