Everyone has experienced missing that special person that brightens our days at one moment in their lives. Whether it is a family member, a partner, or a friend, you already know that bitter emotion that fills you with impatience.
It is said that misery loves company, so if you're missing someone better to do it with the best music.
Here we have collected 25 songs about longing for someone's presence.
1. I Miss You – Beyoncé
Three words sum up the entire list.
This Beyoncé masterpiece exhibits the thin line between missing and obsessing. Not in a dangerous or psychotic form, but rather on how the image of the person you miss revolves around one's head over and over again.
2. Wish You Were Here – Pink Floyd
A Pink Floyd classic that appears in the album by the same name.
It's so relevant that the title even made it to hundreds of t-shirts and postcards.
3. So Far Away – Avenged Sevenfold
Dedicated to former drummer Jimmy The Rev Sullivan who passed away at the age of 28 years old.
The rest of Avenged Sevenfold's members remember the great moments they shared with The Rev in an emotional music video.
4. I Still Love You – KISS
Breakups are a sad event. They cause a lot of pain, generally for both sides.
Unfortunately, there are some people who seem never to let go of their exes.
This song captivates that emotion.
5. Wasted Years – Iron Maiden
Written by guitarist Adrian Smith who got tired of life on the road.
Despite living the dream of thousands as a famous and rich musician, Adrian was a few albums away from quitting the band.
Naturally, it seems that no success can relieve the pain of missing home.
Adrian Smith has long ago returned to Iron Maiden. We do hope he has learned to enjoy being on tour, though.
6. Miss You Like Crazy – Natalie Cole
Natalie Cole pours her heart out in this song.
Miss You Like Crazy is about carrying the burden of an absence. More specifically, the one from a love partner.
Years may pass by, but the singer still remembers the precious moments lived with that person.
7. Miss You – The Rolling Stones
Mick Jagger claimed Miss You is based on the emotion behind missing someone.
In other words, he wrote it thinking about the pain that brings the yearning for someone's presence.
Many fans believe a different story, though, thinking that this hit was inspired by Jagger's difficult relationship with his wife Bianca.
8. Creep – Stone Temple Pilots
A grunge classic that seems not to be about missing someone at first sight. At least, until we reach the chorus.
The singer laments not being the person he was in the past, believing he´s now "half the man" he used to be.
This song, then, is about missing a part of oneself long ago gone.
9. Heartbreak Station – Cinderella
Hair rock was characterized by three features.
Long hair full of spray, dudes wearing make-up, and heartbreaking power ballads.
Cinderella may have lacked the heavy makeup (at least after the first record), but they had ballads to spare.
Heartbreak Station appears on the band's third album. As most ballads did, the lyrics are about a love story that didn't have a happy ever after.
10. Joanne – Lady Gaga
If David Bowie was the chameleon of Rock, then it's fair stating that Lady Gaga is the chameleon of Pop.
Naturally, she has worn extravagant and unique costumes throughout her career. Not to mention, she has experimented with a variety of sounds and styles, despite focusing solely on Pop music.
This album, however, presented a "standard" facet of the artist, showing herself as a normal woman.
Joanne is dedicated to Gaga's aunt who passed away decades before Gaga was even born.
Nonetheless, I believe it's fair to claim this song suits anyone who's missing a family member who has passed away.
11. Yesterday – The Beatles
Paul Mc Cartney is a hit-maker. Yesterday is just a mere example of the many jewels he has written.
It makes it to the list because it's a song about the past. One that carries a melancholic connotation.
In Yesterday, we feel the sorrows of a man who misses the past years of his life in which he was happier.
12. I Still Miss Someone – Johnny Cash
Co-written by Cash's nephew, I Still Miss Someone has become a classic of the Man In Black.
It appears on his second album "The Fabulous Johnny Cash".
13. Need You Now – Lady Antebellum
The members of this trio wrote Need You Now to imprint the feeling of desiring someone's companion in the middle of the night, but being unable to fulfill the expectations.
According to the singer, everyone knows how it feels to be lonely, call someone at midnight, and regret the decision the following day.
14. Supermarket Flowers – Ed Sheeran
Ed Sheeran mourns the death of his grandmother in this song that made it to the album at the very last minute.
15. The Bed's Too Big Without You – The Police
The first single released off the best-seller album Regatta de Blanc.
The song's inspiration emerged after Sting broke up with his first girlfriend.
Unfortunately, that girl committed suicide not long after the separation…
16. Think About You – Guns N' Roses
A bit of an underrated song off the debut album Appetite For Destruction.
Needless to say, Appetite has sold millions of copies, which means that any Gun N' Roses fan knows this one.
But all things considered, it tends to be forgotten when compared to classics such as Paradise City, Sweet Child of Mine, Mr. Brownstone, or Rocket Queen.
17. I Miss The Misery – Halestorm
18. Thinkin' Bout You – Frank Ocean
19. Back To December – Taylor Swift
20. I Miss You – Blink-182
21. When I Was Older – Billie Eilish
22. Drinkin' Without You – Crashdïet
23. Snuff – Slipknot
24. I Remember You – Skid Row
25. Cornerstone – Arctic Monkeys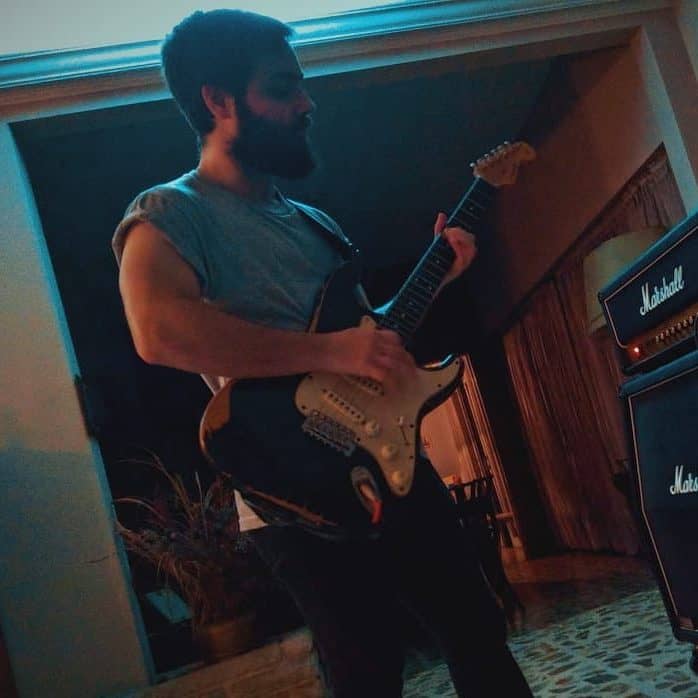 Hello there, my name is Ramiro and I've been playing guitar for almost 20 years. I'm obsessed with everything gear-related and I thought it might be worth sharing it. From guitars, pedals, amps, and synths to studio gear and production tips, I hope you find what I post here useful, and I'll try my best to keep it entertaining also.