The loss of a loved one is a bitter experience.
If you are living through such a hard moment, I do hope you find all the warmth and strength needed to overcome this difficulty.
Here you'll find a list of the best songs for funerals to remember the life of that special person that will always be in your heart and thoughts.
1. My Way – Frank Sinatra
My Way needs to be first on the list because of the bittersweet optimism that its message conveys.
This immortal song is a rememoration of all the experiences that an individual came across: traveling, regrets, love, laughs, failures, and victories.
2. Heroes – David Bowie
Heroes may not be the first song to come to our minds when thinking about mourning someone.
Nonetheless, its emotive lyrics and chord progression fit the atmosphere perfectly.
This is especially true when we remember a cover by Motörhead was published after Lemmy Kilmister passed away.
Oh, yes. And if you saw the final episode of Regular Show, then again, you know this song deserves a spot on the list.
3. Requiem – Mozart [any movement]
This one's an exception because Requiem is not a song, but an entire composition.
Wolfgang Amadeus Mozart wrote this epic work of art during his final hours.
More interesting, is that Requiem was finished by one of his disciples because the classical musician died before finishing it.
A Requiem is a religious composition made for the repose of the soul.
I strongly believe both factors make Mozart's Requiem one of the most appropriate funeral compositions ever.
4. Suppertime – Johnny Cash
Johnny Cash sings a beautiful song where he recalls the moments of his childhood spent with his mother.
He looks up at the sky and sees her mother in Heaven, where they'll reunite one day.
5. Planet Caravan – Black Sabbath
Sabbath is known for its heavy riffs and dreadful lyrics. However, Planet Caravan demonstrated that the founding fathers of Heavy Metal could write calming music as well.
Planet Caravan narrates a space wandering as if a human soul was moving to a better place through the stars and galaxies.
6. Riders On The Storm – The Doors
Not only this song has a comforting rain effect throughout its entirety. It's also the last track on the last album ever recorded with Morrison.
In my opinion, it is a great way of saying goodbye to a special person, all the while feeling a bittersweet comfort.
7. You'll Never Walk Alone – Gerry and The Peacemakers
This track gained popularity because it provided a sense of relief to families who had lost a loved one during the war.
8. Hallelujah – Jeff Buckley
Hallelujah is about faith.
Sooner or later, people find encounters that make them question their beliefs.
No matter how wicked reality may seem, you need to stay strong with your family and friends, and never lose faith.
9. All Bad Things – Mötley Crüe
Do you happen to know a friend or relative who simply lived life to the fullest?
In other words, a person who pushed everything to the limit, who lived fast but died old?
In that case, remember him or her with a song suitable to their lifestyle.
As the tune implies "It's been one Hell of a ride / It's been a Hell of a night / It's been a damn good life / This ain't farewell, it's goodbye"
10. Wherever You Will Go – The Calling
Here we have a good number of songs for funerals. However, this might be one of the very few that has been written after a real funeral.
Guitarists Aaron Kamin claimed Wherever You Will Go was inspired by the loss of her grandmother's best friend.
Kamin put himself in the shoes of the husband of the dead woman, of how he would feel after losing a significant other he has shared most of his life with.
11. Ave Maria – Franz Schubert
Written in 1825 by Austrian composer Franz Schubert, Ave Maria has firmly stood the test of time.
Its beautifully arranged Latin prayers provide comfort and hope for people mourning a loss.
12. Supermarket Flowers – Ed Sheeran
British songwriter Ed Sheeran dedicated this song to her grandmother.
She passed away during the recordings of the album Divide, so Sheeran recorded one more song and added it to the record as a way to pay tribute to her memory.
13. Whorehouse Blues – Motörhead
You might consider this entry a bit peculiar since it's not about mourning or death.
If you ask me, though, it's about the complete opposite: Whorehosue Blues is about life and all the magic, fun, and surprises you find here.
On top of that, the chill-out acoustic guitars make you feel like grabbing a can of beer, cheering with your family, and remembering your gone loved one with a smile.
14. Candle In The Wind – Elton John
Originally written as a form of paying respect to the life and death of Marilyn Monroe, Elton John has stated that Candle In The Wind suits any actor, writer, or musician who has passed away at a young age.
15. My Hero – Foo Fighters
Firefighters; police officers; nurses; doctors; soldiers.
My Hero is the best song to honor everyone who has dedicated their lives to serving and saving others.
16. Forever Young – Rod Stewart
Forever Young has an important message.
Though one's body is long after gone, their memories will remain forever in the hearts of their loved ones.
17. Three Little Birds – Bob Marley & The Wailers
Certain people loathe negative emotions. Although they are an unavoidable part of life, these people have always put a big smile on their faces when hard times appeared.
Naturally, these cheer-up personalities would never want their funeral to be a gloomy and depressing event.
On the contrary, they'd want to tell their loved ones not to worry at all, that everything will be alright.
This song is for those jovial spirits.
18. Angels – Robbie Williams
For religious people, Angels by Robbie Williams could be the greatest selection for a funeral.
It's about the guardian angels that protect us in our daily lives.
19. My Immortal – Evanescence
20. Somewhere Over The Rainbow – Israel Kamakawiwo' Ole
21. Drink A Beer – Luke Bryan
22. Asleep – The Smiths
23. Everywhere – Michelle Branch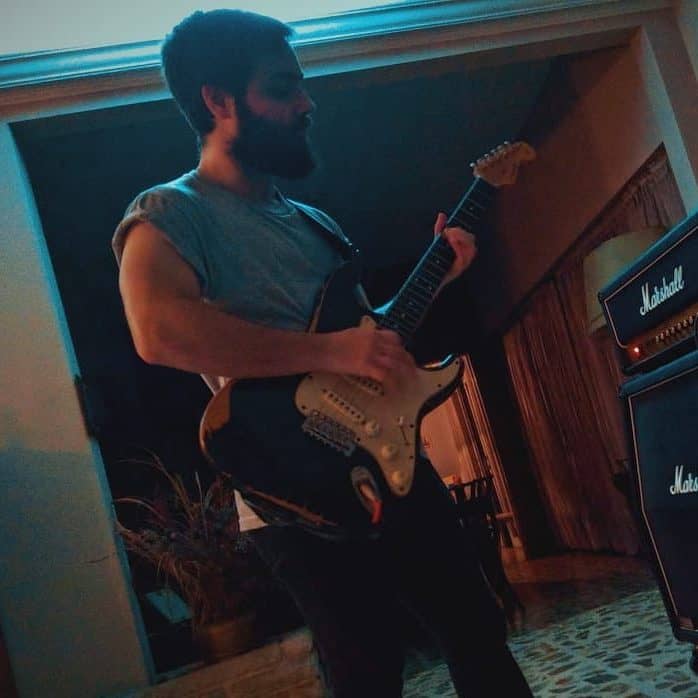 Hello there, my name is Ramiro and I've been playing guitar for almost 20 years. I'm obsessed with everything gear-related and I thought it might be worth sharing it. From guitars, pedals, amps, and synths to studio gear and production tips, I hope you find what I post here useful, and I'll try my best to keep it entertaining also.