Whether you were alive in the 1970s or not, you undoubtedly know a lot of songs from the era.
Admittedly a few haven't aged so gracefully, but for the most part, a lot of them still sound amazing and still have a huge influence on the music that is being made today.
So what was it exactly about that time that beget so many classic tracks? Black magic? Drugs?
Well, it was probably some of the great bands and performers of the 1960s that paved the way for what came out in the 1970s, before music descended into the silliness of New Wave and Hair Metal in the 1980s.
The 1970s not only saw Rock songs getting longer and more creative with Progressive Rock but shorter and simpler too with Punk Rock.
And then there was Acid Jazz, Fusion Jazz, Glam Rock, Soul, R&B, Disco… you get the idea.
And you know that electronic music that is increasingly popular these days? Most of that stuff is descended from music that came out in the 1970s too.
And while it's always annoyed me when people hear a song and say "Oh, this song is MY JAM", I have to admit most of the music of the 1970s (and late 1960s) is my jam.
So get ready to check out what I consider some monster tracks of yesteryear and don't yell at the screen if I leave off one of your favorites!
Because there are just so many to choose from and I know I'll forget somebody's favorite, but I hope you discover some new gems here along the way.
1. Tighter, Tighter – Alive N Kickin'
This one-hit wonder never fails to put a smile on my face whenever I hear it. And I don't even like duets most of the time!
There's just something about the positive energy that the music contains that few bands succeed in capturing, at least at this level.
But besides the band's shining performance and flawless production, there is another little clue to the song's greatness.
One of the song's two writers is Tommy James. Yes, that Tommy, from Tommy James and the Shondells who also wrote another of my favorite tunes Crimson and Clover.
Written by: Tommy James and Bob King
Year Released: 1970
Album: Alive N Kickin'
2. Give Up the Funk (Tear the Roof off the Sucker) – Parliament
Okay, so I haven't listened to every Parliament album from beginning to end but I've listened to the album with this song well over 100 times.
And you probably know this song even if you never knew which band did it.
Not only is the music great but I think stuff like this provides a little counterbalance and fun compared to how serious and pretentious some of the Progressive Rock was becoming in the mid-1970s.
And George Clinton and super-famous Funk bassist Bootsy Collins still show up in headlines to this day and Bootsy even collaborated with Bruno Mars and Anderson.Paak on their Silk Sonic project recently.
So if you're in the mood for some Funk, you're not going to find much better than this song. In fact, I recommend that you listen to the whole album!
Written by: George Clinton, Bootsy Collins, and Jerome Brailey
Year Released: 1975
Album: Mothership Connection
3. The Boys Are Back in Town – Thin Lizzy
Celebrating the energy of youth and an appetite to live is at the core of this classic 70s Rock song.
Partying, drinking, fighting, chasing women, who cares? That's what healthy young men do, right?
Thin Lizzy definitely had a distinct sound that often relied on multiple lead guitarists while not sounding oversaturated with each band member "staying in the pocket".
And while there were definitely some tensions within the band, you couldn't hear it when they played together.
So I think that this song has remained fresh over the years and is the perfect soundtrack for taking a drive or sitting outside on the first warm day of the year ("The nights are getting warmer (…) It won't be long till summer comes").
Written by: Phil Lynott
Year Released: 1976
Album: Jailbreak
4. Stayin' Alive – Bee Gees
I don't know what black magic ritual the Bee Gees performed to come up with this one, but even if Disco isn't your thing, you have to admit that this song slays.
From the opening riff to the percussion to the vocals, there is nothing to dislike about this song.
Okay, so maybe the falsetto vocals aren't to everyone's taste.
But just ask yourself. How can Barry Gibb manage to look so damn manly with that lion's mane of hair and full 1970's beard while singing in that high of an octave?
I also think it's cool to see a band that's comprised of three brothers. There's really something special about that family connection and ability to work together.
This song is a great tune to kick off a house party, pool party, or whatever, and if anyone gives you a funny look you can show them to the door!
All kidding aside, if you like this one, be sure to check out the Bee Gees vs. AC/DC mash-up Stayin' in Black by Wax Audio. You won't be disappointed.
Written by: Barry Gibb, Robin Gibb, and Maurice Gibb
Year Released: 1977
5. Trans-Europe Express – Kraftwerk
German Electronic Music pioneers Kraftwerk probably influenced a lot of the music that you hear today even if you don't know who Kraftwerk was.
These guys were seriously cool and I've read some biographies about the band.
Consider, you couldn't just go buy all of the equipment like drum machines, complex synths, sequencers, etc. to make Electronic music like you can these days. And computers in the 1970s were a little, um… different?
So Kraftwerk really were innovators and built some of their own equipment, which gets massive respect from me.
And though they used a lot of pop melodies that wouldn't sound out of place in a Beach Boys' song (I think they were huge fans), just think how strange sequenced electronic drums must have seemed to most people back then.
In fact, another Kraftwerk song was sampled for Afrika Bambaataa and the SoulSonic Force's song Planet Rock, usually credited as one of the first Rap / Hip Hop songs.
As for Trans- Europe Express, traveling around Europe by train and meeting David Bowie and Iggy Pop in the 1970s sounds like a good time to me.
Written by: Ralf Hütter and Emil Schult
Year Released: 1977
Album: Trans-Europe Express
6. T.V. Eye – The Stooges
Speaking of Iggy Pop, his work with The Stooges influenced generations of Rock and Punk musicians.
Everything about this track is wild, from Iggy's howling primal scream at the beginning to the pounding rhythm section and a guitar riff that would probably melt your face if you played it loud enough.
While it's not quite Punk Rock yet, the blasé attitude is definitely there and also a dirtiness that is pure Rock and Roll.
I just can't think of many songs from around the same time period that were so "in your face" although the Beatles' Helter Skelter (1968) did a pretty good job too.
Written by: The Stooges
Year Released: 1970
Album: Fun House
7. Bitches Brew – Miles Davis
So Jazz music is often thought of as being free-form and not conforming to the verse-chorus-verse structure of most songs.
But Jazz has its own trappings of musical scales, chord progressions, etc., and even something trying to be dynamic can seem repetitive after a few decades.
Although this song and album were recorded in 1969 and released the following year, it is obvious that Miles Davis was always looking forward.
This song has influences from Rock and Avant Garde music and is quite an experience to listen to.
Sure, it's not for everyone but neither is sushi or the paintings of Jackson Pollock.
So if you can appreciate what is happening in this song, you're probably someone that I'd enjoy hanging out with.
Written by: Miles Davis
Year Released: 1970
Album: Bitches Brew
8. Dream On – Aerosmith
Take a moment and imagine exploding onto the music scene with a song like this on your debut album.
This song is a masterpiece on so many levels. The songwriting is obviously incredible, the vocal performance is emotional, and the lyrics are universally relatable (while not being a love song).
And that's not all.
Many people say that to be good at something like music you just have to keep practicing but Steven Tyler really has an incredible vocal range that I think goes beyond "practice".
And if you've ever tried to play this song on guitar, you know that people with short fingers are out of luck with this song. When it comes to stuff like this, you either have a musician's hands or you don't!
So the combination of skill from practice, composition, and natural talent/ability all combine to show just how great Rock could be in the 1970s.
Written by: Steven Tyler
Year Released: 1973
Album: Aerosmith
9. Let's Stay Together – Al Green
10. Love's Theme – Love Unlimited Orchestra
11. Bang a Gong (Get It On) – T. Rex
12. Gypsy Woman – Brian Hyland
13. (Don't Worry) If There's a Hell Below, We're All Going to Go – Curtis Mayfield
14. Let's Get It On – Marvin Gaye
15. Raw Power – Iggy and The Stooges
16. Rainy Days and Mondays – Carpenters
17. The Long and Winding Road – The Beatles
18. Tell Me Something Good – Rufus and Chaka Khan
19. Highway to Hell – AC/DC
20. Daddy Cool – Boney M.
21. Stairway to Heaven – Led Zeppelin
22. Brand New Key – Melanie
23. Rock 'N' Roll Suicide – David Bowie
24. Across 110th Street – Bobby Womack & Peace
25. N.I.B. – Black Sabbath
26. Beat on the Brat – Ramones
27. In the Summertime – Mungo Jerry
28. Wild Horses – Rolling Stones
29. A Remark You Made – Weather Report
30. Thank God I'm a Country Boy – John Denver
31. Paperhouse – Can
32. Billion Dollar Babies – Alice Cooper
33. Needles in the Camel's Eye – Brian Eno
34. Green-Eyed Lady – Sugarloaf
35. I Heard It Through the Grapevine – Creedence Clearwater Revival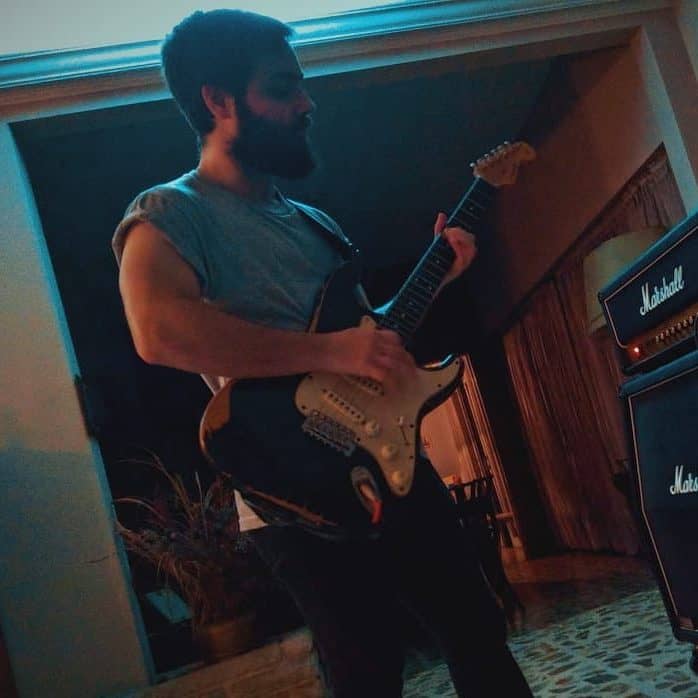 Hello there, my name is Ramiro and I've been playing guitar for almost 20 years. I'm obsessed with everything gear-related and I thought it might be worth sharing it. From guitars, pedals, amps, and synths to studio gear and production tips, I hope you find what I post here useful, and I'll try my best to keep it entertaining also.