Beauty standards have troubled people's even-mindedness for decades.
Most often than not, youngsters are the potential victims of this situation.
Insecurities lead to disorders, which eventually harm one's health, and even lead to death.
Here we have gathered some relevant songs about this topic.
Remember, though, that if you're struggling with an eating disorder of some kind, you need to find immediate help.
There will always be professionals willing to provide help and lead you to recovery.
With that said, let's check out these great songs and the relevant message they try to share.
1. Me and Mia – Ted Leo and the Pharmacists
Let's begin this list with this interesting song hiding a secret message.
The lyrics mention the relationship of the narrator with three friends; Mia, Ann, and Ana.
On the surface, it seems that there's nothing strange with these people.
Nonetheless, the deeper we look into it, the sooner we discover that Mia stands for bulimia and both Ann and Ana, for anorexia.
2. I Go Hungry – Mother Mother
Canadian group Mother Mother wrote this sad story about a person who's starving to look skinny.
The person has a date on Friday and plans not to eat anything to look as thin as possible, expecting to be liked by the girl he will date.
3. Scars To Your Beautiful – Alessia Cara
There are two ways in which you can feel proud of your body.
The first one is accepting it as it is, finding the beauty in being who you are, and realizing there's a lot of potential in uniqueness.
The second one is healthier, and that is to get out of your comfort zone and look for ways of "improving" yourself: going to the gym, start doing some sports, eating healthier, and so on.
However, obsessing with your body might cause you problems. It's not the same to change your shape in healthy ways as to change it with something that threats your life.
When you choose to starve or throw out everything that you have eaten, you're choosing to wound your body and leave scars on your beauty.
4. Eyesore – Maria Mena
From the 2008 album Cause and Effect comes this track that shows a rude reality.
That is, eating disorders not only damage your body, but also your mind.
Naturally, a disorder will affect your mental health as well.
5. Ana's Song (Open Fire) – Silverchair
This one resembles the Ted Leo & The Pharmacists song that appeared at the top of the article.
Once again, Ana stands for "anorexia."
As stated by Daniel Johns, the strong point in Ana's Song is the grotesque visual images that describe the character's psychological disorder.
6. Shatter Me – Lindsley Stirling (feat Lzzy Hale)
Lindsley Stirling is an American violinist.
She made this amazing song featuring Lzzy Hale from Halestorm.
Lindsley claimed Shatter Me depicts how it feels to be trapped inside an eating disorder. Actually, if you check the music video, you'll find a woman trapped inside a snow globe.
Shatter Me inspirations came after Lindsley worked in a rehab center with unsettled teenage women.
7. Skinny Skinny – Ashton Irwin
The drummer of 5 Seconds of Summer released a solo project.
In this song, Ashton reflects on the mental health issues that most teenagers struggle with.
Although the title of the song is a clear depiction of the compulsive behavior caused by eating disorders, the message of Skinny Skinny is made for anyone battling mental health issues.
8. Pretty – Lauren Alaina
These lyrics couldn't be more transparent.
Lauren Alaina sings about the conduct of a troubled teenage girl who compares her body with other girls.
9. Courage – Superchick
In Courage, we find the narrator of the story feeling the pain and misery that eating disorders generate.
She feels happy when people compliment her shape, but once she finds herself alone, the joy fleets.
Is the pain worth it, then?
10. Hunger – Florence + The Machine
Originally made as a poem, Hunger's ultimate message is that eating disorders (or any other type of addiction) derive from a feeling of emptiness.
In other words, people try to fill that void by looking for external approval.
While there's an attempt to get rid of emptiness, the action is conducted in the wrong direction.
11. Tunic (Song For Karen) – Sonic Youth
Kim Gordon wrote this song for Karen Carpenter.
Carpenter was the drummer and lead singer of The Carpenters, an American duo.
Karen passed away at the age of 32, due to anorexia.
Despite the sadness that originated the story, Kim Gordon wanted to picture Karen being happy in Heaven.
12. Skin & Bones – Marianas Trench
When the mirror lies to you, you think that becoming skin and bones will grant you beauty.
Unfortunately, with eating disorders, that reality couldn't be further from the truth.
13. Paper Bag – Fiona Apple
A song about failed expectancies that end up in disappointments.
Just like the expectations of a beautiful body when indulging in conscious starvation.
14. Prom Queen – Beach Bunny
"Shut up, count your calories / I never looked good in mom jeans"
The first verse is explicit enough to understand what the song is about.
It seems that in this case (as it is with most cases), the eating disorder emerges as a result of insecurities and comparing oneself with someone else.
Naturally, the more we look for external validation, the more we end up suffering.
15. Big Fat Lie – Nicole Scherzinger
Nicole Scherzinger fought against an eating disorder.
When she finally felt comfortable in her skin, she found the courage to speak about her inner demons.
16. Tied Together With a Smile – Taylor Swift
We close this list with a Taylor Swift song found in Swift's debut album.
The American musician wrote this one after finding out one of her friends struggled with bulimia.
According to Taylor, her friend was absolutely gorgeous, and all the men wanted to date her.
There lies a powerful lesson: when we talk about disorders of any kind, it doesn't matter how beautiful, strong, or skilled we are.
In the end, a distorted reflection in the mirror is more than enough to ruin one's life.
Remember to always ask for help if you find yourself struggling with eating disorders of any kind. You're not alone.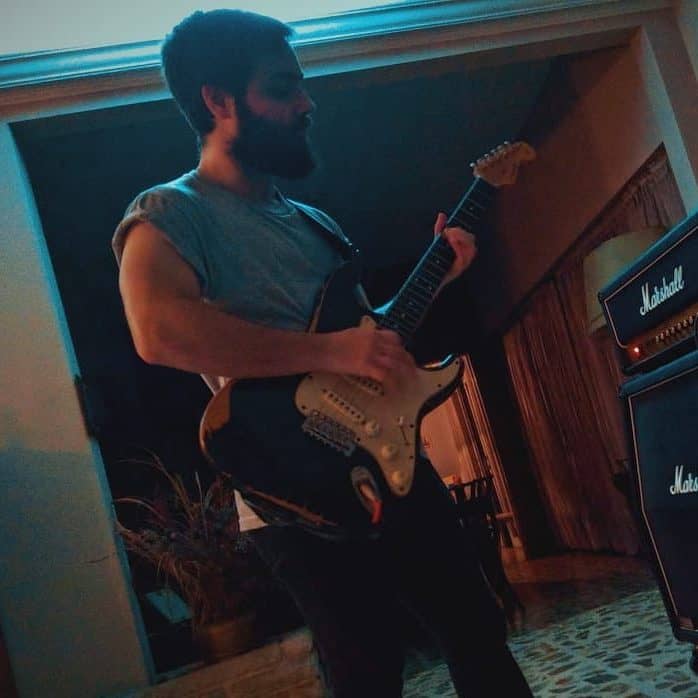 Hello there, my name is Ramiro and I've been playing guitar for almost 20 years. I'm obsessed with everything gear-related and I thought it might be worth sharing it. From guitars, pedals, amps, and synths to studio gear and production tips, I hope you find what I post here useful, and I'll try my best to keep it entertaining also.