Dogs, man's best friend, and quite literally an animal after our own hearts.
Dogs have been our loyal companions for as long as human history can remember, making homes with us and protecting us.
Honestly, if it were feasible, this list would be every song about dogs, but I have to be realistic (unfortunately) so this is a list of the 25 best songs I could find about our good boys (and girls).
It's not in any particular order, although some are definitely personal favorites.
1. Martha My Dear – The Beatles
Most people probably wouldn't catch it, but McCartney was singing about his beloved pet Martha in this song.
He managed to leave it vague enough that it also comes across as a pep talk for a loved one.
The song is a pretty upbeat and happy tune, very much baring the sound of the Beatles throughout, and for the sole reason that it's basically a love letter to a dog, I have to put it at the top of this list.
2. I Love My Dog – Cat Stevens
A dog song written by a Cat.
In it Stevens pays homage to his dog, likening his love for him to his love for a person and saying that his dog will be around longer than most people.
It's not really my favorite song in terms of composition, but the topic wins me over.
3. Little boys Grow Up and Dogs Get Old – Luke Bryan
A real tearjerker of note.
This song is about Bryan's black Labrador named Bandit who he got when he was just a little boy.
The song details the life of his best friend who he thought would be with him forever, but he didn't know that "little boys grow up and dogs get old."
It's a real salt-of-the-earth country song, and whether you're a country fan or not, this song will hit you in the heart.
4. Like My Dog – Bill Currington
This song might get you into trouble depending on your audience, but it's quite a cheeky song that Currington seems to have written for his girlfriend.
It's a song in which he compares his dog to his lover, saying that his dog is the superior lover, even dropping in a dirty line about playing dead when he wants to pet her.
All in all, it's another country song that I find infectious, even though I'm not a huge country fan myself.
Fans of country music, you're welcome.
5. Man of The Hour – Norah Jones
Flipping the table, this is a song in which Norah Jones sings about her man of the hour is better than her previous boyfriend, who she called "vegan and a pothead."
She doesn't say it outright but drops a lot of hints throughout the song that the man of her hour in question is a dog.
I find it to be a really sweet song, with its simple, bare melody and Jones's soft voice to accompany the tune.
7. The more Boys I Meet – Carrie Underwood
A song in the same vein.
The More Boys I Meet is another country song (country folk really love their dogs) about how her dog is better than the guys she meets.
I have to agree with Underwood, few people can really compete with the pure and unconditional love of dogs.
Sadly for us, we can't actually date our dogs, but there are some people out there with the loyalty and kindness of doggos.
8. Old Shep – Elvis Presley
Old Shep is a song about a boy and his dog, and it's very similar to "Little Boys grow up and Dogs Grow Old" in that it tells the tale of an owner with his dog right through until his dog gets old and dies.
Old Shep was written way back in 1935 by Arthur Willis and composed by Red Foley about a dog Foley had owned as a child.
The dog was actually a German Shepherd named "Hoover" that was poisoned by a neighbor. A pretty sad turnout for a dog in a pretty touching song.
9. Seamus The Dog– Pink Floyd
A country blues song literally sung in part by a dog named Seamus.
It's seen as kind of a filler song for the album it was released on, but it's a dog song nonetheless.
If you're a fan of dogs, you'll enjoy the pup singing along to this track, which they actually recorded with a mic and everything.
The story of how this song came to be was that Seamus was on set one day with David Gilmour, who was watching him for his owner Steve Marriott from Humble Pie.
Every time Gilmour would play something, Seamus would howl along, which he thought was amazing (and I agree).
They soon recorded his howls and the rest was history.
10. My Dog and Me – John Hiatt
Man, life is so different when you see it through the loving eyes of a dog and this is what this song seems to be about.
It's about how Hiatt just really enjoyed spending time with his dog and how simple life was when it was just the two of them.
The song tells a story of them out for the day on a hiking trail and all of the things they do together.
Hiatt notes how he can tell by the way his dog looks at him that she'd die to save him, which is something few people can say about themselves.
I know I wouldn't die to save John Hiatt, I don't even know him.
11. Gypsy, Joe and Me – Dolly Parton
First recorded and released in 1969, Parton herself admits that this is one of her sadder songs. It really is, if I may say so myself.
The song tells the tale of two drifters and their dog, Gypsy.
The perspective is from the woman who names herself only as "me" and she recounts how life was easy and free for the three of them, but that they never settled down and laid roots.
After some time, the consequences of their lifestyle wear on them, Gypsy and Joe die and the girl winds up committing suicide by the end of the song.
But it is a song with a dog in it and so it's on this list.
12. I Love My Dog- Sublime
I've written a list previously about all of Sublime's greatest songs, but sadly I never added this one to the list, which is a shame, because Nowell really did love his dog Lou Dog.
This song was written after Lou Dog went missing for a week.
It's a really simple and catchy song with repeated lyrics throughout.
It's just a man singing about how he loves his dog and everyone singing along to a simple but beautiful thing.
13. Old Grey Dog – Jimmy Scott
This one hits a little harder because it's a song about a dog who's been forgotten and neglected.
It's about a dog who's too old to play anymore and isn't as cute as he once was.
This song makes me think about all those dogs that were never mine, but who I wish could have been, because I would look at them and see that they weren't loved well as they deserved to be.
14. Every Dog Will Have His Day – Procol Harum
A bit of a simple song with a fun edge to it, well disguised by the catchy tune and rocking guitar rhythm.
It's a pretty fun song I could see myself dancing along to with my dog in tow, and I think that's what Harum was going for with this tune.
The music video is equally as fun in the link I've used, with a home video of a loving Labrador just doing dog stuff while the tune plays along.
Enjoy.
15. Rover – Jethro Tull
Originally written by Ian Anderson who dedicated this to his dog Lupus, he said in an interview that "the subject can be taken both literally, as a dog, or analogously as a tinker, traveler, the person who leaves town the next morning."
Anderson stated further that it's a song that romanticizes the roguish lifestyle.
12 More Songs About Dogs
| | |
| --- | --- |
| Title | Artist |
| Shannon | Henry Gross |
| They're Coming to Take Me Away | Napoleon XTV |
| Me and You and a Dog Named Boo | Lobo |
| Gonna Buy Me a Dog | The Monkees |
| Dirty Old Egg-Sucking Dog | Johnny Cash |
| Rain Dogs | Tom Waits |
| Dogs Life | Eels |
| Watch Dog | Etta James |
| How Much is That Doggy In the Window | Patti Page |
| Lilly | Pink Martini |
| How Come My Dog Don't Bark When you Come Around | Dr. John |
| The Reason a Dog has So Many Friends | Aerosmith |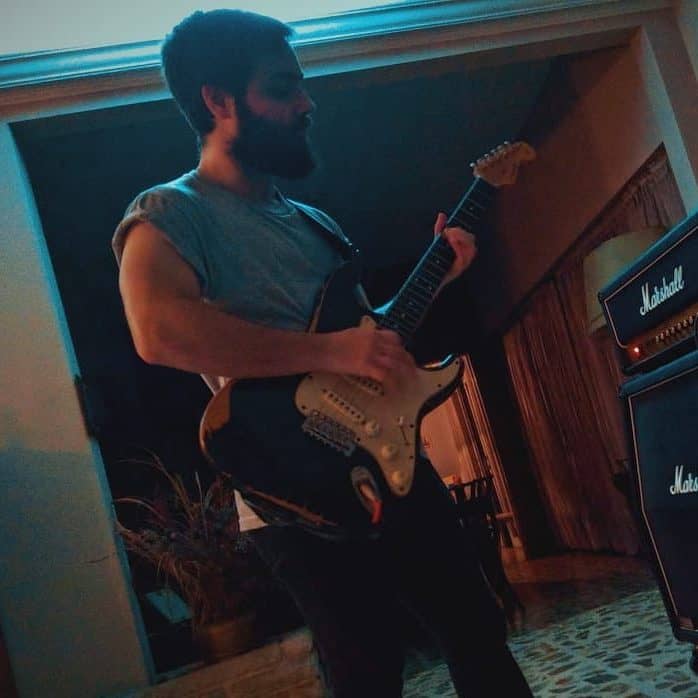 Hello there, my name is Ramiro and I've been playing guitar for almost 20 years. I'm obsessed with everything gear-related and I thought it might be worth sharing it. From guitars, pedals, amps, and synths to studio gear and production tips, I hope you find what I post here useful, and I'll try my best to keep it entertaining also.