Some people identify as cat people and some people identify as dog people.
And then there are folks who like both types of animals.
But today is all about felines and their presence in the wonderful world of music.
Because of how popular cats are as household pets, you might think that there would be millions of songs written about them.
But there aren't as many as you may think! But don't mistake a lack of quantity for a lack of quality either.
Because while some of these songs are just about cats in general, there are plenty of metaphors and symbolism attached to our four-legged friends to explore here.
Now for some reason, songs about cats can get sexy pretty quickly… but I'm not talking about what you probably think that I'm talking about (though a couple of songs might).
I'm thinking more about what is referred to as "tomcatting", guys out on the prowl at night with a certain pep in their step. They're "hungry" if you know what I mean.
But there are plenty of other aspects to check out as well…
For example, tigers represent fierceness and power, fighting between women is sometimes called a catfight, sexy older women are called cougars, and a black cat crossing your path is bad luck, but cats are also considered lucky because they have nine lives.
So find a nice sunny spot to curl up and let's check out some hot songs about cool cats.
1. Nine Lives – Aerosmith
Aerosmith put out a whole album under the title of Nine Lives with this track kicking off the fun.
The guys in the band had a reputation for living on the wild side and if you're going to live dangerously, you had better be lucky right?
And the basis for this song has to do with the lyric "In a wink, I'm dead in love again".
But not to worry when you have nine lives! You can just jump back into another (deadly) romance no matter what the consequences.
Seriously though, if even half of the stories that you hear are true, I can't believe what some of those rockers from the 60s, 70s, and 80s, put themselves through and still managed to live.
Written by: Steven Tyler, Joe Perry, and Marti Frederiksen
Year Released: 1997
Album: Nine Lives
2. Tommy the Cat – Primus
Primus and Tom Waits teamed up for this recording about a cat that only has one thing on his mind, and it's not Purina brand Cat Chow.
Even from the title being a play on tomcat, you know these guys don't take things too seriously with the cartoon video and Claypool's over-the-top sideburns and mustache.
But musically these guys sound tighter than a Jazz trio that's been playing together for a decade and take a moment to appreciate how different this music must have sounded from the 80s Hair Metal music that preceded it.
Because Tommy the Cat wasn't just a feline Romeo, he was also a harbinger of 90s Alternative Rock.
Written by: Les Claypoole, Todd Huth, Larry LaLonde, and Tim Alexander
Year Released: 1991
Album: Sailing the Seas of Cheese
3. Stray Cat Strut – Stray Cats
Brian Setzer and the boys are another trio that lent their expert musicianship to a cat theme, even naming the band after cats.
And while this song also deals with tomcatting and strutting your stuff, it isn't quite as narrow-minded as Tommy the Cat.
Because this song's lyrics deal with staying aloof and cool even while living on the street and eating out of the garbage.
And this is a commonly perceived trait of cats everywhere and something that people who don't like cats constantly bring up.
In a nutshell, cats don't give a **** about anything or anyone most of the time, something I think is actually pretty cool.
In fact, it reminds me a lot of the type of character that James Dean played in Rebel Without a Cause, which I believe is exactly the vibe the Stray Cats were going for.
Written by: Brian Setzer
Year Released: 1981 (UK) and 1982 (US)
Album: Stray Cats (UK) and Built for Speed (US)
4. Eye of the Tiger – Survivor
The danger and strength of a prowling tiger were tapped to provide a soundtrack for fictional Philadelphian boxing hero Rocky Balboa (Sylvester Stallone) in his third film.
And it was an instant hit with lyrics such as "Out in the heat, hanging tough, staying hungry" perfectly matching the determination that it takes to push your body to the limit before a heavyweight boxing match.
And the rhythmic intro to the song being shattered by the now classic guitar chords is still inspiring to this day and makes for a good addition to your exercise playlist.
Written by: Frankie Sullivan and Jim Peterik
Year Released: 1982
Album: Rocky III OST and Eye of the Tiger
5. Cat Scratch Fever – Ted Nugent
This one gets a little dirty and I'm not talking about the bacteria on a cat's claws…
Although to be fair, cat scratch disease is a real thing that people can get from bites or scratches.
But that isn't what was going on in this tune when Ted sings about getting scratched by the kitty next door.
Sure, it may not be classified as "politically correct" these days, but neither is Ted Nugent for that matter or a lot of contemporary music.
And though it isn't quite as big of a hit as Stranglehold, I think it holds its own and it's always one of the first songs that pops into my head about "cats".
Written by: Ted Nugent
Year Released: 1977
Album: Cat Scratch Fever
6. I Ain't Superstitious – Howlin' Wolf
This wonderful old Blues song goes through quite a list of superstitions as the singer tries to convince himself that he doesn't believe in such things.
But the primary focus here is on a black cat crossing his path.
And according to folklore that means you're probably in for some bad luck in the near future.
I don't consider myself superstitious either but it's better to be safe than sorry, right?
Anyway, this song has been covered by a lot of different musicians over the last 60 years, including a Heavy Metal version by Megadeth.
Written by: Willie Dixon
Year Released: 1961
Album: I Ain't Superstitious (single)
7. Roar – Katy Perry
8. The Lion Sleeps Tonight (Wimoweh) – The Tokens
9. Cat Fight (Over A Dog Like Me) – Stray Cats
10. The Love Cats – The Cure
11. Black Cat – Janet Jackson
12. Cat People (Putting Out Fire) – David Bowie
13. I Happen to Like Cats – Granger Smith
14. Cleopatra's Cat – Spin Doctors
15. Like a Cat – Cyndi Lauper
16. Cool Cat – Queen
17. Leave My Kitten Alone – Johnny Preston
18. My Cat's Name Is Maceo – Jane's Addiction
19. Cool for Cats – Squeeze
20. Flustered / Hey Tomcat! – Death Cab for Cutie
21. Tomcat Prowl – Doug and the Slugs
22. Sewanee Mountain Catfight – Old Crow Medicine Show
23. Panther – Dawin
24. Cats in the Cradle – Ugly Kid Joe
25. Cougar – Sarkodie feat. Lojay
26. Cougar – Devvon Terrell
27. Kitty Kat – Beyoncé
28. Cougar – Debbie Gibson
29. Cheetah Love – The Cheetah Girls
30. How I Roll – Britney Spears
31. Go Go Kitty – The New Bangs
32. Hello Kitty – Avril Lavigne
33. One Cat, One Vote, One Beer – Ry Cooder
34. Red Cat Till I Die – Ry Cooder
35. Year of the Cat – Al Stewart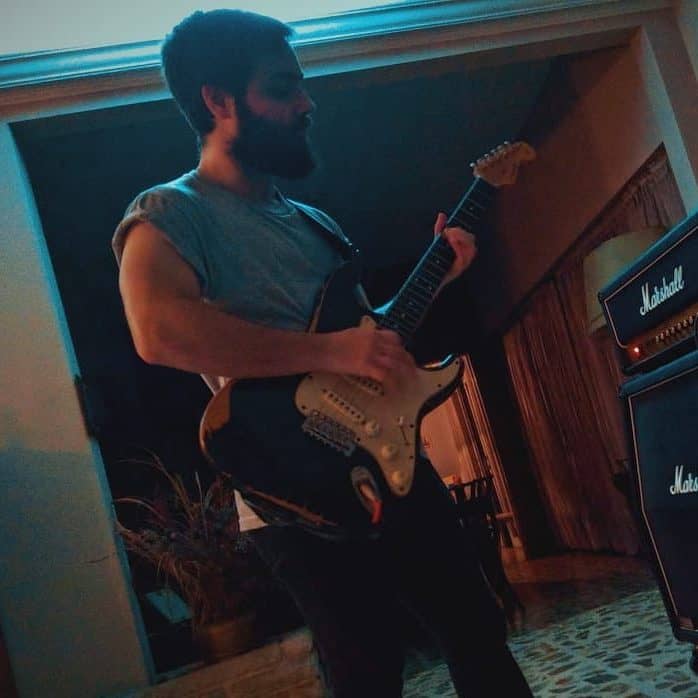 Hello there, my name is Ramiro and I've been playing guitar for almost 20 years. I'm obsessed with everything gear-related and I thought it might be worth sharing it. From guitars, pedals, amps, and synths to studio gear and production tips, I hope you find what I post here useful, and I'll try my best to keep it entertaining also.