Who is Him? "Him" is whichever guy in your life is special enough for you to want to dedicate a song to him.
A lot of artists have written songs about guys, whether he is your boyfriend, your brother, your father, your son or your best friend, these songs are all related to that special man in your life who you wouldn't want to live without.
1. A Thousand Years – Christina Perry
A Thousand Years is a song about waiting in anguished love to meet the one.
As far as it is a song for "Him", this makes for a good song to send to your boyfriend as a romantic gesture.
It's gentle, it's sweet and it sings of a patient wait to spend your life with someone.
Dying every day for someone and loving them for a thousand years is a pretty intense feeling of love and it's a perfect song to send to your boyfriend.
2. Dance With My Father – Luther Vandross
This song recalls Vandross's personal childhood memories with his father, who used to dance with him and his mother.
Vandross wrote this song as a tribute to his father, Luther Vandross Sr., who passed due to diabetes complications.
According to his co-writer, Richard Marx, writing the song was an emotional experience for Vandross, because it was a subject matter he hadn't written about before.
Aside from that, if you're wanting to share a song with your father to make him feel special, this will do the job.
3. Father and Daughter – Paul Simon
Most of us will know this song if we grew up around the early 2000s and watched the Wild Thornberries movie.
Paul Simon originally wrote this song for the movie, but it became one of his biggest songs. It's a great song to play for your dad or your daughter if you're the dad if you want.
The song has an instantly recognizable opening riff that is repeated throughout the song, with Simon's classic sound making for a perfect song to dance along to or just sit and listen to during a car ride together.
4. Brother – Kodaline
This song will likely make you cry. The song itself is beautiful, but when you pair it with the music video… It's originally a song about the bond between two brothers, but it doesn't limit itself in that way, because you can play it for your brother regardless.
The song is about the kind of brotherly love where you have each other's backs, no matter what.
Even death doesn't separate the bond between brothers, and we'd give up our own lives to save our brother if we could.
This song speaks of a real closeness that makes for a perfect song to share with your brother.
5. I Got You – Ciara
A lovely and gentle song from a mother to a son, Ciara's love for her child comes across crystal clear in this song.
I Got You starts out on the mockingbird melody with changed-around lyrics, and then switches over to Ciara's characteristic sound, with the melody kept as simple and gentle as her voice.
This song makes for a great listen if you're a new mom and want to just spend the afternoon lying with your newborn on your chest listening to music.
A perfect song for a special little guy.
6. My Little Brother – Art Brut
This song has some real attitude to it and it's quite a catchy bit of British rock.
The story in this song is about a younger brother who just discovered rock and roll and is going over the edge while enjoying the message of rock n roll. And it seems like it's being encouraged.
This is something you can only understand when you have grown up with a little brother, seeing him grow and change is a really cool experience, even if it's growing into a bit of mischief.
In the sleeve notes to the Art Brut compilation album "Top of the Pops," Eddie Argos reveals how this track has divided his family a little, saying: "I really have a little brother, he is called Colin. He says this song is patronizing."
7. Hey Brother – Avicii
Another song for a brother.
Avicii makes this song to be a message for our siblings that we will always have their back and that blood is thicker than water.
Oftentimes today, people don't feel that family is that closely bonded anymore, with people saying they can choose their family because family is about who sticks with you.
I can agree to an extent, but blood relatives are people you've watched grow from childhood in an intimate way that none of your friends can say they have.
This song, for me, speaks of that kind of intimate love that you experience from having a little brother who you loved since he was a baby or a big brother that always had your back, even if you guys sometimes fought.
8. Kiss Me – Sixpence None the Richer
A good romantic song if you're wanting to share a bit of romance with that special guy in your life.
There's probably a good chance that a lot of people don't remember this song anymore, but it was a real banger back in its day.
Sixpence None the Richer mixed in some unique sounds to this song to give it its quality, one of which was the use of an accordion, which instantly conjures up thoughts of Paris.
9. Unconditionally – Katy Perry
Unconditionally is a song about accepting your partner for who they are.
In an interview, she gave a few comments on the meaning and inspiration for the song too, "not only is it about the different varieties of loves, but it's also about when you are in love with someone and there's full acceptance."
This song makes for a perfect love song to play for your special guy because it's all about accepting each other for who you are.
10. Daughters – John Mayer
A song for fathers and daughters, this song is John Mayer's stab at writing a song that advises its lyrics.
This is a song that would work well as a song to play for your dad, but be warned, it implies a little that the father in question might not know these things that Mayer is singing about.
11. Circus – Eric Clapton
This is a song with a very sad edge to it and I wouldn't call it a song to share, but rather a song that keeps you company while you wallow in your broken-heartedness.
This is a song about losing that special little guy in your life.
Clapton wrote this song for his deceased son, and if you have experienced the same loss, this song is for you.
12. Thank You Pa – Ogie Alcasid
Loss is never an easy thing to deal with, and this song is Ogie Alcasid's sendoff song to his deceased father in order to soften that loss.
If your dad recently passed and you want to play a song to commemorate him, then this makes for a good song for him. It is a bit of a tear-jerker, but I think any song that deals with this subject matter will always be.
13. Love Story – Taylor Swift
One of my (very few) favorite songs from Taylor Swift. Love Story was something she wrote back in the earlier days of her rise to stardom.
I must say about Swift that for the most part, she's retained who she is throughout her career, with some of her more recent songs showcasing that she still stays true to her roots.
However, this song was her root song.
One of her first. And it's a really well-written romantic retelling of Romeo and Juliet with a modern twist and a happy ending.
14. Make You Feel My Love – Adele
Adele manages to write a beautifully raw and vulnerable song here and it seems to be a desperate plea to her lover to let her love him, but that doesn't have to be the case for you.
At its core, this is an authentic expression of affection for someone and because of its bare-bones composition, it makes for a perfect snuggle and listen session song.
15. My Old Man – Zac Brown Band
Ending off the list on a dad song, Zac Brown Band has been growing on me a little recently if I must be honest.
I'm not a huge country fan, but this one smacks of uniqueness and depth in its lyrics.
It's not just another country song about horse riding and hay baling, it's about a sincere relationship between father and son and it makes for a perfect song to share with your dad.
10 More Songs About Him
| | |
| --- | --- |
| Title | Artist |
| My Father's Eyes | Eric Clapton |
| Kiss Me Slowly | Parachute |
| If I Ain't Got You | Alicia Keys |
| Your New Boyfriend | Wilbur Soot |
| When I Look At You | Miley Cyrus |
| Why Can't I | Liz Phair |
| Be Be Your Love | Rachel Yamagata |
| Thank God I Found You | Mariah Carey |
| The Best Day | George Strait |
| There You'll Be | Faith Hill |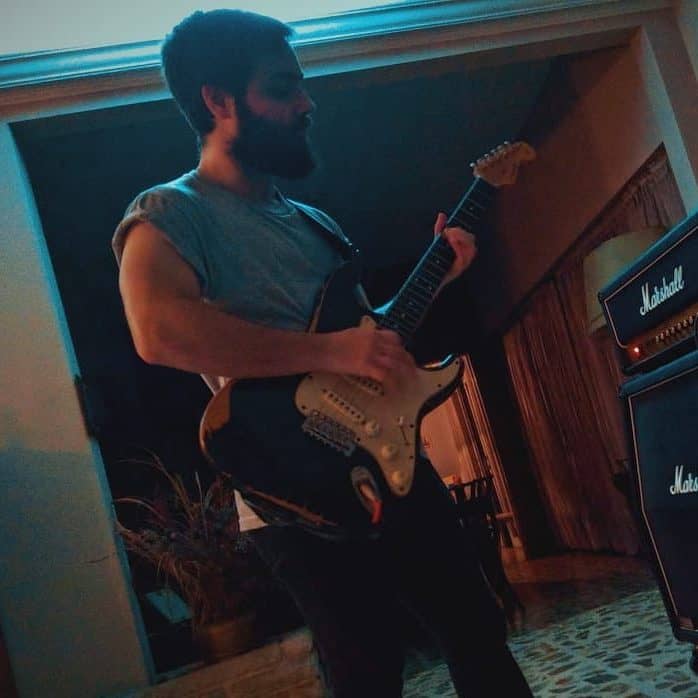 Hello there, my name is Ramiro and I've been playing guitar for almost 20 years. I'm obsessed with everything gear-related and I thought it might be worth sharing it. From guitars, pedals, amps, and synths to studio gear and production tips, I hope you find what I post here useful, and I'll try my best to keep it entertaining also.