It's no secret that the great city of Detroit has been through some rough patches, and its hard luck can be blamed on being part of the "Rust Belt" in America.
Detroit, along with Cleveland, Pittsburgh, and many other cities, have been affected by outsourcing, imported goods, and changes in technology.
Basically, the cornerstone of the city was automotive manufacturing with GM, Ford, and Chrysler all making their home there, and when imported Japanese brands like Honda and Toyota became popular…
Well, in the 1950s the city boasted over 1.8 million residents and nowadays that number is about 650,000. The city of Detroit literally went bankrupt a few years ago!
But I don't doubt for a second that the city will bounce back eventually and there is a treasure trove of music that owes a debt to the city.
After all, it's home to one of the most famous rappers ever, was central in the Garage Rock revival at the turn of the millennium, and has a rich Electronic music scene.
But I don't think that any of that can equal the impact that the city's Motown record label had on music in the mid-20th century.
Now sometimes I can be a bit dense and I think I was in my twenties before I realized that Motown was short for Motor Town, a reference to the city's auto manufacturing strength.
And that's a fitting name because the record label churned out incredible Soul music like a factory!
So let's take a look at some of the musicians and bands that were born/founded, lived, or spent important parts of their careers in Motor City.
Unfortunately, I don't know too much about the Electronic music scene there, but we'll cover Rock, R&B, Hip Hop, and plenty of incredible Doo-Wop and Soul that sounds as good today as it did when it came out.
1. Papa Was a Rolling Stone – The Temptations
If this classic Funk music doesn't get your blood pumping there must be something wrong with you.
Of course, The Temptations were amazing singers, everybody knows that.
But this track's instrumental music is just as good as the vocal parts, showcasing a band called the Funk Brothers who were the session band for a lot of the music from Motown records.
Here they were combined with the Detroit Symphony Orchestra to great effect, but the guitar with the wah wah effect is at the forefront and it sounds incredible.
I also recommend other classics such as My Girl, Shakey Ground, and Ball of Confusion (That's What the World Is Today).
The band put out an unbelievable amount of records and had a lot of different members, but if you stick to their songs from the 1960s and early 1970s, there are dozens of great songs to discover.
2. The Real Slim Shady – Eminem
Eminem's effect on the Rap and Hip Hop scene in the late 1990s could be summed up by one of the lines in this song: "Y'all act like you never seen a white person before".
There were plenty of ethnicities beyond African Americans that had tried their hand at Rap music previously but Eminem ascended to the throne as the king of the genre.
His music was a game changer not just because he was white though; it just had a different sound and humor that replaced a lot of the tropes of Gangsta Rap that were already becoming stale.
As far as his connection to Detroit goes, Marshall Mathers knows there's no place like home.
First of all, he starred in a (fictionalized) autobiographical movie that showcased both the good and the bad sides of growing up in Detroit.
He also started a Detroit-based Rap group called D12 (see #12) to make sure his friends had some money in their pockets too.
And though he could obviously afford to live anywhere he chooses, he continues to live in the Detroit area.
So Detroit is really in Eminem's DNA, just as his music is now part of the city's cultural DNA.
3. (You Make Me Feel Like) A Natural Woman – Aretha Franklin
Aretha is nicknamed the "Queen of Soul" music and although she wasn't born in Detroit, she spent most of her childhood and life there.
Her long musical journey had Gospel origins like many of the greatest R&B and Soul singers but she was also notable for her songs that celebrated (African American) women such as this one and Respect.
And although she had a gazillion hit singles, I recommend checking out some of her mid-1960s albums such as Aretha Arrives or Lady Soul.
And if you can get some of her records on vinyl, it's a match made in heaven.
4. Fell in Love with a Girl – The White Stripes
Detroit's Indie Rock darlings made quite a splash when they turned the idea of guitar-based Rock on its head.
The recipe was simple: one drummer and one guitarist/singer, a signature color theme of red and white, and lots of attitude and creativity.
In fact, when you add in the odd imported guitars (that most professional musicians wouldn't touch with a ten-foot pole), I feel like The White Stripes were the embodiment of turning lemons into lemonade.
I'm not exactly sure what Meg White is up to these days, but Jack has been a fixture of the music industry in Detroit and Nashville for years, also putting out music with a newer band called The Raconteurs.
And if you dig their music, also check out Electric Six (#17) and The Von Bondies (#20) for more great Detroit Rock music from the same period.
5. Welcome to My Nightmare – Alice Cooper (Vincent Furnier)
The "man" known as Alice Cooper was born in Detroit and lived there until he was a teenager.
Although the "band" Alice Cooper was formed in Arizona, I wanted to give Cooper some love here for his Motor City roots…
First, because I'm a fan of his Seventies music and also, along with Kid Rock and Eminem, he shows that Detroit could breed some musicians with huge stage personalities.
But time has changed Alice Cooper and his freaky persona is mostly just an act, at least it is these days.
In fact, he is now a Christian (his father was a preacher) and now he likes to spend his time playing golf rather than dressing up like the boogeyman. Oh well.
6. Only God Knows Why – Kid Rock
7. Sometimes I Don't Mind – The Suicide Machines
8. Boogie Woogie Wu – Insane Clown Posse
9. Stop! In the Name of Love – The Supremes
10. Age Ain't Nothing But a Number – Aaliyah
11. I Found a Love – The Falcons (including Wilson Pickett)
12. My Band – D12 feat. Cameo
13. When She Was My Girl – The Four Tops
14. I Just Called to Say I Love You – Stevie Wonder
15. Baby, I'm for Real – The Originals
16. Night Moves – Bob Seger and The Silver Bullet Band
17. Danger! High Voltage – Electric Six
18. Ooh Baby Baby – Smokey Robinson and The Miracles
19. Should Have Known Better – Sufjan Stevens
20. C'mon C'mon – The Von Bondies
21. Working My Way Back to You – The Spinners
22. Steady, As She Goes – The Raconteurs
23. Spy in the House of Love – Was (Not Was)
24. Inner City Blues – The Butler Twins
25. Story of Our Lives – Twiztid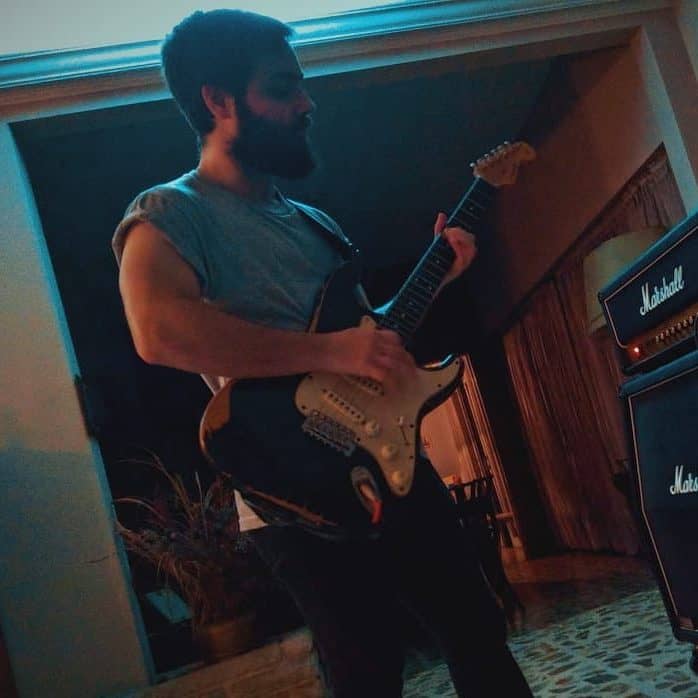 Hello there, my name is Ramiro and I've been playing guitar for almost 20 years. I'm obsessed with everything gear-related and I thought it might be worth sharing it. From guitars, pedals, amps, and synths to studio gear and production tips, I hope you find what I post here useful, and I'll try my best to keep it entertaining also.