I don't think many people outside of Ireland actually know who Saint Patrick was, like when he lived and why he is famous.
But every time Saint Patrick's Day rolls around In the USA, it seems like everyone suddenly becomes Irish for one day, right?
Well, along the East Coast and even in the Midwest that may not be that far from the truth; the Irish diaspora is pretty widespread.
Besides, who doesn't want an excuse to go out and drink party, and listen to music?
And I have to admit Guinness is pretty darn tasty especially when you get a bartender who knows how to pour a good pint.
But today we're going to focus on the music that Ireland (including Northern Ireland) has given us.
A lot of Irish music is often based on Celtic music, a Folk music tradition of the Celt people.
But while this ethnicity and culture are most commonly associated with Ireland, keep in mind that the Celtic people are also from Great Britain, Scotland, Wales, and even France.
So while most of these bands and musical artists that we'll listen to today are actually from Ireland, there will be some who are Irish / British and at least one Irish-based band in America who play Celtic-influenced music.
I'm sure that you don't need to find a four-leaf clover to guess a few of these bands and singers but hopefully, you'll find some new favorites to add to your playlist.
So grab a green beer (or six) or a Mcdonald's shamrock shake if you're a teetotaler, and let's find the musical pot of gold at the end of the rainbow.
1. Dirty Old Town – The Pogues
This now-defunct band was formed in London but was usually led by Irishman Shane McGowan and their music is a powerful blend of Celtic Folk and Punk.
And their songs make use of traditional Celtic instruments such as banjo and accordion too.
Now it may sound like a gimmick and if I listen to more than one or two albums at a time, I might start to agree.
But make no mistake! This is some great stuff and anyone with a drop of Irish blood in their veins should give it a listen.
Unfortunately Mr. McGowan famously also liked to drink like a (stereotypical!) Irishman and for a while, he was replaced by The Clash's Joe Strummer.
Anyway, if you dig this song, also check out Navigator and The Body of an American.
2. Sunday Bloody Sunday – U2
You already knew this band was going to make the list and you probably even guessed which song.
But I promise there's a reason besides the fact that they are one of the biggest bands of the last generation.
And that's the political nature of this song, which references two Bloody Sunday events when violence erupted between Northern Ireland and Great Britain.
As is often the case, a lot of the people who paid the price weren't soldiers but civilians.
So not only was this politically charged song one that got U2 started on the road to international fame, but many Irish musicians from the Pogues to Sinead O'Conner use their music as a political platform sometimes too.
As far as the band goes today, they're doing a residency concert series in Las Vegas even though their drummer's health prevents him from performing.
Some fans aren't sure if they're doing the right thing by replacing an original member, but they're a super popular band to see live so I'm sure they won't have any problem selling tickets!
3. Echoes in Rain – Enya
Besides U2, Enya is the other pillar of Irish music and the two of them sound quite different.
Because while I don't think of U2 as having a distinctly "Irish" sound, Enya artfully combines New Age music with Celtic influences to achieve a sound that is her own.
And the public has been very receptive to her style.
You may have seen some headlines about how Enya lives in a castle. But believe me, you have to see a picture of it before you really understand it.
It isn't medieval (being completed in 1840), but with a size of 11,000 square feet, it's pretty insane.
And she bought it with money from her album sales, over eighty million sales to be more exact.
She definitely got lucky that she was successful before the low-paying streaming platforms like Spotify swooped in and rearranged the music biz.
And I count myself as a casual fan of her music too, but just don't ask me to pronounce her real name!
4. Only Shallow – My Bloody Valentine
This band from Dublin defined the Shoegaze genre with some absolutely mind-bending ways of using guitar, bass, and drums. Okay, so maybe they used a sampler too.
They put out a few EPs, but only three albums and I think everyone agrees that it's 1991's Loveless that is the pinnacle of their career. And it better be good for what it cost them to record it!
So if you've never heard it and enjoy this Only Shallow song, I recommend that you listen to the whole album as soon as possible.
But if you had asked me six months ago how popular My Bloody Valentine is, I probably would have said that most people have forgotten about them.
And I would have been very wrong because Fender Music Inc. recently released an updated version of their old Fender Blender fuzz pedal in a signature version for MBV's guitarist and vocalist Kevin Shields.
It's a really cool and unique pedal with several effects combined to let you get the classic Shoegaze sound (used with a whammy bar) but it also has a $500 price tag.
Well, the price didn't faze some people and when Britain's music shop Andertons reviewed the pedal on their Youtube channel, they revealed that they sold out of 700 of the pedals in two hours.
That's not bad for a band whose biggest moment came in 1991, eh?
5. I'm Shipping Up to Boston – Dropkick Murphys
The Dropkick Murphys have gone through a lot of members but the anchor of the band is Irish American Ken Casey.
They hail from Quincy, which is a suburb of Boston, and let's just admit it; Boston is about as close as you can get to Ireland without actually being on the British Isles.
Their music is loud and in-your-face Punk Rock that never strays too far from its Celtic roots with mandolin, bagpipes, banjo, and accordion thrown into the mix.
So it's similar to The Pogues or Dubliners but the sound is a little more Pop Punk than the older generation.
So if you're looking for an "alternative" to Alternative Rock, they fit the bill perfectly and like all good Irish music, their songs are best enjoyed with a glass of whiskey.
6. The Boys Are Back in Town – Thin Lizzy
7. This Is a Rebel Song – Sinéad O'Connor
8. I Lay My Love on You – Westlife
9. In the Rare Old Times – The Dubliners
10. All I Want (Part 1) – Kodaline
11. Common People – Candida Doyle (Keyboard player for Pulp)
12. Alternative Ulster – Stiff LIttle Fingers
13. I Just Fall in Love Again – Ann Murray
14. I Can See Clearly Now – Hothouse Flowers
15. What Makes You Beautiful – Niall Horan (of One Direction)
16. If I Ever Leave This World Alive – Flogging Molly
17. When You're Gone – The Cranberries
18. I Don't Like Mondays – The Boomtown Rats
19. Have I Told You Lately – Van Morrison
20. My Perfect Cousin – The Undertones
21. What in the World – Rory Gallagher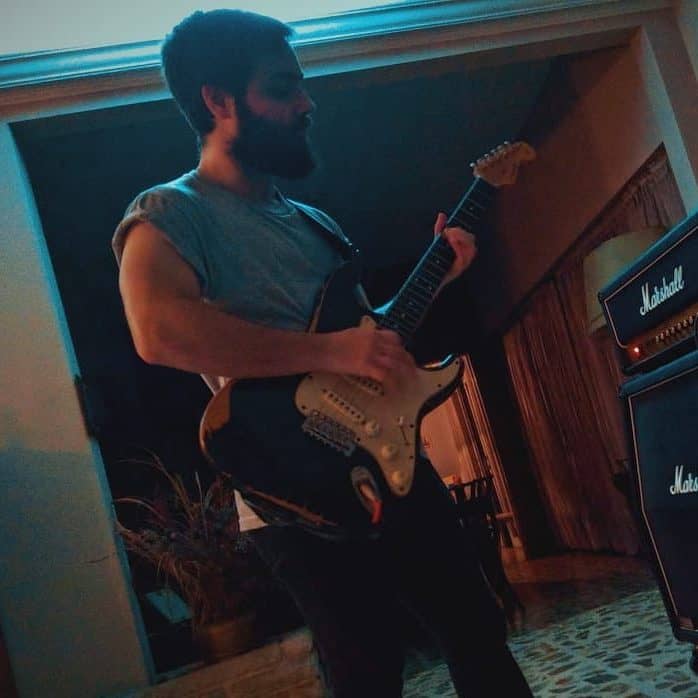 Hello there, my name is Ramiro and I've been playing guitar for almost 20 years. I'm obsessed with everything gear-related and I thought it might be worth sharing it. From guitars, pedals, amps, and synths to studio gear and production tips, I hope you find what I post here useful, and I'll try my best to keep it entertaining also.