You may have to look a little harder to find a wealth of popular White rappers but they're definitely out there.
However, since Rap and Hip Hop are so deeply associated with African American culture, this is one scenario where Caucasians may have an uphill battle.
The most popular White rapper Eminem even made a hit movie, 8 Mile, about his struggle to get recognized in the Rap scene.
I'm sure the movie was heavily dramatized and embellished but it probably wasn't far from the truth either.
But first, we need to do a little housekeeping.
To put this list together, it is based on people who rap in the English language and don't have African heritage.
In other words, Latino, Asian, etc., are included so Fat Joe will be considered but Cardi B will not.
This is kind of a shame because White women rappers are pretty rare as far as I know.
Also, most people will consider these songs NSFW and not be played around children.
And if you notice that a lot of these songs are from the late 1990s and early 2000s you can probably thank Eminem for that.
With all that taken care of, it's time to grab some endo and a gin & juice and see what White rappers are bringing to the table.
1. Pop the Trunk – Yelawolf
The rise in popularity of rappers from the south such as Ludacris, Outkast, and Three 6 Mafia probably helped pave the way for Alabama's Yelawolf.
And this was the first song that I and many others heard from him.
Now, urban violence is popular in Rap songs going way back to N.W.A. but rural violence is not so much.
But this song and the music video are pretty terrifying and more real to me than a lot of other Rap songs going for the same vibe.
I mean, have you ever been out in the countryside where no one would know if you went missing?
Have you ever seen the classic Horror movie The Texas Chain Saw Massacre?
Anyway, it's a great song with a catchy chorus hook and I don't think I'll be visiting Alabama anytime soon.
Written by: M. Wayne Atha and W. Washington
Year Released: 2010
Album: Trunk Muzik 0 -60
2. Animal Rap feat. Kool G. Rap – Vinnie Paz (Jedi Mind Tricks)
Does this song feature rapping over Classical music? You've got my attention already.
Proudly representing Philadelphia, Jedi Mind Tricks started out sounding something like a Kool Keith tribute group but I don't think that's a bad thing.
The lyrics are often metaphysical with incredible flows and there's never a shortage of references to brutal violence.
But by this stage in their career things were a little more mainstream than their first albums.
Vinnie Paz has done many collaborations with other groups and artists as well and is always on point with his voice even getting a little rougher over the years.
I do find myself wondering if they had to pay a licensing fee to the Star Wars franchise at some point for their name though.
Anyway, I can vouch for their first 3 albums (Animal Rap is from the 3rd) if you enjoy stuff that's experimental and a little different.
Written by: Jedi Mind Tricks and Kool G. Rap
Year Released: 2003
Album: Visions of Ghandi
3. Without You – Eminem
Everybody knows him. Almost everybody loves him. Eminem is undeniably the White Rapper.
It's like that old joke, where if you look up White Rap in the dictionary there will be a picture of Eminem.
That's not even up for debate and I chose this song for its commentary on what it's like to be White and at the top of the Rap game:
"No, I'm not the first king of controversy. I am the worst thing since Elvis Presley to do Black music so selfishly and used it to get myself wealthy.
I don't think there's much else to say about why Eminem deserves to be on this list.
But if you get to the end and you wonder why Machine Gun Kelly didn't make the cut, it's because he started a Rap battle with Eminem.
Written by: Eminem, Jeffrey Bass, Kevin Bell, and 3 others
Year Released: 2002
Album: The Eminem Show
4. Fuel Injected feat. Moka Only – Madchild (Swollen Members)
You may not be able to tell that this group was from Canada unless they talk about it in a song (which they sometimes do) but they did have a sound that was often different from other rappers.
For example, this song has a sense of early funky Rap from the 1980s or early 1990s with that fast bass/synth hook, but they really make it work well.
And the lyrics for Madchild and partner Prevail can be almost anything, running the gamut from film references or Dungeons and Dragons to drug abuse and violence.
In my opinion, their songs may be hit or miss like they are with most groups, but when they hit it's really good stuff.
And while I usually prefer Madchild's verses between the two MCs, I have heard some of his solo work, and trust me, he is better with the group.
I don't think they've put out any albums in a while but you can still find Madchild popping up on songs by other artists such as Tom MacDonald.
Written by: Swollen Members, Moka Only, and DJ Kemo
Year Released: 2002
Album: Monsters in the Closet
5. 8 Steps to Perfection – El-P (Company Flow)
El-P was something of a Renaissance man in the underground Rap scene; he was the guy that you wanted to produce your album.
Because he wasn't just a great rapper with Company Flow and as a solo artist, he did the music for a lot of great albums for Company Flow, Aesop Rock, Cannibal Ox, and others.
These days he has gained well-deserved success in Run the Jewels with Atlanta's Killer Mike but this track is from "back in the day" as they say in the Rap scene.
But it still sounds good with innovative beats and lyrics that tended to be more cerebral and complex than what a lot of contemporary Rap acts were putting out… or at least what was getting played on the radio and MTV.
Written by: El-P and Justin Ingleton
Year Released: 1997
Album: Funcrusher Plus
6. Weak Become Heroes – Mike Skinner (The Streets)
This chill-out track (and album) from the turn of the millennium was the soundtrack to a lot of great times for me.
And with The Streets hailing from good old Great Britain, I find that Rap allows regional accents to shine through in a way that traditional singing does not.
But that's not the only thing that sets it apart. It just feels different and there really wasn't anything else like it at the time.
And this song is not about how fast you can rap or how tough you can act. It's more of an observation of life itself.
I won't vouch for any of the albums after this one (debut) because I didn't care for them much, but Original Pirate Material is a solid listen from beginning to end.
Written by: Mike Skinner
Year Released: 2002
Album: Original Pirate Material
7. Mercury – Ghostemane
Ghostemane sounds different from what you may think of as Rap and is usually put in the newer genre of Trap Metal. Actually, it's easier just to listen to it than to describe it.
In fact, the whole business model is different with his fame coming from internet streaming sites rather than getting a big record deal.
The music is usually creepy as hell and the effect is amplified by the cartoon/anime videos that are often made to accompany it.
And this represents a whole new breed of Rap, so if you dig it, then you should definitely check out some other songs or videos by XXXTentacion and $uicideboy$. I especially recommend the Naruto vs. Pain music video.
Written by: Ghostmane
Year Released: 2017
Album: Hexada
8. / 9. / 10. (You Gotta) Fight for Your Right (To Party!) – Ad-Rock / Mike D / MCA (Beastie Boys)
I decided not to pick out a specific band member for the Beasties since they all did vocals.
And furthermore, their decision to disband upon the death of member MCA in 2012 shows that they really thought of themselves as one group so I'll respect that.
Now in my humble opinion, mixing Rock and Rap can go very wrong, very fast. But that's not the case with this band.
This song is a classic, still fun and humorous all these years later.
And the album it was released on was the first Rap album to make it to the number 1 spot on the Billboard album chart.
Seriously, most of the other rappers on this list probably weren't even born yet in 1986. So give it up for the White Rapper OGs.
Written by: Adam Yauch, Adam Horovitz, and Rick Rubin
Year Released: 1986
Album: Licensed to Ill
11. Black Widow feat. Rita Ora – Iggy Azalea
12. Mourning in America – Brother Ali
13. DayLight / NightLight – Aesop Rock
14. GodLovesUgly – Slug (Atmosphere)
15. Witchblades feat. Lil Tracy – Lil Peep (solo / GothBoiClique)
16. What's Luv? feat. Ashanti – Fat Joe
17. Insane In The Brain- B-Real (Cypress Hill)
18. I Like You (A Happier Song) feat. Doja Cat – Post Malone
19. Thrift Shop feat. Wanz – Macklemore (Macklemore & Ryan Lewis)
20. / 21. Enter the Ninja – Ninja / Yolandi Visser (Die Antwoord)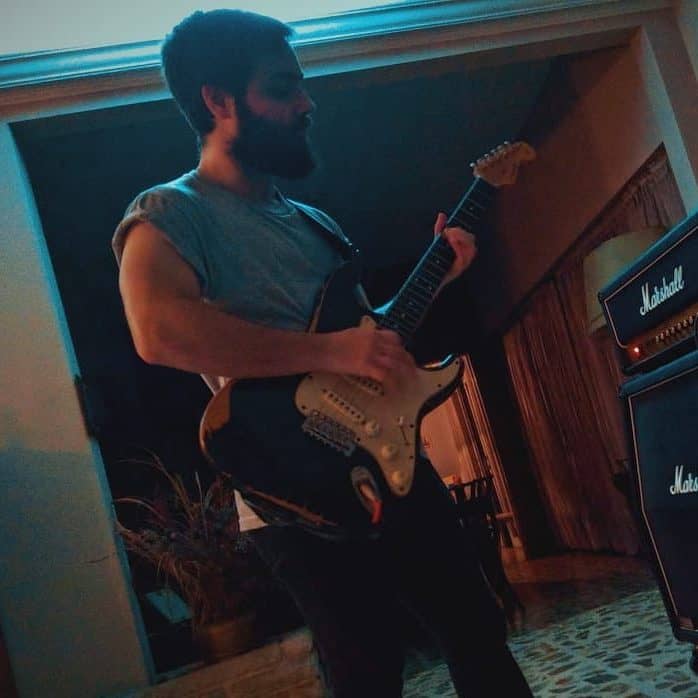 Hello there, my name is Ramiro and I've been playing guitar for almost 20 years. I'm obsessed with everything gear-related and I thought it might be worth sharing it. From guitars, pedals, amps, and synths to studio gear and production tips, I hope you find what I post here useful, and I'll try my best to keep it entertaining also.