No matter what the babble on the internet wants you to believe, Ohio is more than just a bunch of rabid football fans and endless fields of corn and soybeans.
But yeah, having spent some time in Ohio's capital city Columbus, I can confirm that those things are indeed a reality.
There's other stuff going on in the world of art and music though, and cities such as Cleveland, Columbus, Cincinnati, Dayton, and even Akron have produced some world-famous names.
While a few of the bands and musicians we'll check out today still call Ohio home, a large number of them moved away to cities that offered more opportunities to further their careers.
Believe me, you'll be surprised at some of the megastars who were born in the buckeye state.
And while there are some famous Hip Hop artists and other outliers, I think one thing is clear; Ohio has a specialty when it comes to music and that's good old Rock 'n Roll.
After all, even if you think its induction ceremonies are a silly schtick, it has to mean something that the Rock and Roll Hall of Fame is situated in Cleveland, right?
I'll warn you though that a few of the names on this list might make you suspect that there's something downright evil in the Ohio water supply!
But enough preamble, let's check out some amazing musicians with Midwestern roots that will make you think twice the next time someone calls Ohio a flyover state.
1. Chasing Heather Crazy – Guided by Voices
This well-loved Indie Rock band from Dayton has been churning out songs for forty years now.
Throughout that time they've had some brief moments of mainstream success, but they are bonafide local Ohio legends in my opinion.
They are often described as "lo-fi" but given their Midwest origins I like to think of their no-frills music as "meat and potatoes" Rock; it may not be fancy but it always hits the spot.
They are one of those "rotating cast" bands that have had over two dozen different members over their long career but the backbone of the band is definitely frontman Robert Pollard.
And the combined output of Guided by Voices albums and Pollard's solo albums is well over fifty releases. Holy **** dude!
I recommend starting with Bee Thousand, Mag Earwhig!, and Isolation Drills.
2. The Horror – RJD2
I happened to be in the Columbus area when RJD2 released his debut album Deadringer to the acclaim of many critics.
The album combines sample-based instrumental Hip Hop with several songs showcasing local rappers from the city including Blueprint and Copywrite, who were quite successful in Columbus.
For some background, there was a basement dive bar near the Ohio State University campus called Bernie's Distillery (now closed) that often hosted Punk bands and also had a Hip Hop night and I think much of RJD2's music germinated there.
I will admit I haven't kept up with RJD2's other albums over the years but I still give this one a spin every once in a while.
3. Rap Devil (Eminem Diss) – Machine Gun Kelly
Okay, so the line "His ****ing beard is weird" might not make it into the Rap Hall of Fame.
But Machine Gun Kelly is Cleveland's biggest contribution to Rap since Bone Thugs-n-Harmony, although their styles are drastically different.
He was born in Texas but he proudly represented Cleveland as his home… at least for a while. I guess if I was dating Megan Fox I'd probably relocate to L.A. too!
These days he has delved into a new style of Alternative Rock that is strongly influenced by Pop Punk.
And it's all right, at least way better than I was expecting when I heard he was going to release a Rock album.
So I give him kudos for not being afraid to switch gears and try new things, especially when so many musicians seem to find a formula and just release albums that sound the same for their whole career.
4. Look at Your Game Girl – Charles Manson
You might be checking the calendar to see if it's April Fool's Day but it's not, or at least it isn't when I'm writing this.
Although Manson was famous for leading the Manson family cult and his time in California, this creep was born in Cincinnati.
It's probably not something that folks in Cincinnati like to talk about though.
And he was also a songwriter, guitar player, and singer, even releasing an album titled Lie: The Love and Terror Cult in 1970.
I'm not impressed by most of his songs, but as much as I hate to admit it, this song is actually good.
And Guns N' Roses later did a (hidden track) cover of it on their The Spaghetti Incident? album.
I guess they were trying to be subversive or something.
Another of Manson's songs was also recorded in a modified version by The Beach Boys but that was before his trial and the Manson Family murder of Sharon Tate and others.
And unfortunately, there are more Ohio connections here.
Dayton's Marilyn Manson combined Manson's name with Marilyn Monroe for his persona.
And Cleveland's Trent Reznor rented the home where Tate and others were murdered to record NIN's Broken EP. That's not cool.
Let's just move on.
5. Gold on the Ceiling – The Black Keys
Hailing from Akron, in Northeastern Ohio, The Black Keys are a very respected duo, making what many people consider to be some of the best Blues Rock of the new millennium.
And like Guided by Voices, they made a name for themselves by recording their own music, at least in their early days.
Plus, like Detroit's The White Stripes, there are only two members in the band, further pushing the idea that you don't need bells and whistles to make great music.
But that's only true as far as the writing and recording goes and The Black Keys do add other musicians when they go out on tour.
Although these days both of the guys have left Akron and relocated to Nashville, I really like the idea that it's just two childhood friends hanging out and jamming.
And that's a cool thing, no matter what city or state you're in!
6. Head Like a Hole – Trent Reznor of Nine Inch Nails
7. I Put a Spell on You – Marilyn Manson
8. Thuggish Ruggish Bone – Bone Thugs-n-Harmony
9. All This and More – The Dead Boys
10. Whip It – Devo
11. Walk Away – James Gang
12. If You Think You're Lonely Now – Bobby Womack
13. Monkey Gone to Heaven – Kim Deal of The Pixies (and The Breeders)
14. I'll Stick Around – Dave Grohl of Foo Fighters (and Nirvana)
15. Love Rollercoaster – The Ohio Players
16. Baby Can I Hold You – Tracy Chapman
17. Give Up the Funk (Tear the Roof off the Sucker) – Bootsy Collins of Parliament
18. Level of Concern – Twenty One Pilots
19. Back on the Chain Gang – Chrissie Hynde of The Pretenders
20. You and I (Nobody in the World) – John Legend
21. Non-Alignment Pact – Pere Ubu
22. Dream a Little Dream of Me – Doris Day
23. Used ta Be My Girl – The O'Jays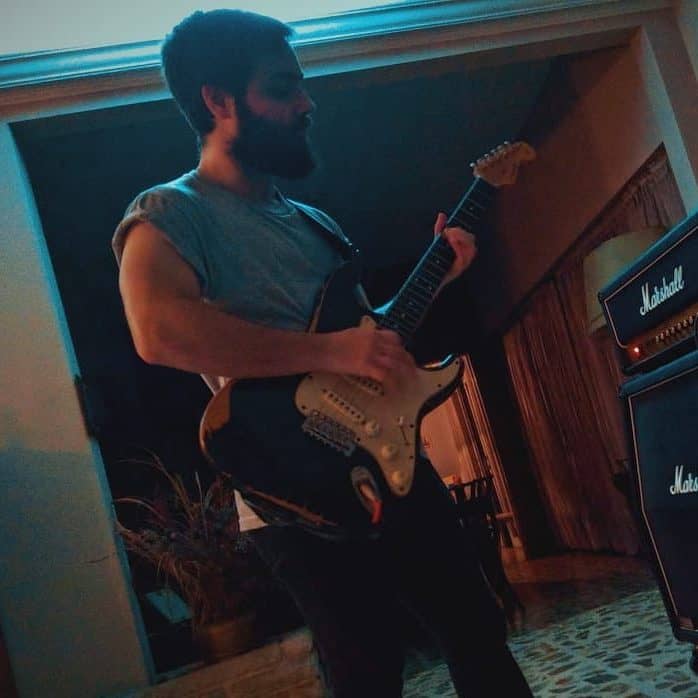 Hello there, my name is Ramiro and I've been playing guitar for almost 20 years. I'm obsessed with everything gear-related and I thought it might be worth sharing it. From guitars, pedals, amps, and synths to studio gear and production tips, I hope you find what I post here useful, and I'll try my best to keep it entertaining also.