For a city that's famous all over the world, New Orleans isn't actually that big. But what it lacks in quantity it makes up for in quality.
It is considered the birthplace of Jazz music and has a culture and cuisine that are a delightful mix of African and French influences.
And this Cajun / Creole mixing pot even has its own local dialect or patois that may confuse many visitors at first. Just wear a New Orleans Saints football jersey and smile a lot!
Of course, it's hard to talk about the "Big Easy" without mentioning hurricane Katrina though, which devastated the city and caused many deaths in 2005.
And while some people did migrate elsewhere after the disaster, there are plenty of people who just couldn't imagine living anywhere else and have persevered to rebuild their home city.
As far as the music of New Orleans goes, there are a lot of famous names you should know but perhaps not as many as you may think!
Because I think a lot of the real innovation that happened there was in the early 20th century, long before modern media and the internet existed to capture and record it. So only the biggest stars made it into the public eye.
Now, I know I always say that every city and state has a rich local music scene, but this time I swear I'm not exaggerating.
New Orleans is a place that you should definitely visit if you ever get the chance because there is a wealth of world-class music being played nightly in dive bars throughout the city.
If you're ever there (preferably not during Mardi Gras or Voodoo Fest) just ask some local music fans where the good stuff is.
I don't mean there's anything wrong with the live music played at the bars in the Old Square (French Quarter), I'm just saying you may have to explore a little to find where the locals go.
And if you're stuck at home and want a taste of New Orleans, you can still enjoy its music from Blues, Jazz, and Hip Hop to Rock.
So mix up a bigass hurricane cocktail and check out these musicians and bands that are proud to call the city home.
1. Gris-Gris Gumbo Ya Ya – Dr. John
Okay, I usually think songs with lyrics about food are silly but I make an exception for New Orleans musicians because their cuisine is such a big part of their culture.
Besides, Dr. John's debut album Gris-Gris from 1968 is one of my all-time favorites.
The music is a strange concoction of swampy Blues, R&B, and Psychedelic Rock with Dr. John taking on the persona of The Night Tripper, a voodoo witch doctor who… Just listen to it – it's a little hard to explain!
And listening to the whole album is almost like a psychedelic trip too; there are some weird rhythms that you don't often find in "Western" music.
His second album Babylon is also pretty experimental (I prefer this first one). In his later years, some of his music became a little more traditional Blues and Jazz but that's not a bad thing either.
Although he died a few years ago, Dr. John spent about 50 years playing music in the city and he was a New Orleans boy to the bone.
2. Go to the Mardi Gras – Professor Longhair
After HBO's smash hit The Wire ended, the creators and some of the actors followed it up with Treme, a show about New Orleans after hurricane Katrina.
And I remember one of the characters saying that the only thing you need to know about New Orleans music is Professor Longhair.
I obviously think that's a gross oversimplification, but he is one of the musicians you need to know about.
Again, he was another resident that loved to write songs about his home city and the culture that he lived in not really voodoo stuff this time, but music, women, drinking, and festival parades.
Regarding this song, I and a lot of others think Mardi Gras has become too commercialized and has basically become just a swarm of tourists for the last several decades.
But while this version of the song is from 1959, it was originally released as Mardi Gras in New Orleans in 1949. And I'm guessing that the festival was a little more of a local party and not nearly as crowded back then.
If you dig his Boogie-Woogie piano style check out Hey Little Girl and his most popular song Tipitina too.
3. When the Saints Go Marching In – Louis Armstrong
A lot of people probably associate Louis Armstrong with What a Wonderful World, which is a great song.
But his Swing and Jazz music are incomparable for their raw energy as Louis switches between trumpet and his famous "gravelly" singing.
Although he spent time in Chicago and lived in New York for a long period of his life, New Orleans was undeniably always a part of him.
And in those days being a professional musician usually meant you had to go where the work was in order to make it.
And I think he made the right choice because his impact and influence were so big that he did a lot for "normalizing" African Americans as part of popular culture and Jazz music certainly wouldn't be the same without him.
The New Orleans airport is actually named after him, which is a really cool tribute as well as a way of letting visitors know that it's a city that holds its music in high regard.
4. Cissy Strut – The Meters
Outside of the Jazz, Electronic, and Classical genres, I find that instrumental music can sound boring sometimes.
But that isn't always the case when you have bands like The Meters laying down their soulful brand of Funk that doesn't need any words to express itself.
They were a musical fixture of the city's music scene for many years and were the backing band for several other artists such as Dr. John.
And two of the members (Art and Cyrill) can also be heard in their group The Neville Brothers.
But to get back to The Meters, this was a band whose playing was impeccably tight, with the rhythm section every bit as important as the keyboard and guitar melodies.
So their debut self-titled album is one that you should listen to at least once in your life.
And you might even recognize some of the grooves since early Hip Hop and Rap groups sampled many of this band's songs.
5. Don't You Just Know It – Huey Piano Smith
You might as well put this song on repeat because you'll never get it out of your head!
A lot of people such as myself were introduced to this one on the Snatch film soundtrack.
And R.I.P. to Huey Smith who recently died in February of 2023. So give his music some love and also check out his signature song Rockin' Pneumonia and the Boogie Woogie Flu.
6. Mirror – Lil Wayne feat. Bruno Mars
7. Runnin' Thru the 7th with My Woadies – $uicideboy$ vs. Pouya
8. This Is How We Do – Big Tymers
9. I'm Walking to New Orleans – Fats Domino
10. Make 'Em Say Ugh! – Master P feat. Mystikal and Fiend
11. Cowboys from Hell – Phil Anselmo (singer for Pantera)
12. It Had to Be You – Harry Conrick Jr.
13. Back That Thang Up – Juvenile feat. Lil Wayne and Mannie Fresh
14. I Got It (What You Need) – Galactic
15. King of New Orleans – Better Than Ezra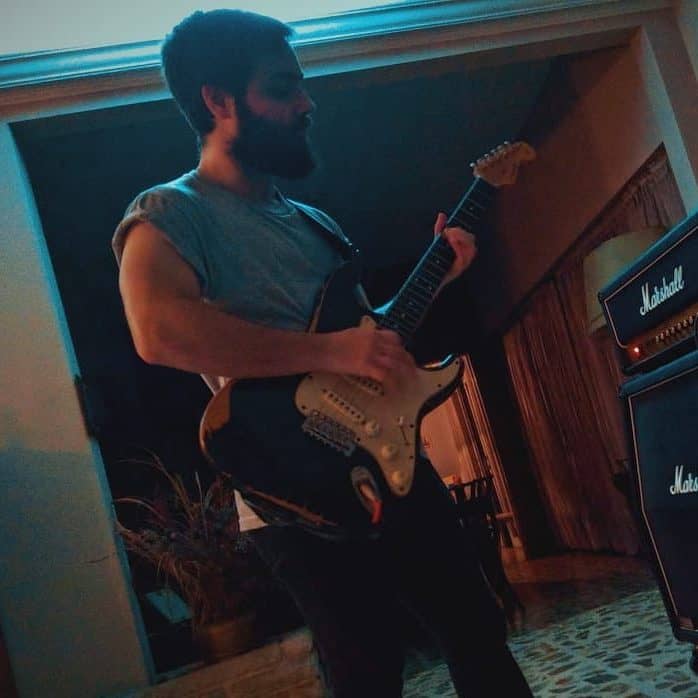 Hello there, my name is Ramiro and I've been playing guitar for almost 20 years. I'm obsessed with everything gear-related and I thought it might be worth sharing it. From guitars, pedals, amps, and synths to studio gear and production tips, I hope you find what I post here useful, and I'll try my best to keep it entertaining also.