When the word witch is uttered, what usually comes to mind is the cackling hag with the cone-shaped hat and warts on her nose.
Fortunately for us, not all songs about these dark ladies of the night go towards caricature, but rather conjure images of mysticism and wonder, both as the seductresses or the creature of the night that everyone fears.
So, let's look at nine songs that broach the subject of witches.
Things are about to get scary!
1. Witchy Woman – The Eagles
We start off with this track from The Eagles' 1972 self-titled debut, which was also a Top 10 hit for the band.
The music is sparse, with those haunting harmonies during the chorus and an almost cinematic arrangement.
The lyrics were supposedly inspired by Zelda Fitzgerald, F. Scott Fitzgerald's wife, and all-around good-time lady during the 1920s, and books of shamanism that Don Henley was reading at the time.
The combination of all of this gives you a tune that paints a beautiful and haunting picture of its protagonist.
2. The Witch's Promise – Jethro Tull
A 1970 single from the band, the song features Tull's brand of folk-infused progressive rock (and let's face it, no one can rock the flute-like Ian Anderson can).
The arrangement is further augmented by the group's use of the mellotron during the latter part of the song, adding a huge orchestral sound.
Though it was initially released as a single, a remixed version later found its way onto the group's 1972 compilation Living in the Past.
3. Black Magic Woman – Santana
Technically, this would be Fleetwood Mac's second appearance on this list, this song being part of the Peter Green era.
However, we'll be going with Santana's cover, from 1970's Abraxas (and considering that Peter Green was one of Carlos Santana's biggest influences, the band covering a Green-era Fleetwood Mac song seems only appropriate).
The song speaks of a woman who has the protagonist under her spell, leaving him unable to "leave her alone."
The lyrics are further augmented by the Latin-infused arrangement that Santana presents, very mystical and haunting in its own right.
The group further amps up the affair with a cover of Gabor Szabo's "Gypsy Queen".
4. Rhiannon – Fleetwood Mac
Two is better than one for Fleetwood Mac on this list as we look at this song from 1975's Fleetwood Mac.
After years of being part of the British blues scene, this album (which introduced the stylings of Stevie Nicks and Lindsay Buckingham to the fold) brought the pop elements that made the band a household name.
Nicks's lyrics about a "Welsh witch" (as she described it) conjure images of a woman who takes a hold of life, with very mystic elements to describe her comings and goings.
Again, music and lyrics meld beautifully to underscore the story in the lyrics with its haunting harmonies and delicate arrangement.
5. Moonchild – Iron Maiden
Up the irons! No list of witches (or anything considered dark and mysterious) would be complete without this track of Maiden's Seventh Son of a Seventh Son.
The music is as epic as it gets, with its folk-like opening, before kicking into that metal sound that is undeniably Iron Maiden.
The metaphors around seven are present in the lyrics, from the seven deadly sins to the seventh seal from the book of Revelation.
This truly conjures up some evil imagery, so raise the horns and bang your head!
6. Witchcraft – Frank Sinatra
A bit of a left turn from the previous entry on this list, we go to this 1957 single from Ol' Blue Eyes himself.
The song speaks of a man seduced by a lovely temptress, alluding to being under her spell.
As for the music, there's no mistaking the classic crooner sound and Frank's unmistakable delivery. A joy for the ears, for sure!
7. Sisters of the Moon – Fleetwood Mac
Not once, not twice, but thrice des Fleetwood Mac make this list, and this time with a song from the 1979 album Tusk.
Musically, the song takes its time to build, almost sounding a rockier take on "Rhiannon".
The song itself also feels looser in its delivery, compared to the group's tighter pop offerings.
The lyrics paint a very close image of the typical witch with her black robe trailing and her dark eyes.
Some people may find this a bit of a left turn musically from their other material (though Tusk on a whole is seen as an experimental album), though it's still worth a listen.
8. Witch Hunt – Rush
Taken from the excellent album Moving Pictures from 1981, this song is epic in scope, from its mob-scene opening to its guitar and synth-driven arrangement.
Neil Peart's lyrics allude to the old witch trials, where people were mad with fear (a criticism of intolerance from Peart's point of view) and quick to accuse and punish those suspected of "witchcraft".
An epic song among several epic songs, and certainly not to be ignored.
9. Waking the Witch – Kate Bush
Kate Bush is enjoying a huge renaissance today, in part thanks to her song "Running Up That Hill (A Deal With God)" being prominently featured in Season 4 of Stranger Things.
However, if that song is what saves Max, "Waking the Witch" is pure Vecna.
A very experimental song from 1985's Hounds of Love, the song goes through quick style and mood shifts throughout.
The performances almost allude to a discussion with a demon, with the low, growling vocals complimenting Kate Bush's delivery.
The lyrics once again allude to a woman accused of witchcraft, punctuated with Latin church phrases and the verdict of guilty from the mob. Another song that is cinematic in scope.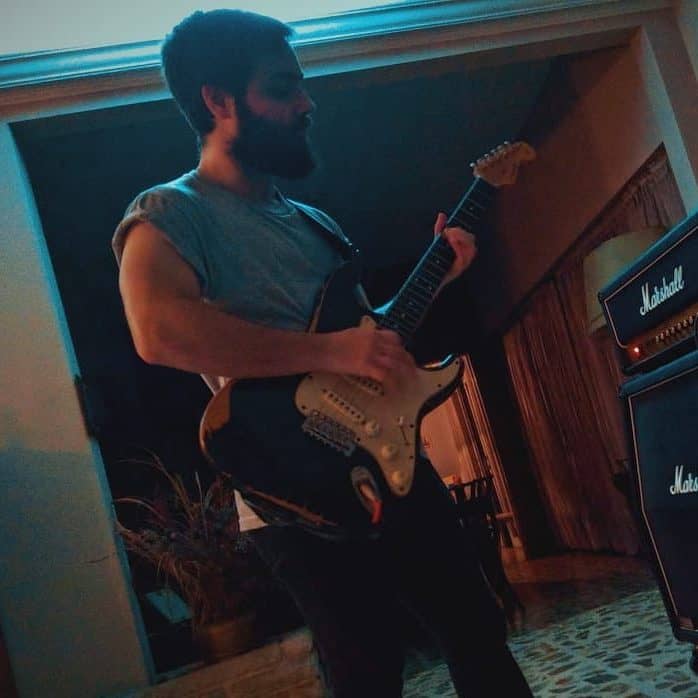 Hello there, my name is Ramiro and I've been playing guitar for almost 20 years. I'm obsessed with everything gear-related and I thought it might be worth sharing it. From guitars, pedals, amps, and synths to studio gear and production tips, I hope you find what I post here useful, and I'll try my best to keep it entertaining also.