Learning to play a musical instrument is a big undertaking.
With wind instruments you have to have to use your hands while controlling your blowing and breathing, drumming involves both hands and both feet, piano has you using your hands in separate ways, etc.
And with stringed instruments, you have to bend one hand into contorted shapes while using your other hand to fingerpick, use a bow, or a plectrum.
For beginners, It can definitely be a lot of strain on the brain. And there are songs that can make even seasoned veterans break into a cold sweat.
So if you're wanting to concentrate on whipping your fretting hand into shape or just want to play something to relax, knowing some tunes with easy strumming patterns is helpful.
Luckily there are some popular and amazing songs that fit the pattern.
Now there is no magic formula that these songs adhere to… they don't have to be all downstrokes, or simply alternating down and up, in 4/4 time or anything.
These are simply songs that I think of as easy to strum, either with a simple pattern or one that just seems to come naturally after hearing it a few times.
And I'm humble enough to know that my opinion isn't law, so I've added some songs from various forums to try to have something for everyone.
But even so, you should make sure you have the right tool for the job.
So I recommend grabbing a variety of guitar picks, from super thin to thick, and finding what works best for you on each song you try.
Let's get strumming!
1. I Wanna Be Your Dog – The Stooges
This is a simple but powerful rocker from The Stooges' first album, a band that many Punk and Grunge bands hold in high regard, even calling singer Iggy Pop the Godfather of Punk.
And the strumming is quite simple to master; you will mostly be using downstrokes but adding upstrokes to double-time the strum when you are changing chords.
So think of your strums like this: D D D DU D D D DU then 8 more downstrokes.
And if you want to go crazy and add in extra upstrokes, especially on the E chord in the verse, it won't sound bad because what you're really trying to achieve here is a "wall of sound" effect.
The basic parts of the song are like this (played with power chords with the root on the 5th string while hitting the open 6th string too).
Verse: G F# E (play eight times)
Chorus: G F# E (three times)
E D B C E
Dial in some really nasty distortion on your amp or interface and have fun. It doesn't get much easier than this!
And here's a lesson:
2. The Seeker – The Who
Here we have a pretty simple song from The Who that any beginner guitarist should be able to learn quickly.
And the whole thing is built on a catchy chord riff with a signature strumming pattern.
So I think this is one that you should be able to just listen to several times and then replicate, but the linked tab does have a strumming pattern included.
To simplify it you do 5 strums… 7 strums… 5 strums… 2 strums… 1 strum… 2 strums…to start off the song.
Here is how to play it.
Intro: A G D (play two times)
C G A G
D
A G D
Verse: A G D (three times) A
Chorus: D Dsus4 D
A G A G D
C G
Bridge 1: D Dsus4 D A
D Dsus4 D E
Bridge 2: D A
D Dsus4 D E
And here's a lesson:
3. I'm Waiting for the Man – The Velvet Underground (and Nico)
One of Rock's most interesting bands liked to keep things simple most of the time, both with the number of chords in a song and the strumming patterns.
In this classic Velvet song about scoring some drugs in New York, most of the work is done by downstrokes to create a choppy staccato rhythm.
And the song keeps a steady tempo so once you memorize the chords you're all set.
Here is how to play it.
Intro: D G…
Verse: D G (play four times)
D F# G A
D G (two times)
And here's a lesson:
4. San Francisco
One of the greatest songs ever written about a city is a relaxing song to remember "the good days" when young people celebrated love and peace as a lifestyle.
And this is one of the greatest strumming songs ever too!
The video tutorial below suggests two downstrokes, two upstrokes and then down and up to get the groove of the song.
But to me, this is really one of those songs that you just have to feel in your bones so you can play it however you like!
Here are the parts of the song.
Intro: G
Verse 1: Em C G D (play two times)
Em G C G
G Bm Em D
(repeat all lines twice!)
Bridge: F G F G D
Verse 2: Em Am C G Bm D
Em C G D
Em G C G
G Bm Em G Em
Outro: F#m A D A
C#m F#m A F#m
And here's a lesson:
5. Santa Monica – Everclear
6. Love Will Tear Us Apart – Joy Division
7. Heart of Gold – Neil Young
8. If It Makes You Happy – Sheryl Crow
9. Take Me Home, Country Roads – John Denver
10. Jumper – Third Eye Blind
11. Space Oddity – David Bowie
12. Something in the Way – Nirvana
13. Free Fallin' – Tom Petty
14. Sweet Caroline – Neil Diamond
15. Hound Dog – Elvis Presley
16. Crazy Little Thing Called Love – Queen
17. What's Up? – 4 Non Blondes
18. Wish You Were Here – Pink Floyd
19. All My Loving – The Beatles
20. Music When the Lights Go Out – The Libertines
21. Give Peace a Chance – Plastic Ono Band with John Lennon
22. Where Have All the Cowboys Gone? – Paula Cole
23. Blue on Black – Kenny Wayne Shepherd
24. The Heart of the Matter – Don Henley
25. Wonderwall – Oasis
26. Have You Ever Seen the Rain? – Creedence Clearwater Revival
27. Yellow – Coldplay
28. Tangerine – Led Zeppelin
29. Through Glass – Stone Sour
30. Knockin' on Heaven's Door – Guns 'N Roses
31. Brain Stew – Green Day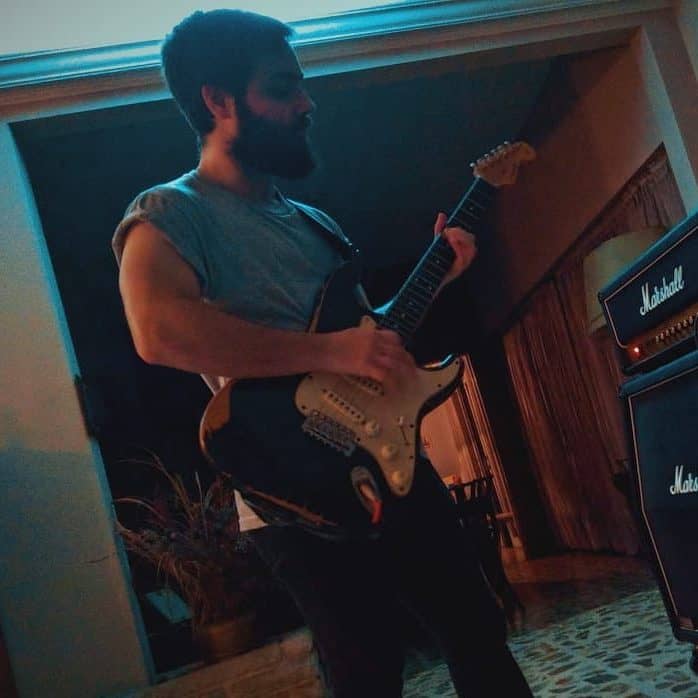 Hello there, my name is Ramiro and I've been playing guitar for almost 20 years. I'm obsessed with everything gear-related and I thought it might be worth sharing it. From guitars, pedals, amps, and synths to studio gear and production tips, I hope you find what I post here useful, and I'll try my best to keep it entertaining also.