Some songwriters try to be unique but others want to reach as wide of an audience as possible.
So to do that you need to write songs about universal experiences, which is why love and break-up songs are so popular.
And everybody eats but songs about food aren't really considered cool most of the time. And sleeping is kind of a boring subject too.
How about breathing? We all do that constantly even if we don't consciously do it.
Well, I think the jury is still out on whether Mark Zuckerberg is human but the rest of us all rely on oxygen.
So here are some amazing songs that deal with this most important of topics.
1. Take My Breath Away
Sure this one sounds kind of cheesy these days, just like everything on the Top Gun soundtrack, but that's probably because you've heard it so many times.
I have to admit I'm kind of jealous of this lady with her lover who can take her breath away just by looking at her.
But even if it's overly dramatic, this song is a shining example of what music in the 1980s was all about and I wouldn't change a thing about the recording, especially that iconic synth bass.
Written by: Giorgio Moroder and Tom Whitlock
Year Released: 1986
Albums: Count Three & Pray and Top Gun (soundtrack)
2. I Can't Breathe
This song was released as a single that reflected on the death of George Floyd in Minnesota and won H.E.R. a Grammy for Song of the Year.
So this is a great example of using music to raise awareness of an issue that is close to your heart and the official video on Youtube states that all profits are donated to the Black Lives Matter movement.
And of course, a pop star who can play a musical instrument always gets a little extra respect from me.
Even Fender seems to agree with me as they released a signature H.E.R. Stratocaster as part of their goal to represent more female artists in their line of signature instruments.
Written by: H.E.R., D'Mile and Tiara Thomas
Year Released: 2020
3. Machinehead
The fifth single off of Bush's debut album talks about having "a machine head, it's better than the rest".
Now a machine head is actually a type of tuner used on many types of musical instruments such as guitars and basses, though the simple term "tuner" is more common.
So that's probably where the idea of the name came from.
But each verse of the song begins with "breathe in, breathe out" repeated several times before the other lyrics kick in.
Now breathing is part of our body's autonomic nervous system, meaning we don't have to think about it or make a conscious effort to do it.
But what if your head was actually some kind of machine? Surely there would need to be some type of programming code or mechanical design to tell your body to breathe.
After all, there are humanoid robots now that blink and tilt their heads to convey emotion.
I might be overthinking this since a lot of mid-1990s rock lyrics were just "free association" type of stuff like Nirvana.
But it makes sense to me and hats off to Bush if this was the idea behind these lyrics.
Written by: Gavin Rossdale
Year Released: 1994
Album: Sixteen Stone
4. Every Breath You Take
This famous song and its timeless riff uses "every breath you take" to mean all of the time.
This song starts out very romantic and people who have never listened closely to the lyrics probably still think of it that way.
But later in the song comes the line "since you've gone" and you realize he's talking about stalking a lady who broke up with him. Yikes.
If you need more proof, the B-side to the single was the song Murder by Numbers.
So please don't play this one at your wedding unless you and your fiance share a dark sense of humor.
Written by: Sting
Year Released: 1983
Album: Synchronicity
5. Still Breathing
This song uses breathing as a metaphor for perseverance and not letting the world drag you down.
Now it's a type of song that has been done a lot in punk rock but it worked in their favor and the song performed well on music charts.
And though the verse melody was inspired by another song by the band The Struts, Greenday was gentlemanly enough to give them shared writing credits, which is commendable.
Written by: Green Day and 5 others
Year Released: 2016
Album: Revolution Radio
6. Stop Breathin
Here is a song that can be interpreted in a lot of different ways because the lyrics seem to be pointing in several different directions.
At face value, the song is about a young man who isn't cut out for the military going off to war and getting shot down.
From this viewpoint, the chorus ("stop breathin, stop breathin, breathin for me now") could be asking a fellow soldier to stop performing CPR and let him die.
But there are also some apparent references to tennis in the lyrics. Yes, you read that right.
So "stop breathing" could be a request such as "be quiet" to a crowd so he can concentrate.
I prefer to go with the war interpretation personally but regardless of what it's really about, it's a great song off a great alternative rock album.
Written by: Stephen Malkmus
Year Released: 1994
Album: Crooked Rain, Crooked Rain
7. Breathe Deeper
I think Tame Impala is one of the best counterpoints when one of your friends complains that music sucks these days.
And this song is no exception, with its advice to take a deep breath and relax, not just once but over and over.
Or to put it another way, take a chill pill and get your life together if you want to hang out with me.
And the part "come find me when you're done so we can be as one" could be interpreted as the technique of syncing your breathing or heartbeat with another person.
This is really nothing new as controlled or conscious breathing has long been a part of many practices such as meditation and yoga.
But I think it was released at a great time too as many people's lives were being turned upside down by a global health pandemic.
Written by: Kevin Parker
Year Released: 2020
Album: The Slow Rush
18 More Great Songs about Breathing
| | |
| --- | --- |
| Title | Artist |
| Breathe | Faith Hill |
| Breathe | Pink Floyd |
| Last Breath | Plain White T's |
| Breathe | The Prodigy |
| Suicidal Dream | Silverchair |
| Breathe | Terranova |
| Harder to Breathe | Maroon 5 |
| You Take My Breath Away | Queen |
| Just Breathe | Willie Nelson |
| The Breath You Take | George Strait |
| Heavy Breathing | Bee Gees |
| Breathless | The Corrs |
| American Oxygen | Rihanna |
| Hold My Breath Until I Die | Tegan and Sara |
| Lose My Breath | Destiny's Child |
| Breathe In | Frou Frou |
| Breathing | Kate Bush |
| I'll Hold My Breath | Ellie Goulding |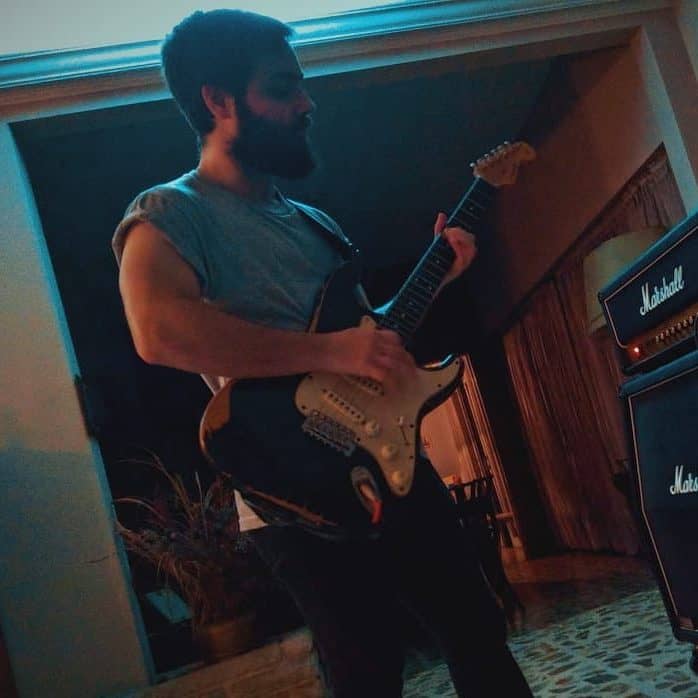 Hello there, my name is Ramiro and I've been playing guitar for almost 20 years. I'm obsessed with everything gear-related and I thought it might be worth sharing it. From guitars, pedals, amps, and synths to studio gear and production tips, I hope you find what I post here useful, and I'll try my best to keep it entertaining also.