The guitar solo is a moment of pure sonic ecstasy that has the power to send shivers down your spine and transport you to another reality.
It's that magical instant when a guitarist's fingers dance across the fretboard, threading a web of emotion, technique, and musical brilliance.
In this article, we invite you to join us on an unforgettable journey as we uncover the best guitar solos ever that have left an indelible mark on the world of music.
From hard rock tunes to soul-stirring melodies of blues and the mind-bending complexity of progressive rock, these solos represent the pinnacle of guitar artistry.
Each one is a testament to the talent and creativity of the guitarists who created them, pushing the boundaries of what is possible (or impossible) on six strings.
Prepare to be swept away by the stories behind these iconic solos, so get ready to unleash sonic fireworks as we dive into the breathtaking brilliance of the greatest guitar solos of all time.
1. Beat It – Michael Jackson
To begin with, we have a guitar solo that is a blistering display of technical prowess and raw energy.
Released in 1982 as part of the iconic Thriller album, this track is charged with mystique because it was recorded by the legend Van Halen himself.
With lightning-fast legato runs, precise tapping techniques, and soaring bends, Eddie Van Halen injects a shot of adrenaline into the song.
The fame of this solo lies in its fusion of rock and pop, bringing a new level of excitement to both genres and introducing Van Halen's virtuosity to a wider audience.
2. Bohemian Rhapsody – Queen
Featured in Queen's 1975 album A Night at the Opera and performed by Brian May, this guitar solo is a masterpiece within a masterpiece.
Comprising multiple sections, it showcases the melodic sensibility that characterized Brian May and his ability to evoke emotion into every note.
From the delicate arpeggios to the soaring climax, this solo perfectly complements the epic nature of the song.
The fame of this piece resides in its sheer brilliance and in its embodiment of the magnificent creativity that is the hallmark of May's signature sound.
3. Comfortably Numb – Pink Floyd
Released in 1979 and included in the well-known album The Wall, this track consists of two haunting and evocative solos which left an indelible mark on listeners' souls.
Performed by David Gilmour, the first solo is filled with soulful bends and emotive phrasing, setting the stage for the climactic second solo.
Once in the second solo, Gilmour's sustained notes and flawless control build an emotional crescendo that resonates with the song's lyrical depth.
These solos are usually regarded as the best in rock history, taking the listener to a place of introspection and catharsis.
4. Detroit Rock City – Kiss
When it comes to cornerstone solos, this aggressive, rebellious piece played by Ace Frehley is not to be missed.
Released in 1976 on the album Destroyer, this section features fast pentatonic licks, wild vibrato, and blistering power chords that embody the spirit of the song.
As the solo progresses, a second guitar appears to harmonize the melodic line and solidify the rock and roll energy of the track.
This song is a staple of Kiss's live performances and one of the most eagerly awaited moments for fans.
5. Purple Rain – Prince
Prince was always an outstanding, eccentric performer and this guitar solo is a masterpiece.
Taken from Prince's 1984 album of the same name, this track showcases his signature blend of blues, rock, and funk.
Prince delivers a solo that is both technically impressive and emotionally gripping, with delicious bendings and tasteful use of vibrato to create an emotive musical journey.
To this day, Purple Rain remains a timeless classic and an inspirational piece for many guitarists.
6. Stairway To Heaven – Led Zeppelin
What can we say about this amazing classic solo that wasn't said before?
With pentatonic licks and voracious bends the captivating journey introduced in the whole song finishes perfectly with this incredible melodic section.
Released in 1971 as part of the album Led Zeppelin IV, this iconic guitar solo shows Jimmy Page's virtuosity and capability to transmit emotions through his playing.
7. Crazy Train – Ozzy Osborne
This guitar solo by Randy Rhoads is a non-stop demonstration of technical prowess and intense rage.
Rhoads pushes the limits of the guitar with lightning-fast alternate picking, searing legato runs, and precise harmonic embellishments.
Featured on the 1980 album Blizzard of Ozz, this track has achieved the status of a heavy metal classic.
Likewise, this solo is renowned for fusing hard metal with classical approaches, establishing Rhoads as a guitar virtuoso, and influencing generations of metal guitarists.
8. November Rain – Gun's N Rose's
Slash's guitar solo on November Rain, which was included in Lose Your Illusion I and released in 1991, is a beautiful illustration of melodic narrative and emotional depth.
The solo takes the song to new heights with its bluesy phrasing and melodic lines.
This solo is legendary because of Slash's ability to blend technical mastery with a visceral, emotional playing style.
It culminates the song and leaves listeners in awe of Slash's amazing guitar playing and his capacity to express strong emotions from his audience.
9. Eruption – Van Halen
Eddie Van Halen's guitar solo in Eruption is a game-changer that redefined the possibilities of guitar playing.
With his fast tapping style, rapid legato runs, and mind-bending whammy bar techniques, Van Halen showed his technical virtuosity and innovation through this solo.
Featured in the self-titled album released in 1978, the song is famous for its explosive energy and for propelling Van Halen to guitar god status.
Nowadays, it remains a benchmark for aspiring guitarists, inspiring countless players to push the boundaries of what can be achieved on the instrument.
10. Free Bird – Lynyrd Skynyrd
Free Bird is an epic masterpiece thanks to its narrative and also its wonderful guitar solo that has become an anthem of the rock genre.
Released in 1973 and included in the album (Pronounced 'lĕh-'nérd 'skin-'nérd), the solo features two harmonized guitar leads, played by Allen Collins and Gary Rossington.
Their seamless chemistry, melodic sensibility, and emotional range are all highlighted in the solo.
Known for its soaring melodies and sense of freedom, this solo has come to represent rock and roll and is a testament to the power of guitar-driven music.
11. For The Love Of God – Steve Vai
12. Johnny B. Goode – Chuck Berry
13. Highway Star – Deep Purple
14. Still Got The Blues – Gary Moore
15. Hotel California – Eagles
16. While My Guitar Gently Weeps – The Beatles
17. Paranoid Android – Radiohead
18. Texas Flood – Stevie Ray Vaughan
19. Crossroads – Cream
20. All Along The Watchtower – The Jimi Hendrix Experience
21. One – Metallica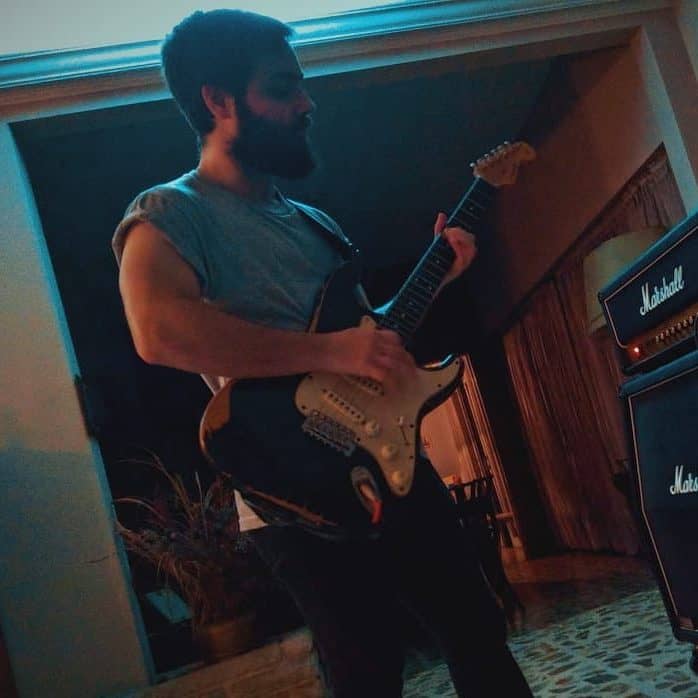 Hello there, my name is Ramiro and I've been playing guitar for almost 20 years. I'm obsessed with everything gear-related and I thought it might be worth sharing it. From guitars, pedals, amps, and synths to studio gear and production tips, I hope you find what I post here useful, and I'll try my best to keep it entertaining also.