If you're looking to buy or sell a guitar online, you may be considering using Facebook Marketplace.
There are many reasons why you might use Facebook's selling platform, but is it a veritable platform?
Facebook marketplace is a popular platform where you can buy or sell items, including guitars. Facebook doesn't take responsibility for the sales taking place on its platform, much like Craigslist, but it is a widely used and legit platform.
The problem a lot of people have with Facebook marketplace is that it's unregulated and not solely catered toward musicians, so you might encounter some issues.
These generally include non-serious buyers, time-wasters, and lowballers, but if you can get past that you might find a good deal.
Is Facebook Marketplace a good place to buy and sell guitars?
Facebook is one of the most widely-used platforms on the internet, giving you access to tons of potentially interested buyers.
It's also used by every other person, including that random guy who is thinking of buying a guitar but isn't sure, but he wants to maybe try yours for a week and wants to know if you have return policies.
Out of all the online marketplaces out there, I might recommend facebook among the least.
It may have great traffic, (debatable these days since they allegedly spoof their metrics) but it's mostly people looking to use Facebook to post about their lives.
Some people might consider Facebook marketplace a serious platform and I know people who have personally had great experiences on it, but as with any platform, you need to be smart about it.
You can find someone to sell to, but you should verify that they're not a fake account and you can find someone to buy from, and the same goes for them.
The problem I have with Facebook Marketplace is that it's a cesspool for scammers because of how little effort it takes to set up accounts on it.
Can you get good deals on guitars from Facebook Marketplace?
Definitely. If you go looking, people are often using Facebook Marketplace to sell locally or as a last resort.
Sometimes you can find great deals, with genuinely great people.
Facebook Marketplace also doesn't handle payments or shipping, so it's often better to deal locally to avoid shipping costs.
Facebook also doesn't charge any fees unless you're buying some product through their platform being sold by them.
Is Facebook Marketplace a safe place to buy and sell guitars?
Not really.
Being that Facebook is such an easy-to-access platform and that it's not solely for sales, you often find that scammers are drawn to it.
It's very likely that if you're looking to buy anything, you will encounter a lot of scam posts.
As a seller, you may often be contacted by fake accounts, requesting to purchase from you. Some may just disappear or they may try to scam you into paying them money.
The sad thing is that due to the nature of the platform, scams are fairly common on Facebook, but it's also not to say that they're more common than on other platforms.
Craigslist also has scammers and you can even encounter a scammer on Reverb. It's just more prevalent on Facebook Marketplace.
There are some common scams and these are some red flags to look out for:
Buyer sent too much/ Seller requesting too little
Don't send funds back, especially not through Western union or gift cards
Seller/Buyer is unwilling to meet in person or has excuses about why they can't
Receiving a check. Checks usually take 4-7 Business days to clear, so they can bounce later
Requesting account information so they can pay you
If you encounter any of these red flags, you're likely dealing with a scammer.
Does Facebook Marketplace offer buyers and sellers protection?
No.
Facebook Marketplace doesn't do anything other than allow its users to list items for sale or to contact listings for purchase.
Facebook doesn't take responsibility for any transaction taken between its users.
Unfortunately, you can't be promised protection, but there are some ways you can protect yourself.
For starters, if you're buying or selling locally, you should always ask to meet in person before any money exchanges hands.
The best way to ensure that you're not being scammed is to know you're dealing with a real person.
In the case that you do meet with someone in person, you should always make sure to meet in a public place that has a lot of footfall and surveillance.
If you're buying gear, you should test it before you take it.
If you're working long distances and have to work through shipping and electronic payments, a good security platform would be to use Paypal to pay.
They do charge a small service fee, but they allow for money returns up to 180 days after it's been sent.
If you're selling your gear, unfortunately, you don't have much in the way of protection, because it's unlikely you'll get it back.
Alternatives to Facebook Marketplace for buying and selling guitars
Buying and selling online can be great, but you shouldn't put all your eggs in one basket.
I've covered a lot of online sites you can try in detail in another article, but here's an abbreviated list of alternatives:
Reverb
Craigslist
eBay
OfferUp
There are also a lot of retail outlets where you can buy and sell and while they're alternatives, they've quickly become irrelevant in the modern age.
Retail outlets also don't give great deals to sellers and they have markups on what they're selling to buyers.
The upside to going to a retail store is that there is much more safety with retail stores.
You can test out what you buy and they usually have return policies, but they don't have good deals.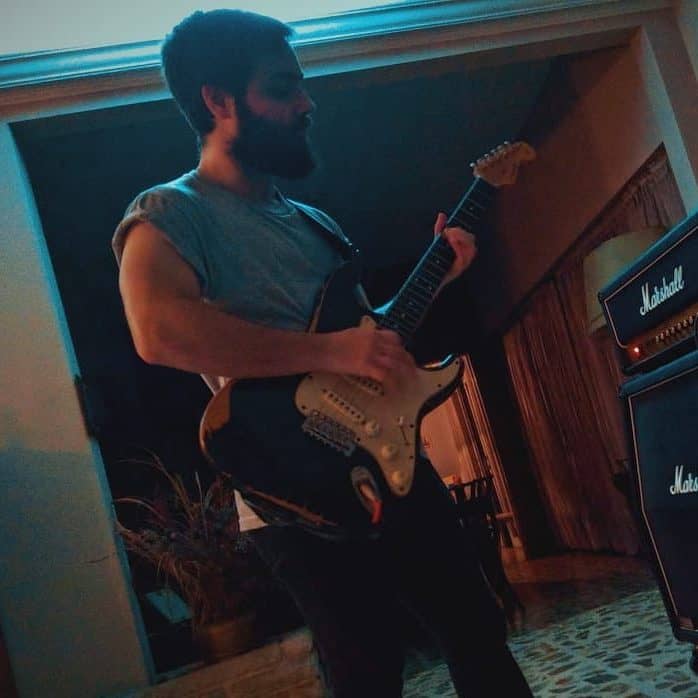 Hello there, my name is Ramiro and I've been playing guitar for almost 20 years. I'm obsessed with everything gear-related and I thought it might be worth sharing it. From guitars, pedals, amps, and synths to studio gear and production tips, I hope you find what I post here useful, and I'll try my best to keep it entertaining also.