If you're looking to sell your gear, you're probably also looking to get a fair price for it.
The problem comes when you don't know where to go or you're a little inexperienced.
Today we'll be looking at the 5 best places to sell your music gear, hassle-free.
In order, the 5 best places to sell music gear online are:
Reverb
Craigslist
eBay
Facebook Marketplace
OfferUp
We'll also be looking at places to avoid in a separate list and why.
In short, you'll want to avoid resellers or places that are buying your gear as a middleman. Let's get into it and have a look at why
5 best places to sell music gear online
Reverb
Reverb is at the top of this list because just like our sales page, it was designed specifically for music equipment.
The great thing about it is that it's focused on musicians and is widely known and trusted.
This means that you're likely to get a lot of traffic by using this platform, the only drawback would be the fee involved in making a sale.
In my opinion, it's not only the best but still fair, considering you're paying for the ad space.
It'll cost you 5% of the total price of the item you're selling, with a minimum of $0.50 and a maximum of $500.
It's also Paypal compatible, but that comes with an additional charge of 2.9% of your total sale along with a $0.30 fee.
Pros
Widely used
Tailored to musicians
Trusted
Low fees
Cons
Has fees and charges
Not free-to-use service
Craigslist
Craigslist has probably been around longer than any other platform on this list, founded in 1995, it's widely used and widely known.
While it's a very general platform, it's also a great place to buy and sell music equipment. I'd say the greatest upside to craigslist is that it has no seller fees. All the money you make from selling your gear goes straight to you.
It bears mentioning though that despite its convenience and relative safety, people do sometimes get scammed on this site and because it's not only musicians looking at other musicians, you may get non-serious buyers trying to take chances with you.
Either way, Craigslist is one of the best sites to sell on.
Pros:
No seller fees
Well known
Generally trusted
Wide audience
Cons
Not just musicians, so prone to lowballing
Risk of scams
eBay
eBay is another longstanding eCommerce site. It's widely used, offers a level of security to users, is PayPal-compatible, and even has a lower sales fee in the music category.
That last part is good or bad depending on how you look at it. eBay also has user fees, but the music category is pretty low, at 3.5%. In short, it's a great place to sell if you're looking to sell music equipment.
Other categories have higher fees, but that's not our focus today. We're more looking at its uses for a musician trying to sell gear, and for that purpose, it's pretty good. I'd say its only drawback is that it's not geared toward musos only like Reverb is.
However, because there is a specific category for music equipment, you can likely assume that anybody looking in that category would either be serious about buying or is at least considering it.
Pros:
Low sales fees
Very Popular
Safe
PayPal friendly
Cons:
Not only for musicians like Reverb
Has sale fees
Facebook Marketplace
Facebook (sorry, Meta) has been branching out into all sorts of things since its inception and the marketplace has become a great resource for those looking to sell their used items. The only thing you need in order to sell is an active user account, which is just amazing as far as convenience goes.
Facebook also doesn't charge sales fees and you get to keep the money; the only drawback, like some of the other platforms mentioned, is finding a suitable buyer.
Facebook also doesn't handle shipping, so that's between you and the person purchasing, or it's possible that you would have to meet up.
People are often concerned about the meeting-up part, but you can always arrange to meet at a public place to hand over the item upon sale. Don't go to a stranger's house to deliver.
Pros:
No sales fees
Convenient to use
Open to all
Popular
Cons:
Possible safety issue
Possible privacy issues
You may get hassled by lowballers
OfferUp
OfferUp acts as somewhat of a competitor to Craigslist. What it has over Craigslist is its mobile support, but it's limited by the fact that it's mainly focused on local sales between users.
In other words, you can sell without charges on OfferUp as long as your buyer is nearby and doesn't require shipping. If you do want to sell long-distance, there is a shipping fee of 12.9% of the total value of your sale.
For that reason, I find it a little more limiting than the other platforms and would recommend reverb or Craigslist instead.
Pros:
Popular
Mobile friendly
Has no sales fees for local sales
Cons:
Sales fees for international sales
Less well-known than some of the other platforms
Isn't solely dedicated to musicians like other platforms
Places to avoid for selling your music gear
Let's start with the obvious. Do not sell your gear to middlemen. Who are the middlemen? Any platform, website, or store that intends to buy things from you with intention of selling them for their own profit.
I'm not going to spend an awful lot of time on this or go into each store, but let's start with brick-and-mortar establishments.
Brick and Mortar retail stores
Brick-and-mortar stores are marketplaces with a physical address; they own space or pay rent for it and have overheads and sales targets. Their goal is to profit and while you may be able to get cash in hand for your gear there, you'll usually get it at 50% of what it's worth.
This goes for Pawn shops as well. Retailers usually buy second-hand items at a way lower price than what they're worth, simply because they need to make a profit. It's also a risk they're taking, because your guitar or amp may likely spend a lot of time sitting in their store anyway.
My advice is to just cut them out of the transaction and find a buyer that wants your gear and is willing to pay you what it's worth. That's if you can wait for a buyer that is.
Online resellers
Some online stores buy used gear intending to sell them to other users. Some of these stores are great if you're looking to buy, but as a seller, they're doing the same thing that Guitar Center is doing.
That is, they're buying your gear at a very low price in order to sell it for a profit. Here are a few online stores that buy used gear, some of them have physical addresses too, but they fall under the same tree for me:
Music Go Round
Sam Ash Music Store
Rogue Music store
Rivington Guitars
There are only two plus sides to the listed stores here, one is that they're professional and aren't trying to scam you- well, they are buying your stuff for way less than it's worth but technically you know what you're getting into.
Two is that they're aimed at musicians specifically, so you can at least trust that you're working with people who will respect your equipment, even if they're salesmen first.
Some of the stores offer gear trades, which I think is cool too. You can use the gear you have to get a reduction on the price of something you're trying to buy- Rogue Music does this.
The only time I would recommend selling to places that will buy your gear right away is if you need the money and can't wait for an ideal buyer to come along. That not being the case, keep the middle man out of it and use the internet to get your money's worth.
Yard Sales or Garage sales
This one is particularly weird, but it falls in between the middlemen and selling on your own. If you have a ton of junk that you want to get rid of, sure, why not do a yard sale.
If you're hoping to sell something for a good value though, you're out of luck in this instance.
Some neighborhoods do a community yard sale, which is pretty nice because everyone just gets together and fills up a lawn with stuff they don't want and sometimes it's even for a good cause, but this isn't the place to sell your prized possessions hoping for an 80% return.
People at yard sales are usually looking for hugely discounted items and it's unlikely that they'll even respect or appreciate your Vintage pre-CBS era Strat (seriously though, if you own one of those, you better not be dumping it in a yard sale).
You're far better off talking to a neighbor who's also a musician if you want to go the in-person slash pre-internet route.
Otherwise, I recommend using something like Reverb, because it's unlikely that you'll find someone on your block looking to buy your gear at the exact time you're wanting to sell it.
Tips for selling your gear
Okay, so we've covered sprucing your guitar up and making her look pretty before taking her to be auctioned off and it's covered in more detail here:
But to recap:
Make sure your gear is clean when you sell it, that means no dust and no rust
If you're selling your guitar and you have the cash to invest in new strings or accessories, this will usually drive up the sales value
Don't be dishonest about any damages or blemishes on your gear
Do some research about the median resale value of your given item before posting it, this will make people more likely to buy it at a fair price since you're not overvaluing things
If something has sentimental value worth more than selling it, maybe don't sell it
In short, people might want to buy something second-hand to save money, but they want to feel like they bought something basically brand new.
So if it's an amp, make sure it sounds good and that the knobs are all working, and if it's a guitar, a bit of oiling and restringing will go a long way.
I hope this helped you figure out where you want to sell your stuff.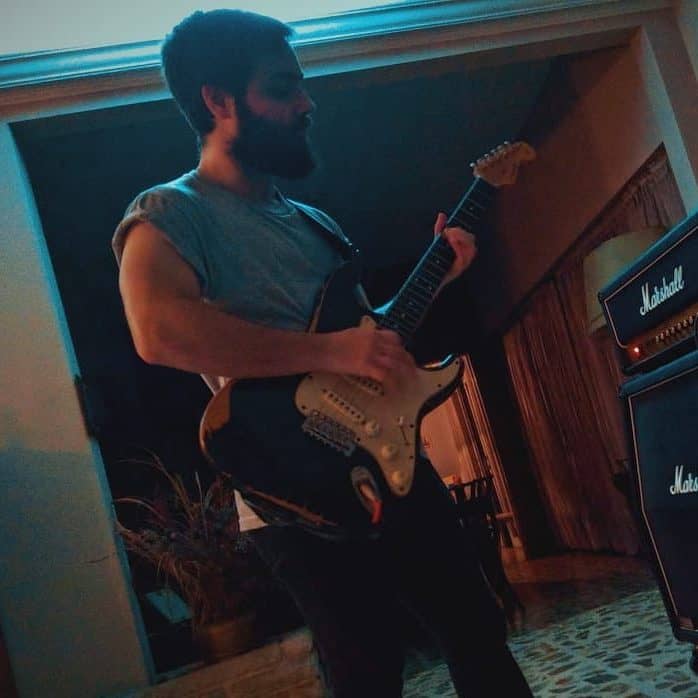 Hello there, my name is Ramiro and I've been playing guitar for almost 20 years. I'm obsessed with everything gear-related and I thought it might be worth sharing it. From guitars, pedals, amps, and synths to studio gear and production tips, I hope you find what I post here useful, and I'll try my best to keep it entertaining also.