In the world of music, simplicity often brings greatness, and that's exactly what the four-chord wonder delivers.
That's why we're going to delve into a list of the 25 best 4-chord guitar songs.
These songs have captured the hearts of millions around the world with their timeless appeal and undeniable catchiness.
From classic rock anthems to contemporary pop hits, we've curated a diverse collection that spans genres, eras, and musical tastes.
What makes these four chords so magical is their perfect combination of accessibility, versatility, and sheer infectiousness.
With just a handful of chords, you can unlock a treasure trove of melodies that will have you strumming and singing along in no time.
Plus, each track comes with chords and video tutorials to make your experience better and faster.
So grab your guitar, tune up those strings, and get ready to unleash the power of four and discover a playlist that will keep you entertained for hours.
1. Stand By Me – Ben E. King
Heading this list, we have a timeless classic that has transcended generations.
Released in the early ages of rock music and included in the 1961 album Don't Play That Song!, this track has been covered by countless artists.
Although the original version is on the key of A, there are unlimited ways to play the tune as long as you play the chord progression I – vi – IV – V.
As the chords are repeated in the same order throughout the whole song is quite easy to get the hang of it.
2. Let It Be – The Beatles
Featured on the album of the same name released in 1970 Let It Be is one of the most famous songs by the British group The Beatles.
Although the song includes some chord variations, adding sixths and sevenths, it comprises four main chords.
Due to that, the track is easy to play since you can play just minor and major chords.
Keeping simple chord progressions in both, the verse and chorus, even novice players can learn this song and catch the attention at gatherings.
3. She Will Be Loved – Maroon 5
Just like many other Maroon 5 songs, this tune is a love ballad from their great album Songs About Jane.
It was released in 2002 and got public success.
The track opens with an intro made of an Am chord followed by a G and keeps on playing those notes during the verse.
Once the chorus appears, it moves to a progression of four chords played three times: the first bar plays C – G – Am – G, and the two following change the last chord by an F.
4. Hey Ya – Outkast
I'm pretty sure that you know this one-hit wonder! The American duo Outkast released this track in 2003 as part of their album Speakerboxxx/The Love Below.
Composed using only major chords, the verse, chorus, and bridge follow the same simple chord progression: G – C – D – E.
In addition, is quite straightforward, you can play it with open chords, and will sound amazing.
5. Get Lucky – Daft Punk
This funky, danceable song achieved the status of a hit when it was released back in 2013.
Being part of the album Random Access Memories, this track can make you stand out once you master it.
You can play it using funky, high-tune chord shapes or even regular positions on acoustic guitar. Follow the chord progression Bm – D – F#m – E and that's it!
6. With Or Without You – U2
Up to this point, everyone knows this staple song by the Irish band U2.
Featured in their iconic 1987 album The Joshua Tree, this track only uses four basic chords.
As The Edge has accustomed us, this tune has an ethereal sound thanks to the effects he uses.
To play the song you can either play arpeggios or strum the chord progression which simply comprises D – A – Bm – G.
7. Knockin' On Heaven's Doors – Bob Dylan
Originally composed by Bob Dylan and included in the soundtrack of the film Pat Garrett & Billy the Kid, this track is best-known thanks to the Gun's N Rose's version released in their 1991 album Lose Your Illusion II.
The tune is easy to play because maintains the same progression in every section of the song.
It can be played on acoustic guitar by gently strumming cowboy chords.
8. Blitzkrieg Bop – The Ramones
Released in 1976 and included in The Ramone's self-titled first album, this song is perhaps the most famous in their catalog.
Like many punk tunes, Blitzkrieg Bop consists of just four aggressive power chords.
The main section of the track plays A5 – D5 – E5 and adds a little variation in the last bar playing A5 – D5 – A5. In the chorus, the main chord is D5 and there are two variations per bar: the first one is D5 – A5 – D5 – A5 while the second one is D5 – B5 – D5 – E5.
9. Perfect – Ed Sheeran
10. Blinding Lights – The Weeknd
11. When I Come Around – Green Day
12. Save Tonight – Eagle Eye Cherry
13. Have You Ever Seen The Rain – Creedence Clearwater Revival
14. Hey Soul Sister – Train
15. D'yer Ma'ker – Led Zeppelin
16. James Blunt – You're Beautiful
17. I'm Yours – Jason Mraz
18. Photograph – Ed Sheeran
19. Complicated – Avril Lavigne
20. So Lonely – The Police
21. Zombie – Cranberries
22. Crawling – Linkin Park
23. Men At Work – Down Under
24. Imagine Dragon – Demons
25. Paranoid – Black Sabbath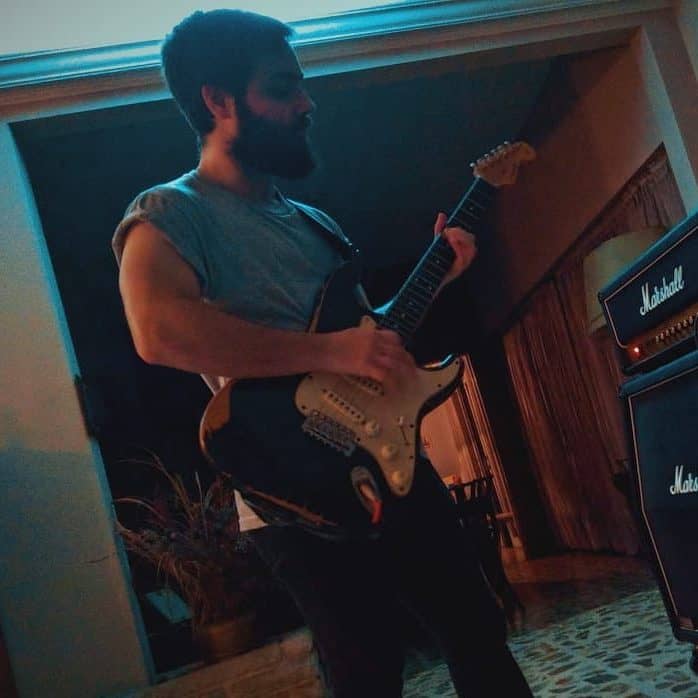 Hello there, my name is Ramiro and I've been playing guitar for almost 20 years. I'm obsessed with everything gear-related and I thought it might be worth sharing it. From guitars, pedals, amps, and synths to studio gear and production tips, I hope you find what I post here useful, and I'll try my best to keep it entertaining also.