Are you tired of strumming the same old chords and eager to discover some fresh and alternative acoustic songs to add to your repertoire?
Then you've come to the right place!
Get ready to embark on a musical journey that will take your guitar skills to new levels and ignite your creativity.
In this article, we have selected a collection of 27 alternative acoustic songs that will not only captivate your ears but also challenge your fingers to explore unique melodies and unconventional harmonies.
Whether you're an experienced guitarist looking for a fresh perspective, or a beginner longing to explore beyond the mainstream, we've got you covered!
We delve into the sounds of indie, folk, rock, and everything in between, with an eclectic mix of alternative artists and genres.
Plus, each track comes with chords and a video tutorial to help you learn along.
So grab your guitar, tune-up, and get ready for a musical adventure filled with sweet melodies and intricate fingerpicking patterns.
It's time to unleash your inner artist, express your emotions and feel the power of alternative acoustic songs at your fingertips!
1. Depeche Mode – Enjoy The Silence
To begin with, we have this timeless classic from the 90s era.
Released in 1990 as part of the album Violator, this amazing track has captivated many fans.
Although the original version features Depeche Mode's trademark electronic sound, the smooth melody and bright chords make it perfect for acoustic guitar.
If you want to stick to the album version, you will need to capo at the third fret, but you can also use standard tuning.
The intro goes around Am and C, but when the song gets to the verse it adds an F chord and replaces C with Cm, resulting in the chord progression Am – Cm – F.
The chorus plays a new chord progression for two bars and varies toward the end: the first time Dm – F – Am – C and the second time C is replaced by G#.
2. Yellow – Coldplay
Featured in the album Parachutes released in 2000, this track is one of Coldplay's best-known tunes.
To play this song, you can use a capo in the fourth fret or just play it right away.
Apart from the intro and the bridge, which consists of a simple progression (G – D – C – G), Yellow comprises two main sections: the verse and chorus.
The first one plays G – D – Cmaj7 – G and the latter Cmaj7 – Em7 – D.
The bridge is played towards the end and follows the same chord progression as in the verses.
In short, a simple tune that you will master after some time practicing.
3. All Apologies – Nirvana
This track was released in 1993 in the album In Utero but is way more famous for its version in Nirvana's MTV Unplugged in New York just one year later.
Featuring an uncomplicated plucked intro and verse and two power chords, this song is perfect to play on acoustic guitar.
The verse is on C# key so if you struggle to play the melodic line, you can strum this chord.
What comes next is an F# power chord followed by a G#, making it quite a simple and fun song to play.
4. Where Is My Mind? – Pixies
Pixies were one of the most influential, alternative bands and Where Is My Mind? is one of their staple songs.
Released in 1988 and included in the album Surfer Rosa, this track become a timeless classic after being part of the Fight Club soundtrack.
To play it, you just need 6 common chords, and the intro, verse, and chorus are exactly the same.
The intro and verse use the same chords: E – C#m – G# – A.
The chorus plays the same progression for three bars and in the fourth changes to E – G# – A – Am – C#m – B.
As you can see, an easy track to learn and a fan favorite that everyone will sing out loud.
5. Eddie Vedder – Society
6. The Only Exception – Paramore
7. Drive – Incubus
8. Fake Plastic Trees – Radiohead
9. Disarm – Smashing Pumpkins
10. Oceans – Pearl Jam
11. Bob Marley – Redemption Song
12. Photograph – Nickelback
13. Holocene – Bon Iver
14. Stubborn Love – The Lumineers
15. Ghost – Justin Bieber
16. No Excuses – Alice in Chains
17. Iris – Goo Goo Dolls
18. Just Like Heaven – The Cure
19. Purple – Hollow Coves
20. There Is a Light That Never Goes Out – The Smiths
21. New Slang – The Shins
22. Good Riddance – Green Day
23. The Chain – Fleetwood Mac
24. Flake – Jack Johnson
25. Tender – Blur
26. Gone, Gone, Gone – Phillip Phillips
27. Cigarette Daydreams – Cage The Elephant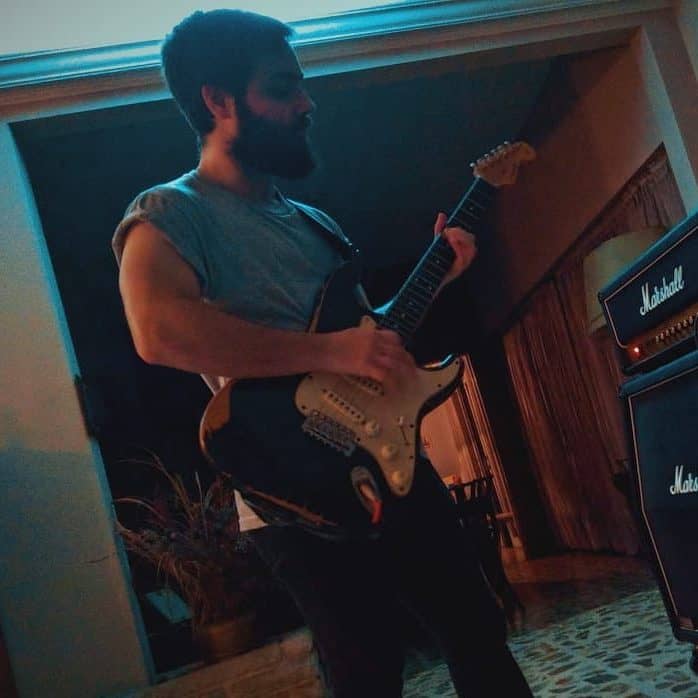 Hello there, my name is Ramiro and I've been playing guitar for almost 20 years. I'm obsessed with everything gear-related and I thought it might be worth sharing it. From guitars, pedals, amps, and synths to studio gear and production tips, I hope you find what I post here useful, and I'll try my best to keep it entertaining also.