Guitars are very complex systems comprised of many parts, in which every single one has an impact on their final tone.
Many people argue that the only thing that matters on an electric guitar are pickups, but please, let me disagree with that statement.
Because, yes, of course, pickups have a big impact, but you can't really ignore the influence of tonewoods and different construction types, for instance.
Or would you tell me that a Gibson ES 335 sounds the same as a Les Paul?
How is that possible, then, if they have very similar pickups?
Well, that's probably because one has a semi-hollow body and the other is a solid body.
In this article, I will round up all of which I think are the main factors that influence the sound of your instrument, in no particular order.
Are you ready to get started?
Let's go!

Body type
As you probably know, the body type of a guitar is a defining factor for its character and tone.
If you want to know more about how these kinds of bodies affect these guitars, you can check out this article:

Body shape
The shape of a guitar's body has serious implications on its playability, but not so much on its tone.
If you want to know everything about the effect of guitar body shapes, and their influence on the instrument, check out this article:

Body material
The kind of material used to build a guitar's body is something you should really pay attention to.
This is one of the main factors that define the tone of an instrument.
If you want to know how these specifics materials impact the tone of these guitars, you should take a look here:

Top material
Guitarists are often curious about how guitar tops affect tone.
There are many factors that contribute to the sound of a guitar, and whether it has a top is an important one. With so many options on the market, it can be difficult to make a decision.
The following article will explain what guitar tops are and why they matter, as well as provide guidance for those who want to learn more about these options.
In short, a guitar's top has a slight, but perceivable, influence on its tone, however, they are mostly used for aesthetic purposes.
Whether your preferred guitar has one or not, it shouldn't worry you too much.
However, if you want to know all there is about guitar tops, go here:

Finish
Guitar players know that there are many variables in determining the sound of a guitar. Yet, one of the most popular debates is about nitro vs poly.
Let's explore this question, so you can make an informed decision for your next purchase.
These 2 finishes are both types of varnish that can be used to protect and beautify a guitar's wood. They also have slightly different properties that some players argue can influence the tone of your guitar.
Nitro is a type of varnish that is thinner and less durable, while poly is thicker, way more durable, and cheaper.
Poly provides more protection from moisture and scratches, but some people argue it reduces resonance and sustain. Nitro wears off with time but has a more organic feel to the touch and is said to improve sustain and resonance.

Neck material
The type of wood that a guitar neck is made of will have a significant impact on the tone of your guitar.
Tonewoods have different densities, hardness, and acoustic qualities.
The type of wood a guitar neck is built with will determine its final sound.
In the following article I present you a list of the most common tonewoods used in guitar necks, and the influence they could have on the tone of the instrument:

Neck shape
The shape of a guitar neck has a significant impact on the tone and playability.
Guitar necks come in a variety of shapes, so it's important to know what each of those shapes offers.
Luckily for you, I've compiled some general information about each different type of guitar neck shape so you can make an informed decision when choosing your next guitar:

Headstock shape
The shape of a guitar's headstock is not really a big defining factor for its tone.
However, many players argue that differences in mass, especially at the end of the neck can have some implications in tone.
In this article I go deep into that topic and answer the most pressing questions:

Neck joint
Guitar necks come in a variety of different joints, and each one has its own pros and cons.
Knowing the differences between each joint can help you decide which is best for you.
A guitar's neck joint is what attaches the guitar's neck to the body of the instrument.
There are 3 types of neck joints: bolt-on, set, and neck through.
Bolt-on necks are attached by screws at the heel of the neck and can be removed easily for repairs or customization.
Set necks attach to a pocket in the guitar's body and stay put with glue.
In neck trough instruments, the neck elongates and becomes the central piece of the body, where most of its hardware is mounted. Then, there are wood "wings" glued to its side to complete the body shape.
If you want to know the specifics of each of these joints, check out this article:

Fingerboard material
The material of a guitar's fingerboards is as important as the one of the rest of the neck.
In conjunction, both these 2 parts have a deep impact on the final tone of the instrument.
Also, take into consideration that the fretboard is the point of contact for your playing fingers with the guitar, so feel is also a very important factor.
In the following article, I share my thoughts on different fingerboard materials and their impact on the final sound of the instrument:

Fingerboard radius
The radius of the fingerboard is a measure of how curved the neck of the guitar actually is when looking at it from bridge to nut.
This curvature is really a defining factor for how the instrument plays, and some players are very strict about it.
If you want to know more about how it's measured and the effect it has on the playability of a guitar, you should look at the following article:

Frets
The frets on a guitar have a deep impact on its playability.
Many players don't consider this as important as other features, but more experienced ones will be very picky about this.
Bigger frets make a guitar easier to play, however, they hinder the overall intonation of the instrument.
Also, there are different fret materials to consider.
In these articles, I dive deep into how important are frets for a guitar.

Scale length
The scale length of a guitar refers to the longitude of the vibrating part of the string.
This is measured from the nut to the bridge, and for intonation purposes, the middle point is always the 12th fret.
Different scale lengths have varying influences over things such as string tension, and of course, fret gap size.
If you want to know more about this, I invite you to read the post below:

Bridge
A guitar's bridge is one of the 2 points of contact the strings have with the body and neck.
It is a central part for the transmission of vibrations through the instrument, and also defines many important factors for playability such as string spacing and action.
Some bridges also have extra functionalities.
To know everything there is about this part of the guitar, please go here:

Tailpiece
Tailpieces are often forgotten when thinking about guitar parts, however, they have been there for centuries, and there are many different designs with alternate features.
Whether your guitar has a standalone one or a bridge that works like one too, you might be interested in broadening your knowledge about tailpieces here:

Nut
The nut of a guitar is a small but very important part of the instrument.
It helps define string spacing, action, and is the source of many of the tuning issues cheaper instruments suffer from.
There are many kinds and materials of nuts out there, and if you want to know how they can impact your instrument of choice, you should go to this article:

Tuners
Guitar tuners don't have a direct effect on how a guitar sounds.
However, their quality will be a defining factor in your playing experience.
It's fundamental that your instrument has good quality machine heads to keep it in tune.
In the following article, I dive deep into the most common questions players ask about tuners, and their functionality:

Pickups
Guitar pickups are one of the main components of any electric guitar.
But do guitar pickups make a difference in sound? This can be a difficult question with many different answers.
The most important thing to note is that it is not just the type of pickup that determines a guitar's sound, but also how and where you place the pickup on the guitar.
In this guide, we will discuss the different types of pickups and how they affect your sound.
We will outline how pickups work and what are the central factors that determine how they influence the tone of your instrument.
Finally, we will help you compare different models and make an informed decision about which pickup is right for you.

Electronics
The electronics of an electric guitar are what gives the instrument its name. However, because they are hidden inside the cavities into its body, they are often forgotten.
Controls, switches, capacitors and resistances, all make for the circuitry of a guitar, and all have effects on the final tone and sounds it can offer to the player.
If you want to know the main things about this topic, I recommend you follow this link:

Weight
Guitar weight is an important factor when it comes to finding the right guitar for you.
A heavier guitar will give you more sustain, but a lighter guitar will be more resonant, and easier to play and carry around.
However, there's no single answer to whether a lighter or heavier guitar will sound better than the other.
There are also many factors that could determine what weight of guitar would be best for you.
Here, I explore some of these considerations and what I think are the main points to take into account: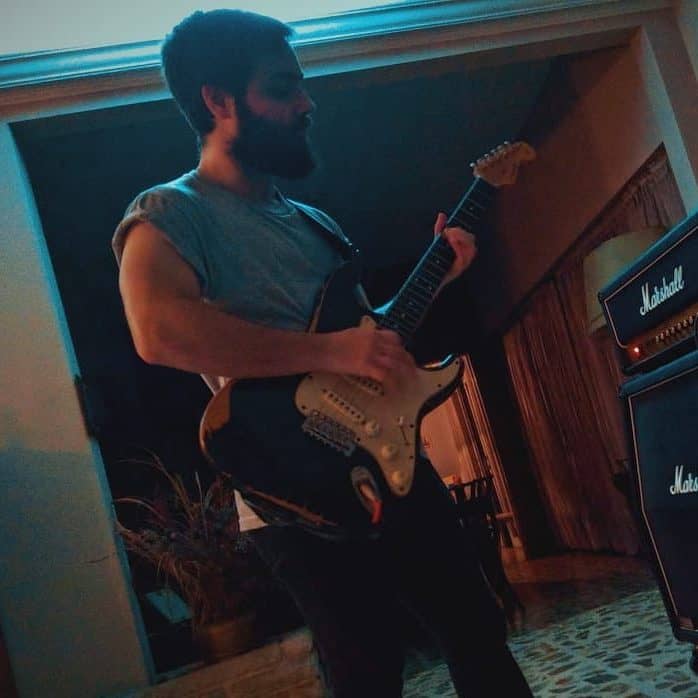 Hello there, my name is Ramiro and I've been playing guitar for almost 20 years. I'm obsessed with everything gear-related and I thought it might be worth sharing it. From guitars, pedals, amps, and synths to studio gear and production tips, I hope you find what I post here useful, and I'll try my best to keep it entertaining also.