Buying a used guitar can come with a lot of risks, especially depending on the avenue you choose to take when buying.
With the options available to us, like online buying and direct buying, what are the risks of buying a used guitar from Guitar Center?
We'll cover the following reasons in detail today:
Limited photo clarity
Poor descriptions
Overpricing
Risk of damage from shipping
Overall, there are a lot of pros and cons to buying from any retailer, but we'll be focusing on the risks involved today.
That being said, there aren't a whole lot of scams in using Guitar Center to buy used gear.
1. Limited photo clarity
If you're buying gear online, you're at the mercy of whoever put pictures up of what's being sold.
Unfortunately, that often means that you won't get very a very extensive photographic catalog to look through when investigating the gear you want to buy.
That's not due to maliciousness or anything on the employee's part, but it's more likely that they're just trying to do their job.
They're trying to take shots that flatter the guitar in question, and they usually don't think about how little flaws might be necessitous for evaluating whether a buyer would want to buy a guitar or not.
There is an upside to this though if you like a particular guitar and you're not happy with the available photos, you can make a call to their call center.
Guitar Center's customer service is pretty decent and they'll often be able to provide more photos for you, or at least take a look at the guitar and give you an honest opinion.
2. Poor Descriptions
Another problem with buying online, with most guitar websites, not just Guitar Center, is the poor product description.
When it comes to the used gear section, it seems like sometimes they're just not putting much effort in.
You might even find no description on some guitars.
The problem with poor descriptions is that it makes it difficult for you as the buyer to judge the guitar posted.
If you're not too sure what a good description looks like, it would cover:
The model, make, and year of production
The dimensions of the body and neck
The scale length and number of frets
What kind of knobs the guitar has and whether it has a switch for them
Any damages or scratches
Any custom or non-stock parts
Essential description bits like the color, finish, and what kind of fretboard the guitar has
These are all important pieces of information that help inform you, the buyer, of whether you'd want the guitar or not.
If you're a beginner, it's probably not a big deal, but experienced guitar players can be really particular and so it's a huge drawback if the description is lacking.
This can be a common problem when using Guitar Center, but fortunately, you can just phone up the call center and enquire about these things.
3. Overpricing
Guitar Center sometimes likes to pull a fast one on its buyers and set a low-quality used guitar at a price that just doesn't suit it.
A lot of the time, what seems like overpricing is really just the average selling price of the guitar according to the market.
When compared to buying gear on sites like craigslist, where you can often find hidden gems or buyers willing to barter, Guitar Center can seem overpriced.
GC has set prices that are non-negotiable and they often don't underprice things due to ignorance.
The best way to prevent buying an overpriced guitar, in this case, is to do your research on it.
Look into the guitar you want to buy, look for it on other websites, and compare it so you can make an informed decision.
This doesn't mean that if you find a cheaper model elsewhere that it will be in as good condition though.
When it comes to comparing used gear though, it really can be tricky.
The best thing you can do is call up the GC call center and inquire about the guitar to make sure it's fairly priced.
4. Risk of damage from shipping
When it comes to buying things online and having them delivered, you always run the risk of your item becoming damaged in transit.
While Guitar Center can't be held liable for this as they often use a third-party courier for direct delivery, they have also been known to not mark items as fragile for couriers.
It's not to say that's always the case, but there are stories on Reddit forums about it.
The best way to mitigate this is to have the guitar you want, shipped to the nearest Guitar
Center retail store to you and fetch it from there. How does this help?
Well, while third-party couriers aren't always careful, Guitar Center does take great care when it comes to moving items along their own lines.
If you still wind up being delivered a damaged guitar, you can get a refund for it or get a trade.
Buying Online Vs in store
A lot of the points covered are problems unique to online buying.
You won't have to worry about poor descriptions or photographs when you're able to see the guitar for yourself.
Guitar Center's brick-and-mortar stores also have used item sections and while the prices may vary, you might find something of genuine worth there for a fraction of the price of a brand-new guitar of the same make.
You may still encounter overpriced second-hand guitars if you're not informed about what the fair asking price is.
But you can at least have a look and see for yourself what the guitar looks like in person.
There's also no risk of damage in transit, at least not unless you carelessly handled your new baby, but that's on you.
Either way, buying used gear always has some drawbacks, but hopefully, you now know how to best mitigate these risks, at least when buying from Guitar Center.
And if you're uncertain about whether there are any benefits to buying used guitars from GC, I've written an article on that too: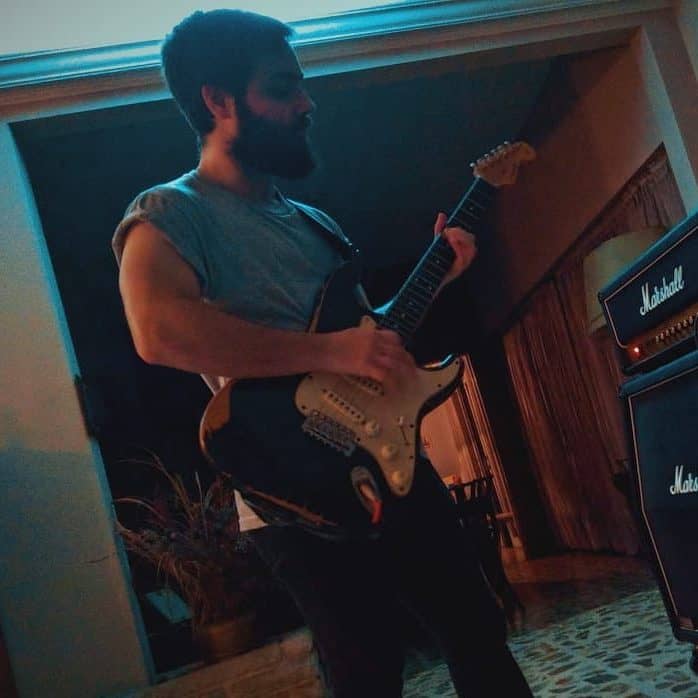 Hello there, my name is Ramiro and I've been playing guitar for almost 20 years. I'm obsessed with everything gear-related and I thought it might be worth sharing it. From guitars, pedals, amps, and synths to studio gear and production tips, I hope you find what I post here useful, and I'll try my best to keep it entertaining also.