Gear comparisons are the best way to start a fight.
Jokes aside, today we're going to compare the Yamaha THR series and the Boss Katanas.
Both are great modeling amps each with their own pros and cons, but which one is the better pick?
Both the Boss Katana amp range and the Yamaha THR line are great practice amps, however, Boss' mid-range can also work for small gigs and rehearsals. Smaller THRs come with a power supply, while the Katana mini doesn't. Finally, both amps sound really different so it will be a matter of taste.
That's not to say that the Yamaha THR amps aren't great in their own right, and depending on your tastes, you might even prefer a Yamaha amp.
The THR series amps also have some cool features, let's check them out.
Yamaha THR's main features
The Yamaha THR line offers great small amps with a lot of great tricks down their sleeves.
The THR range includes amp versions that go from 10 to 30 watts.
It's explicitly stated by Yamaha that these are not on-stage amps though, so I'd say they're great for practicing and even recording.
They come with a lot of robust digital settings, as one would expect from a reputable brand like Yamaha, and their overall quality is exceptional.
However, most of their amp and effect models are not that well defined, and this might bother some players.
More on this later.
Here are some of the THR line's main features
| | |
| --- | --- |
| Specs | Yamaha THR line |
| Output | 10 watts to 30 watts |
| Half-power switch | No |
| Weight | 4.5 lbs to 9.5 lbs |
| Size | 360 x 184 x 140 mm to 420 x 195 x 155 mm |
| Amp models | 5 to 15 (THR30) but some are only available in the rig editor app |
| Effects | 8 |
| PC Rig editor | Yes |
| Headphone out | Yes |
| AC adapter | Included |
Complete list of features for the THR range as listed on the Yamaha website:
Portability
VCM (Virtual Circuitry Modeling)
Yamaha Hi-Fi Audio Technology
Extended Stereo Technology
Dual Effects, one effect handles stomp-box style effects while the other delay and reverb
Tape Echo- THR10C has a tape echo effect that emulates analog machine sound.
THR Editor program, which pairs with your THR amp, allowing for deeper effect editing
USB Connection for smartphones or other devices through its AUX jack
THR is bundled with Cubase AI
User memory function that lets you save up to five amp settings of all controllers and switch settings
The THR has a built-in Battery-powered unit allowing for greater mobility
THR Session compatibility. This is an iOS app with some pretty cool practice features if you happen to have both the Yamaha and an iPhone
Virtual Tube Illumination- a simulated orange tube glow from the metal speaker grille that just looks pretty cool when in use.
Boss Katana's main features
The Boss Katana series has a considerably longer list of main features, they come with a wide array of bells and whistles.
Its product line goes from the smallest Katana mini, which is clearly a practice amp that can be run on batteries, to the more premium Artist MKII, with affordable in-betweens (and my favorite) such as the Katana 50.
Here are some of the main features you should take into consideration from the Boss Katana amps.
| | |
| --- | --- |
| Specs | Boss Katana line |
| Output | 7 watts to 100 watts |
| Half-power switch | Yes |
| Weight | 2 lbs 11 oz to 41 lbs 15 oz |
| Size | 230 x 116 x 181 mm to 630 x 248 x 515 mm |
| Amp models | 3 (Mini) to 5 |
| Effects | Mini: Delay (that can be used as reverb), 50-watt: Booster, Mod, FX, Delay, and Reverb types with 3 variations each (15 total) |
| PC Rig editor | Yes |
| Headphone out | Yes |
| AC adapter | Not included |
Complete list of features for the Katana 50 as listed on the Boss website:
Stage-ready 50-watt combo amp with a custom 12-inch speaker
Tube Logic design approach produces class-defying power, authoritative punch, and cutting presence
Five unique amp characters (Clean, Crunch, Lead, Brown, and Acoustic), plus newly voiced variations for each
Five independent effects sections (Booster, Mod, FX, Delay, and Reverb), with three selectable variations in each
Dedicated Pedal FX for foot-controlled wah and pedal bend
Updated BOSS Tone Studio software for customizing your sound with over 60 different BOSS effects, channel and global EQs, adjustable routing, and much more
Power Amp In for preamps, modelers, and multi-effects
Four Tone Setting memories for storing and recalling all amp and effect settings
Power Control for achieving cranked-amp tone and response at low volumes
Three Cab Resonance options (Vintage, Modern, and Deep), selectable in BOSS Tone Studio
Mic'd cabinet emulation on the USB and phones/recording outputs, with three Air Feel settings available in BOSS Tone Studio
Download and share Livesets at BOSS Tone Exchange
Rear-panel connections for up to two footswitches or an expression pedal
Pro setups available at BOSS Tone Central
Katana MkII Version 2 update available on the Downloads tab
Main differences between the Yamaha THR and the Boss Katana
As far as variety, you'll find a lot more in the Katana lineup.
Boss makes a huge range of katana amps, from the Katana-Mini, a microamp that costs around $100 to the top of the line MKII which you'll find at around $600.
The THR range is considerably smaller.
Starting at the THR5, a 10-watt amp retailing at $200 to the top-of-the-line THR30, a 30-watt combo modeling amp.
Both amps have a good range of voicings.
The Katana 50 has 5 amp styles, all of which are fantastic and offer a versatile range of tones.
Similarly, the whole THR range has about 8 preset amp voicings, depending on your model.
However, when comparing the THR line with the Katana mini, the latter looks a bit lacking with only 3 amp types.
The THR is genuinely a good practice amp as it provides a clear-cut tone even at low volumes.
The Katana lineup wins out on effects, which in most units are no more than 5 types with 3 variations, but are all modeled on some of Boss's best-known stompbox pedals.
The Boss Tone Studio software also allows even greater effects customization.
The only downside with the Katana amps is that a separate foot controller is needed to best use the FX, but it's not a huge minus and with the pedal, the experience is phenomenal.
The THR on the other hand also has a limited set of around 10 effects but these aren't modeled on any known pedals in particular and while it boasts its own virtual editor software, it's still far more limited than the Katana studio controller.
The Katana line also outdoes the THR in Volume by having gig-ready amps in their range.
Then again, the THR was designed for practicing, this still leaves you with limited use as opposed to the Boss Katana's versatility.
The Katana's built-in power control allows it to deal well with low volume while maintaining the same tone and crunch that it provides at higher volumes, making it a truly versatile modeling amp.
The THR still handles itself well at higher volumes, but the small speakers are no comparison to the Katana at max volume.
The usability of both amps is about the same, both relying on led lights to convey their settings.
Depending on your taste in interacting with your setup, this could be a good or bad thing for you.
Some people prefer knobs and dials.
The Yamaha is a smaller amp than the Katana, and it does its job well as an at-home practice amp.
Its smaller size makes it a lot more portable, but this isn't a huge difference as the katana is also designed to be easy to lug around.
Which one should you get?
Hands down, the Boss Katana series makes for a better choice overall.
They're more versatile, their effects range is greater and they come with a lot of options.
Katana's smaller models such as the mini, are pretty portable too, and also run with AA batteries such as the THR.
However, in case you prefer using it with a power supply, you will have to buy it separately, since they do not ship one in the box as Yamaha does.
If you're already loaded with a bunch of stage amps and you really just want something to practice on that won't set your neighbors off, then you could get the Yamaha.
The low volume clarity is fantastic, but the same can be said for the Katana when using its half-power switch.
In case you haven't noticed by now, I personally like the versatility the Katana line offers with its 50-watt and over models, which work both as great practice amps and for small gigs.
The main thing here is that these 2 amp lines sound nothing alike, so perhaps you might need to end up making a decision with your ears.
Here's a side-by-side comparison of a Katana 50 MKII vs a THR30-II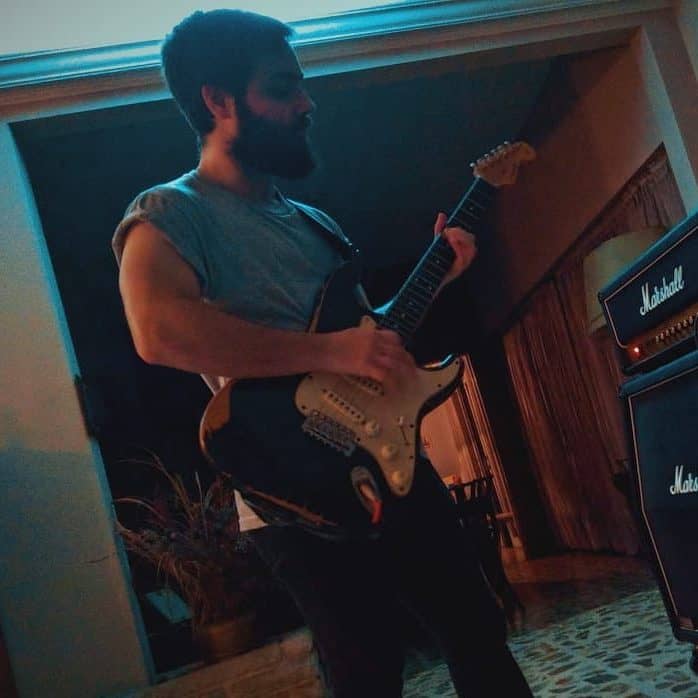 Hello there, my name is Ramiro and I've been playing guitar for almost 20 years. I'm obsessed with everything gear-related and I thought it might be worth sharing it. From guitars, pedals, amps, and synths to studio gear and production tips, I hope you find what I post here useful, and I'll try my best to keep it entertaining also.