Having enough gain is something that worries every extreme metal player.
Through the years, the search for the perfect amp was mostly physical and kind of limited.
There were not that many options in the past as there are today, and getting to try out a rare new amp was almost impossible.
Luckily we now have amp simulators that allow us to achieve the heaviest tones in the comfort of our computers.
And as an extra, most of these digital amps have free trials, so you can get a hang of them before making a final decision.
In my opinion, currently, the 9 best amp simulators for djent and extreme metal are:
Archetype Plini
Fortin Nameless Suite
Archetype Gojira
Toneforge
Amped roots
Emissary by Ignite Amps
Amplitube 4
BIAS FX and BIAS Amp
Helix Native
For those who want a deeper dive into this topic, in this article, I will answer the main questions about amp sims for metal, and also the main ones for amp sims in general.
I will also give you my preferred 3 pieces of software from this list.
After reading this article you will have a clearer idea about what to look for in different virtual amps.
Are you ready to get started?
Let's go!
My top 3 choices of amp sims for djent
List articles like this one can get a bit tedious, I know. That's why I think it is better if I tell you, to kick off things, which ones are my favorite from these 9.
I will give you a short overview for each one and then in the full list I will go into more detail
Here we go:
1. Archetype Plini
The big brains from Neural DSP delivered a pretty simple but incredibly sounding suite of an amp, effects, and a cab sim.
This is an expensive option if you think about the limited sound options within the bundle, but its restricted alternatives are a promise for excellent sound.
If you want an amp sim that just sounds amazing out of the box, this is the one for you.
2. Amped Roots
On the other side of things, if you want a free amp that also sounds amazing just as it is, check out Amped Roots.
It's heavy and simple. It also comes with very usable presets to further facilitate your quest for the perfect tone.
3. Bias Amp
Bias Amp is on the cheaper side, and although it doesn't have any effects built-in as Bias FX does, I don't think you would need any for playing extreme metal.
The great thing about this one is that you can tweak every aspect of the amp and get very custom results.
The bad thing about this one is that you can tweak every aspect of the amp, get lost in it, and have 15 years pass by before you play your first power chord to test the final result.
What are the advantages of using amp sims?
Amp sims have taken over the industry lately because of their convenience. They are cheaper, more reliable, and sound practically the same, if not the same, as the real deal.
Hey, there isn't a real deal in many cases. Some of these sims are just fictional amp designs based on an artist's preferences.
To be more concrete, some of the most prominent advantages of using amp sims are:
Cheaper than an actual amp
No maintenance needed
No physical space needed
They perform the same at every volume level
You can reamp your tracks easily
In the context of a song you couldn't probably distinguish them from a real one
You don't need to worry about mics
What to look for in an amp VST?
There is no single feature that determines how good an amp sim is. And the mix of characteristics most sought after, I think, will vary from player to player.
Some of us are tweakers and would prefer a highly customizable alternative while others would be annoyed easily and would rather go with one that sounds great out of the box.
If I were to determine what you should look for in a digital amp, I'd say:
Pricing
Tone
Features such as amps, effects, cabs
Tweakability
Free demo
Anything else will depend on your specific needs.
Remember you can try before you buy
Most of these virtual pieces of gear will offer you a free trial, for a few days. Always take advantage of this opportunity to get to know the software better.
Even if you are pretty much decided on your purchase, perhaps shooting out your top 3 choices will shed some light on features you haven't considered as important.
Always try before you buy.
The 9 best amp sims for djent and extreme metal
Coming up with a list of extreme metal amps is not an easy task, and probably you would disagree with many of the choices.
This is not by any means an absolute ranking, but just a detail of my findings when researching this kind of sims.
Let's get to it:
1. Archetype Plini
The Archetype series from Neural DSP is one of my favorite ever. These amps are designed focusing completely on the artist and their needs.
Luckily for us, most of the time the needs of the chosen guitar player are aligned with ours, and this is what happened here.
This VST features 3 different amps (clean, crunch, and lead), a compressor, a booster pedal, reverb, delay, and a 9 band EQ.
This is not much when compared with others on this list, but the thing here is quality. This whole suite sounds amazing and you won't regret getting it.
For those interested, there's a 14-day free trial available.
2. Fortin Nameless Suite
Fortin amps are brutal, and the Nameless Suite surely fits the brand's identity.
You get an overdrive, a booster, and a noise gate alongside an amazing virtual amp that sounds like one of the most sought-after metal beasts out there: The 5150.
This one will definitely chug from the moment you turn it on.
3. Archetype Gojira
Another Neural DSP entry here. This is the Frech metal band's guitarist, Joe Duplantier's signature suite.
This one comes with more effects including a polyphonic octaver and a pitch shifter. Something rather unusual, but hey, you will have lots of fun playing with these.
The amp selection is the usual: Clean, crunch, and lead but the tones are monstrous.
As a fan of the band, I really like this bundle, and I can't stop recommending it to everyone.
4. Toneforge
Toneforge features a line of amps designed with metal as its priority. Their signature players feature Misha Mansoor among other great personalities.
These are all custom amp designs and don't emulate any other ones, however, they surely are inspired by the tones that shaped the current scene.
I would recommend you check these out if you are into djent or any other form of extreme metal, however, sadly Toneforge doesn't offer free trials.
5. Amped roots
Amped roots is my go-to choice for a free metal amp sim. It just sounds amazing as it is. You wouldn't need to tweak a single knob to get an amazing and really usable heavy distorted tone.
Go check it out even before trying out any other of this list. Perhaps you will end up not spending any money today.
6. Emissary by Ignite Amps
Emissary is another free alternative for metal players. It is a VST that has been around for quite a few years now and that surely is in the arsenal of many home studio metalheads.
It's a 2 channel amp with anything you could ask for getting heavy metal tones.
You should give it a try, especially if you need a simple free solution to your djent tone yearning.
7. Amplitube 4
Now we're entering the more generalist suite terrain.
Amplitube has been forever an amazing option for digital amps and effects. It's still in the market and fighting with a big market share.
This is by no means a metal-specific piece of software, but it has to offer great tones and alternatives to even the meanest metalhead.
Its tones and cab simulations are some of the best in the game, but its price, I think, is kinda excessive.
8. BIAS FX and BIAS Amp
BIAS FX is another suite of amps, effects, and cabs, think of it as a direct competitor to Amplitube.
BIAS Amp focuses solely on amps, you don't get any effects with this one. However, the degree of customization available within this piece of software has no comparison with anything else.
You can pretty much build your dream amp by mixing and matching between many options.
Of course, BIAS FX is compatible with BIAS Amp and will allow you to import your tube creations into more complex signal chains.
The price is rather competitive for these 2 compared with Amplitube.
9. Helix Native
Helix Native is the VST version of the Line 6 Helix multi-effects pedalboard.
As you might know, this multi-fx is one of the most popular in the market and this is no coincidence. It just works.
Again, this is not metal-specific, but you can achieve a very wide array of heavy tones after a few minutes of tweaking, and it is an alternative you should consider.
If you own a Helix unit, the plugin is free, however, if you were to buy it separately, it is quite expensive.
Do you need impulse responses to use amp sims?
While most amp sims will come with at least a few impulse responses to enhance their tones, some, and especially the free ones, might not include any.
In this situation, you will need to get some IRs to get the most out of your amp. You can find some pretty decent ones in Line 6's free allure pack.
You can check it out by clicking here.
To use these or any IRs, if your plugin of choice doesn't have the option you will need something to run them.
NadIR
NadIr is a free VST from Ignite Amps that will allow you to use any IR you have downloaded to your pc.
It's easy to use and it's also free.
You can check it out here.
Real amp vs pedalboard vs sim
Many purists will argue that amp sims are not even close to the real deal, and they probably aren't. But I don't think they intend in competing with $3000 tube beasts.
Simulators are just a different tool in a musician's toolbox. Many will resort only to them, many other will share their heart between real amps, and simulators.
It's all about convenience.
Do they feel any different? Well, yes. Real amps are more reactive and interact with a player's touch. They sound different at different volumes and settings. Tube amps are almost a living thing, a complex equation in which the player is another variable.
Digital amp simulators, such as VSTs or the ones that come in pedalboards nowadays feel a bit more inert, however, the progress in terms of feel and tone made in the last decade has been exponential.
The bottom line is that probably the only one noticing all these slight differences would be you, the player. For any listener, it would be almost impossible to distinguish the sound of a real amp vs the one of a simulator in a band context.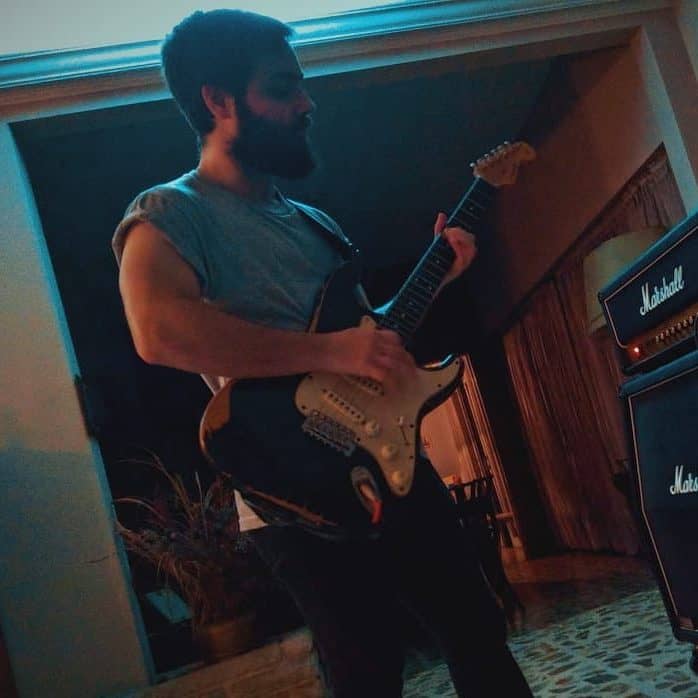 Hello there, my name is Ramiro and I've been playing guitar for almost 20 years. I'm obsessed with everything gear-related and I thought it might be worth sharing it. From guitars, pedals, amps, and synths to studio gear and production tips, I hope you find what I post here useful, and I'll try my best to keep it entertaining also.