Everyone has an opinion on which amp is the best and which gear you should get. Everyone has their preferences and comparing smaller amps is no exception. Today, we'll look at the differences between the Roland Cube series and the BOSS Katanas.
Both the Roland Cube and the Katana are good amps in their own right. It's down to preference most of all and whether you prefer the simplicity of the Cube or a ton of built-in features from the Katana.
The Roland Cube is a pretty solid amp and it's well known for quality and good output.
The Boss Katana offers a ton of features, which could be overwhelming to some and welcomed by others.
We'll take a look at both and which one may suit you best.
Roland Cube's main features
Roland CUBE amps are a well-established series with a reputation for superior sound quality and great durability.
What's nice about the Roland CUBE is that it's a more affordable series, ie not too expensive, but still a good buy.
Roland CUBE amps are a series of modeling amps that come with ranges of different tones like most other amps. Generally, you can get clean, lead, and acoustic tones at the very least.
It's quite compact and portable while also maintaining a high volume output.
The main features are:
Compact 10 watt-guitar amp with custom-designed 8-inch speaker
Three amp types: clean, lead, and Acoustic
onboard reverb effect with a dedicated knob
Bass, Middle, and Treble tone controls
Record/Output/Phones jack provides high-quality direct tones for quiet practice and recording
Bonus Auxiliary Input jack for jamming with an external music player.
As far as its design and look go, the speaker is protected behind a polished metal grill and housed inside a closed-back cabinet with rigid construction, corner protectors, and rubber feet.
These characteristics are often standard with small amps and overall its design is made with longevity in mind.
In a nutshell, it seems like the Roland was built to be simple, versatile, and powerful.
Boss Katana's main features
The Boss has a considerably longer list of main features, it comes with a wide array of bells and whistles.
I've taken a look at the list of the main features from the latest that the Katana range has to offer, these are the features of the Artist MKII:
Professional 100-watt combo amp with.
Custom Waza 12-inch speaker
Tube Logic design
robust analog class-AB power amp section to deliver its tone
High-quality cabinet construction with semi-closed back for tight and focused tone with a rich low end
Five amp characters with five variations, plus a Booster, Mod, FX, Delay, and Reverb sections with three variations in each
Three-way contour for shaping the overall tone and color and a Global EQ switch with three settings
Switchable Solo function with level control
A dual amp expansion function for GAFC control and True stereo effects
Updated BOSS Tone Studio editor software for customizing sounds with over 60 BOSS effects
Series, parallel effect loop, external speaker outputs, and power amp input for preamps, modelers, and multi-effects
Eight Tone Setting memories for storing and recalling amp and effect settings
Power control for better tonal response at low volume
Mic'd cabinet emulation on the line with USB and phones/recording outputs.
Three Air Feel settings available in BOSS Tone Studio
External control support via GA-FC foot controller, footswitches, expression pedal, and MIDI
A great feature is the BOSS Tone Studio editor, which the Roland does not seem to have a counterpart for. It provides a lot of choices for different effects.
The Katana series also has a lot of variety.
Main differences between the Roland Cube and the Boss Katana
So let's start with something that's not different between the two, Volume.
Both amp series are capable of being pretty loud and both series have amps that do well at lower volumes for practice.
The Roland cube has a good variety, as does the Katana.
The main differences between the two amps come down to simplicity and complexity.
The Roland cube is very limited in its customizable features when compared to the Katana, even the smaller, lower-end Katanas have more options than the Cube
Both have three-band EQ, but the Roland Cube has an added presence button
The Katana has a lot more effects options and is more programmable than the Cube
The clean sound of the Katana is darker whereas the Roland cube is brighter
The Katana takes effects pedals better than the Roland cube
The Roland Cube's overdrive channel sounds a bit more natural than the Katana, but that's a matter of taste
The Katana comes with BOSS Tone Studio Software and the Cube doesn't seem to have any parallels for it.
The Katana has a couple of different voicings to choose from, but they sound very similar, whereas the cubes voicing each sound very different.
The Cube mid-range models seem to be a bit louder than some of the Katana midrange models
Which one should you get?
In short
Get the Roland Cube if:
You like simplicity
You like brighter tones from your amp
You like good quality and simple design
Get a Boss katana if:
You like a lot of variety with effects
You like darker tones
you like decent quality and a lot of features
Both amps have reasonable price ranges and the top line Katana in my opinion outdoes the Roland Cubes, but that's down to my personal tastes and not everyone can afford a top-of-the-range model.
Elmo Karjalainen did a great comparison of some models from both series:
Marty Schwartz on youtube prefers the boss Katana and did a cool demonstration video:
As always, I recommend trying both for yourself and coming to your own conclusion if you can, but I hope this post has made deciding a little easier for you.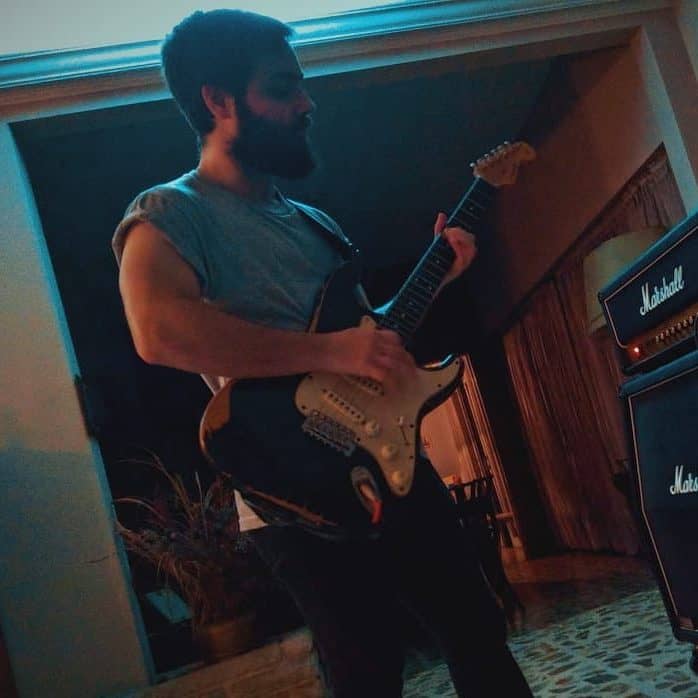 Hello there, my name is Ramiro and I've been playing guitar for almost 20 years. I'm obsessed with everything gear-related and I thought it might be worth sharing it. From guitars, pedals, amps, and synths to studio gear and production tips, I hope you find what I post here useful, and I'll try my best to keep it entertaining also.