Some people just don't quit no matter how tough things get. And some of those people are blind singers and musicians.
While there have been blind musicians throughout history, there are a lot from the current musical scene and the 20th century who are worth knowing about.
And a large amount of them plays musical instruments as well as sing.
Now I can only imagine that learning an instrument is much more difficult without being able to see, but that once you have mastered it, singing becomes easier because you can accompany yourself.
And the largest group represented here is definitely African American Blues singers/guitarists.
Now apparently this blind Bluesman scene became so popular that some Blues players pretended to be blind! Can you believe that?
But if Blues music isn't your favorite, don't worry…
Because there are blind singers in other genres and all around the world, including some talented singers in India, that deserve some appreciation too.
And if you enjoy dirty jokes, be sure not to miss the last song!
1. While My Guitar Gently Weeps – The Jeff Healey Band
This amazing blind musician and singer was gone from our lives too soon but he continues to inspire me every time I hear him.
As he plays this classic Beatles track you can see the unique style that uses to play guitar, like a lap steel guitar. He even uses his thumb on his left hand!
And Mr. Healey is also notable for another reason; almost all of the famous singers on this list would wear sunglasses to cover their blind eyes but Jeff did not.
If you want to see more of him playing, you can of course find him featured playing as the bar band in the classic but so cheesy Patrick Swayze film Roadhouse.
Written by: George Harrison
Year Released: 1990
Album: Hell to Pay
2. I Just Called to Say I Love You – Stevie Wonder
Now I enjoy listening to Blues and some depressing music sometimes but other times I want to hear some songs with a positive feel.
And it would be hard to come up with a better recommendation than the one and only Stevie Wonder, a man who is a national treasure when it comes to putting out good vibes.
And for a man who was blind from infancy to be a shining star in the lives of others is truly amazing.
Even if he was just a singer/composer that would be enough, but don't miss out on his piano/synthesizer, drum, and harmonica talents either!
Written by: Stevie Wonder
Year Released: 1984
Album: The Woman in Red
3. I'm Not Ashamed to Sing the Blues – Diane Schuur
This slow jam Blues song will have you hallucinating that you are in a smoke-filled nightclub with white tablecloths and everyone wearing their best evening clothes.
And Ms. Schuur has a list of accomplishments that is pretty hard to beat, from winning a Grammy award for best female Jazz vocal performance 2 years in a row to performing at the White House and other prestigious venues.
But that's not even the best part! The musicians that she has collaborated with include Stan Getz, Frank Sinatra, B. B. King, and many more.
Written by: Robert Augusta Johnson and Sam Ray Mosley?
Year Released: 1997
Album: Blues for Schuur
4. Georgia on My Mind (Live) – Ray Charles
Musicians like Ray Charles provided the soundtrack to a lot of people's lives.
And it wasn't just his music, but seeing his huge smile could really brighten up your day; he just seemed to have a great attitude toward life.
Now technically I guess I have been to Georgia several times if you count being in the Atlanta Hartsfield-Jackson airport, but I've never really had a chance to explore the state.
But I sure would like to if I ever get the chance and a big part of that is because of how much I love Ray Charles' version of this song.
I mean, he could probably sing about going to prison and make it sound like a good time!
Written by: Hoagy Carmichael and Stuart Gorrell
Year Released: 1960
Album: The Genius Hits the Road
5. Death Don't Have No Mercy – Reverend Gary Davis
One of the many blind African American Bluesmen was Gary Davis, who wasn't just a singer but a multi-instrumentalist.
His life story is pretty amazing with not only blindness but a pretty harrowing childhood that probably would have sent most people down a dead-end path.
So I think we're lucky to be able to enjoy tracks like this and his other big hit Samson and Delilah (Gary Davis was also a Christian Minister) all of these years later.
And the song has been covered by many famous artists and bands such as Bob Dylan, the Grateful Dead, and Hot Tuna.
Written by: Gary Davis
Year Released: 1960
Album: Harlem Street Singer
6. Selfish – Lachi
Lachi is a blind musician and singer who makes EDM music and has co-written and produced music for artists such as Snoop Dogg.
I'm rather fond of this track in particular where she touts the virtues of being selfish, but don't be fooled for a second.
Because while it makes for a cool song subject, Lachi is actually very active in her work to create better lives for people with disabilities, even starting her own foundation RAMPD for musicians.
So actually, I would say that she is very far from being a selfish person in real life!
Written by: Lachi
Year Released: 2017
Album: The Selfish Release
7. I Care – Charlotte Kelly (Soul II Soul)
Soul II Soul is a popular music group from the United Kingdom that enjoyed quite a bit of success in the 1990s and even won some Grammy awards along the way.
While the group seems to have a lot of circulation among its members, one, in particular, is Charlotte Kelly who went from being a backup singer on live tours to one of the featured singers in the band.
And Ms. Kelly is blind but never let that get in the way of her musical ambitions with several solo albums to her name as well as her work with Soul II Soul.
Written by: Soul II Soul
Year Released: 1995
Album: Volume V: Believe
8. God Said It – Eric "Ricky" McKinnie (The Blind Boys of Alabama)
9. Love Comes from the Most Unexpected Places – José Feliciano
10. Time to Say Goodbye – Andrea Bocelli (with Sarah Brightman)
11. I Got Caught Making Love – Clarence Carter
12. If You Want Me To – Ginny Owens
13. After the Lights Go Down Low – Al Hibbler
14. Diddie Wa Diddie – Blind Blake
15. What's Up? It's Me – Rod Clemmons
16. Match Box Blues – Blind Lemon Jefferson
17. Dark Was the Night… – Blind Willie Johnson
18. Statesboro Blues – Blind Willie McTell
19. Deep River Blues – Arthel Lane "Doc" Watson
20. There's No Gettin' Over Me – Ronnie Lee Milsap
21. Just for Tonight – Gilbert Montagné
22. Shri Krishna Govind Hare Murari – Ravindra Jain (Ravindra Jain's Krishna Bhajans)
23. Somebody's Knockin' – Terri Gibbs
24. Hooray, Hooray, These Women Is Killin' Me – Sonny Terry
25. My Sweetheart Is the Man in the Moon – Princess Christina of the Netherlands
26. Ramabi Rama – M. Chandrasekaran
27. What's That Smells Like Fish – Blind Boy Fuller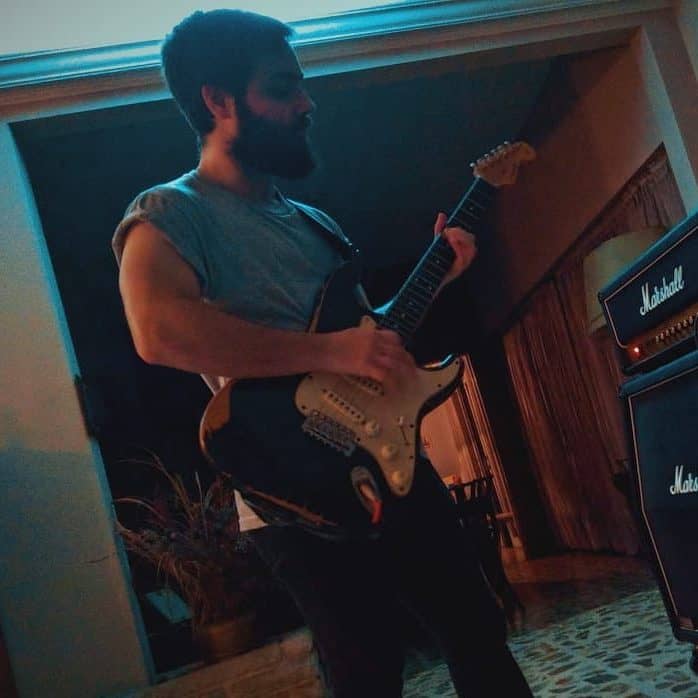 Hello there, my name is Ramiro and I've been playing guitar for almost 20 years. I'm obsessed with everything gear-related and I thought it might be worth sharing it. From guitars, pedals, amps, and synths to studio gear and production tips, I hope you find what I post here useful, and I'll try my best to keep it entertaining also.