When someone says they listen to Country music, African American singers may not be the first thought in your head.
Because it is generally thought that Country singers are almost always Caucasian.
But why is that?
Now, I suspect that a lot of music by Black singers that is sort of Country music usually just gets labeled as Folk or Blues or something instead.
And although country music makes use of some signature instruments such as fiddles and lap steel guitar, I think that more than anything it is the lyrics that most define the genre.
But just like there are plenty of White rappers and genres such as Blue Eyed Soul (White Soul singers) there are some Black Country artists that you should know about too.
And there are even newer genres that are pushing the boundaries such as Country Rap and Country Trap.
Now anyone who was around when Rap Metal was really popular and lived to tell about it may be a little wary of Country Rap and that's understandable.
But I urge you to give it a chance before you make a decision because it's actually pretty cool in my opinion.
And while trying to classify music into neat little categories can be frustrating, the constant evolution of it is one of the things I love about it too!
So if you're ready to take a dive into what African Americans are producing in the Country music style, these artists are a great place to start.
1. Take Me Home, Country Roads – Ray Charles
Ray Charles was one of those dudes who could seemingly do anything.
And while some people these days may not associate him with country music when they hear his name, he released a lot of Country music albums such as Modern Sounds in Country and Western Music (2 volumes), Love Country Style, and more.
Though I like the simplicity of singer/songwriter tunes such as the original version of this song by John Denver, I actually prefer Charles' version with its jaunty rhythm.
And don't forget that Ray Charles was blind since he was a young boy and didn't let that stop him from pursuing his dreams of music… such an inspiring guy.
Written by: John Denver, Bill Danoff, and Taffy Nivert
Year Released: 1972
Album: A Message from the People
2. She's My Rock – Stoney Edwards
Stoney Edwards was a bit of a pioneer in Country music for people of color and had a fair bit of success while doing it.
And this song, which was one of his most popular hits, has been covered by other artists over the hills.
It ticks all the boxes both musically and lyrically and even has that special "I don't care what other people think" attitude that was so prevalent in early Country and Western music.
Written by: S. K. Dobbins
Year Released: 1972
Album: She's My Rock (single)
3. Kiss an Angel Good Mornin' – Charley Pride
This cool cat hit it big in the world of Country music with great record sales and even several top awards from the Country Music Association.
And that's not all. He was an army grunt and a professional baseball pitcher as well… talk about a renaissance man!
This song was one of his most successful tracks, and since Mr. Pride passed away a few years ago, I think it is the perfect song to remember him or discover him for the very first time.
Written by: Ben Peters
Year Released: 1971
Album: Charley Pride Sings Heart Songs
4. Better Than You Left Me – Mickey Guyton
It's not just African American men that are having all the fun in the genre either.
Mickey Guyton represents the fairer sex and lends her beautiful and powerful voice to this track.
And the song doesn't disappoint with an empowering message that chooses strength of character over self-pity following the end of a relationship.
Written by: Mickey Guyton, Nathan Chapman, Jenn Schott, and Jennifer Hanson
Year Released: 2015
Album: Mickey Guyton (EP)
5. Stuck on You – Lionel Richie
Lionel Richie took a stab at singing Country music in the early 1980s and I'd say he hit his target.
Because the album containing this song was a huge commercial success for him even if he does look a bit funny wearing a cowboy hat.
Of course, his signature voice still shines on the high notes and while it's a bit of a different genre for him, he still infuses it with his own style, resulting in a beautiful and mature love song.
And having seen Lionel Richie perform live at a United Way fundraiser concert many years ago, I can definitely recommend going to see him if you can ever catch him out on tour.
Written by: Lionel Richie
Year Released: 1983
Album: Can't Slow Down
6. The Grand Tour – Aaron Neville
This song was originally made famous by singer George Jones and later covered by Aaron Neville.
In fact, some of the other songs on this list were performed first by the artists listed here and then later covered by George Jones.
Now Aaron Neville is usually thought of as more of an R&B and Soul singer, however listening to this song, it is clear that he can do anything that he sets his mind to.
Because he really nails that twangy vocal effect that is often heard in Country music like he has been doing it all his life!
Written by: Norro Wilson, Carmol Taylor, and George Richey
Year Released: 1993
Album: The Grand Tour
7. Old Town Road – Lil Nas X feat. Billy Ray Cyrus
Are you ready to have your mind blown?
Because if you have never heard Country Rap or Country Trap this song may come as a little shock to you.
But from what I know of Lil Nas X, I think he likes to cause a bit of a stir whenever he can.
This song is kind of an enigma though: current hotshot Lil Nas X and Billy Ray Cyrus of Achy Breaky Heart fame, on a song built around a Nine Inch Nails sample. Wow…
And the lyrics are mostly suitable for the Country genre but with some quirky additions like "Cowboy hat from Gucci, Wrangler on my booty".
So even though logically it should sound like a hot mess, I think it turned out to be a catchy and fun song!
Written by: Montero Hill, Trent Reznor, Atticus Ross, and Kiowa Roukema
Year Released: 2018 / 2019
Album: 7 (EP)
8. My Truck – Breland
This is another Country Rap track that deserves a listen and it definitely slaps.
Now my first impression is that there may be some playful ribbing going on with this song as it is almost a parody of a lot of Country songs such as Don't Take the Girl by Tim Mcgraw, but I could be totally wrong about that.
What I do know for sure, is that I love what Breland is doing musically on this track and those high-range vocal parts in the raps are really cool.
It's always exciting to explore innovative music styles that keep things fresh and I'm definitely going to be keeping my eye (or ears!) on Country Rap in the future.
Written by: Daniel Breland, Troy Taylor, Kalvin Austin, and 3 others.
Year Released: 2019
Album: Breland (EP)
9. Long As I Can See the Light – Miko Marks & The Resurrectors
10. Straight Tequila – Trini Triggs
11. Help Me Make It Through the Night – Tina Turner
12. Thank God – Kane Brown and Katelyn Brown
13. It Won't Be Like This For Long – Darius Rucker
14. You Do My Heart Good – Cleve Francis
15. Black Cat Bone – Jessie Mae Hemphill
16. Rascal – RMR
17. Get Us in Trouble – Milton Patton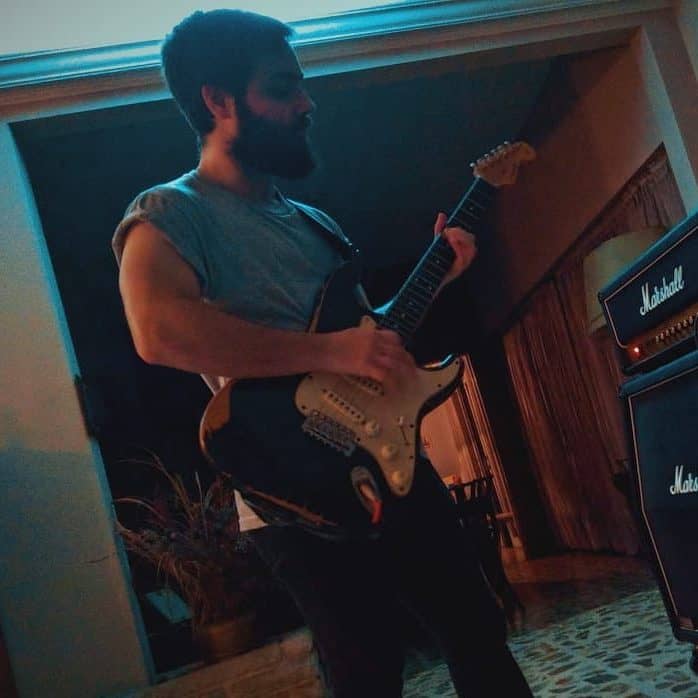 Hello there, my name is Ramiro and I've been playing guitar for almost 20 years. I'm obsessed with everything gear-related and I thought it might be worth sharing it. From guitars, pedals, amps, and synths to studio gear and production tips, I hope you find what I post here useful, and I'll try my best to keep it entertaining also.