Guitar tuners are non-negotiable if you're going to be a guitar player.
And while there are many cheap tuners that do the job just fine, they lack the convenience and accuracy provided by industry-standard tuners.
The Pitchblack, Polytune, and TU-3 are all great tuners and do what is required, but they have notorious differences: The Boss, unlike the others, is buffered instead of true bypass. The Polytune has a very useful strum tunning function, and the Pitch Black is too dim to be used outdoors.
Regardless of which one I like best, we'll be covering each tuner in great detail so that you can make your own conclusion on which tuner you'd want.
Korg Pitchblack's main features
Korg has a 40-year history of producing high-quality tuners. The Korg Pitchblack pedal debuted in 2008 and has earned a reputation as a trusted piece to every professional pedal board.
The latest tuner models boast a tuning accuracy of 0.1 cents, that's an insane level of precision. Featuring true bypass, it won't affect the sound of your setup whether in use or not.
Receiving overall positive reviews, the Korg Pitchblack really sits as one of the industry-standard tuners. While it may not be as accurate as the Polytune tuner (0.02 cents), 0.1 cents is still better than most.
The color and sleek design are also a big plus to me, black just has a very clean feel to it that other, more colorful pedal tuners just can't aesthetically match.
Features
High precision advanced functionality
Tough Aluminum body
LED Meter
100% True Bypass Output
Mutes input signal for silent tuning
Multiple Display Modes:

Meter Mode
Full Strobe Mode
Half Strobe Mode
Mirror mode

DC output to power other pedals
Specs
Same size as a compact effects unit
Adjustable calibration between 426 and 445 Hz
12 note equal temperament
Detection accuracy within ± 1 cent
Battery life: approximately 5 hours at max usage
Dimensions: 68 x 120 47 mm / 2.68" x 4.72" x 1.85" (including feet)
Polytune's main features
When it was introduced in 2010, the original Polytune revolutionized the way musicians tune their instruments. Considered the best-selling polyphonic tuner to date (according to their website) the Polytune's newer models come with multiple different tuning modes.
They also boast an automatic switch between their polyphonic and single note tuning modes which is quite a nice addition to their uses.
The great thing about Polytune pedals is that aside from being able to tune multiple strings, reviews note that the tuner itself has a high level of accuracy when using the chromatic, single-string mode.
The only notable drawback to consider with these pedals is that their screens are prone to scratching. You can get around this by getting a screen protector on it though and then you have one of the best tuners you can buy in its price range.
Features
Ultra-compact polyphonic tuner to give fast, accurate tuning and a high-quality tone tool in a single unit
Three tuning modes: Polyphonic, chromatic, and strobe tuning
Built-in analog buffer circuitry
Polyphonic tuning lets you tune all your strings at once
Chromatic tuner offers 0.5 cent accuracy
Strobe tuner gives an accuracy of +/_ 0.02 cent accuracy for ultimate tuning performance
Switchable true bypass/buffer modes
"Always on" tuning mode keeps tuner on and detecting even when not muted
Super-bright 109-LED display and an ambient light detector
Automatically switches between polyphonic and monophonic tuning modes based on how many strings you're playing
While the Polytune boasts high accuracy, it should be noted that some of that accuracy is forsaken in its polyphonic tuning mode. In this mode, the accuracy drops to about 3 cents, which is still pretty good, but it's best suited for live playing.
The strobe tuner is the most accurate, coming in at a tolerance of 0.5 cents, which makes it best suited for studio recording level accuracy.
Overall it's a great tuner with overwhelmingly positive reviews and I'll admit it's my personal favorite too. But don't take my word for it, just a quick Google search for the Polytune pedal will bring up a slew of 5 to 4.5-star reviews.
Boss TU-3's main features
BOSS is known for producing quality products with a practical approach to their design and features. In 1983 they introduced the BOSS TU-12, the world's first automatic tuner.
Before the TU-3 was released, it was preceded by the TU-2, BOSS's first compact pedal tuner. The TU-2 received a positive response, despite BOSS being originally unsure if there would be a demand for a pedal tuner.
In 2009, BOSS took the TU-2 and improved on it with the TU-3, mostly with improvements to its display, along with a slight improvement in its tuning accuracy.
Features
High-Brightness mode enhances meter visibility outdoors
Accurate to +/- one cent
Accu-Pitch Sign function provides visual verification when tuning is complete
Chromatic and Guitar/Bass mode with support 7-string guitars and 6-string basses
Flat tuning is supported with Guitar Flat mode, which allows for "drop" tunings up to six semitones below standard pitch
Tuner automatically mutes when the tuner is on
Supplies power for up to seven Boss compact effect pedals
Modes

Chromatic
Chromatic flat X2
Guitar
Guitar Flat x2
Bass
Bass Flat x3

Cent and Stream Display mode
Buffered Bypass
3 Controls: Pedal switch, Mode button, and Stream/Cent button
Has a CHECK indicator
Expected battery life under continuous use for

Carbon battery: Approx 5 hours
Alkaline: Approx 21 hours
Main differences among the Korg Pitchblack, Polytune, and boss TU-3
Many of the differences between these three tuners lie in their designs, but that's not to say they're purely aesthetic or inconsequential.
Korg Pitchblack
Polytune
BOSS TU-3
Has a LED display

Has a high tuning
accuracy of ± 1 cent

Is true Bypass (newer version is buffered)

Not suitable for outdoor tuning due to dim display (newer version tackles this)
Has a bright LED Display

Highest tuning accuracy in single string mode of ± 0.2 cents

Is buffered

Has a strum tuning mode unique to this pedal

Well suited for outdoor gigs
Has a bright LED display

Lowest relative tuning accuracy between the three tuners

Is buffered

Suited for outdoor use

Has multiple tuning modes
All three tuners are designed to fit into a pedal board, so their dimensions are quite similar, but I would say as far as their design goes, I find that the BOSS tuner is very blocky, the Polytune is slightly less so, while the Korg is relatively sleeker.
Which one should you get?
The nice thing about these three tuners is that overall they do the same job and they all do it well. There are some slight differences that make considering what you need when selecting your tuner important.
Korg Pitchblack
The Korg pitchblack tuner is actually a model with its own series with a small variance of different designs and sizes.
The Korg Pitchblack will do well as a tuner for many roles:
Tuning at gigs
Bedroom playing
Studio tuning
most Simplicity in tuning
Its main pro is its simplicity over the Polytune and BOSS TU-3. It's straightforward and if you don't like to fuss with tuning, you're best off buying the Korg
Polytune
The Polytune tuner is perfect for a number of uses. I would say it's the best for efficient tuning during live performances and while it's not as accurate, most people won't hear a 3-cent difference in tuning.
The Strobe tuner is by far the most accurate of the bunch and is well regarded for studio tuning too, even with acoustic guitars, although there's a trick to that.
You should get the Polytune tuner if you:
want a tuner for quick gig tuning
want accurate tuning for studio recording
like to have options when it comes to tuning modes
BOSS TU-3
The BOSS TU-3 is also a pretty accurate tuner- if it weren't, it wouldn't be on this list I suppose- but it seems to come with a few more bells and whistles in a sense.
I've always found the design of BOSS pedals a little blocky and ugly, so if you're also not into the industrial feeling aesthetic then the BOSS tuner is probably not for you either.
It's still a great tuner as far as its accuracy and durability though.
You should get the BOSS tuner if you:
already have a lot of BOSS pedals
want a tuner that fits in well on your pedal board
like something with a more sturdy tank-like design
gig outdoors a lot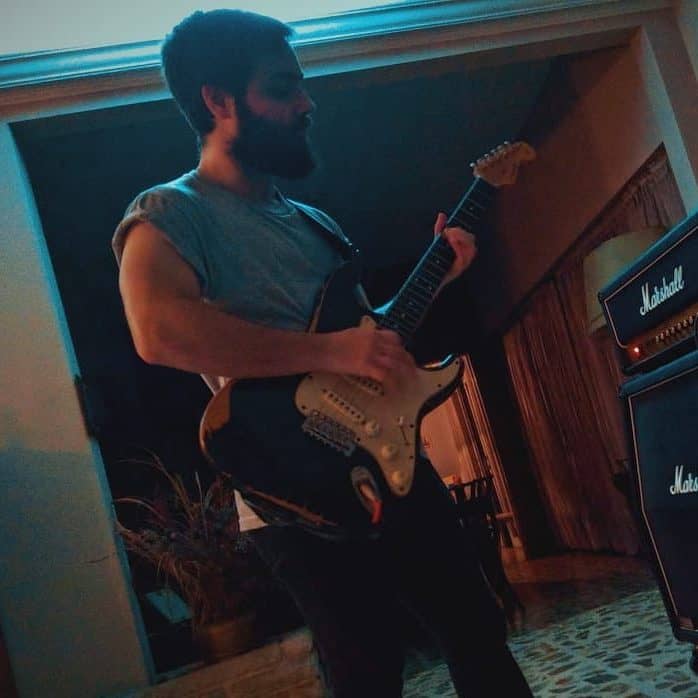 Hello there, my name is Ramiro and I've been playing guitar for almost 20 years. I'm obsessed with everything gear-related and I thought it might be worth sharing it. From guitars, pedals, amps, and synths to studio gear and production tips, I hope you find what I post here useful, and I'll try my best to keep it entertaining also.