Les Pauls are solid wooden pieces created by the Gibson company.
They were first introduced in 1952 and through the years a lot of famous players have chosen these guitars as their number one.
Perhaps the best example is Slash but some others such as Jimmy Page and the incredible Gary Moore also used this wonderful guitar.
Although is a well-known instrument, many players wonder if they are good for people giving their first steps in the guitar world.
In short, the Les Paul presents features that might be convenient for most players due to its design. Nevertheless, I wouldn't say that is the best option for beginners because they are heavy, present balance problems, have fragile headstocks, and can be quite expensive.
Today we will clarify every doubt that may come up about this magnificent instrument.
Continue reading to the end and you will become an expert in this field!
What makes a good beginner guitar?
When choosing a beginner guitar some aspects should be considered. First, learning a new skill is a tough process, you have to dedicate time and practice to incorporate abilities.
Although for some people playing guitar could be a simple task, some others find it really difficult. Up to that point, frustration could keep you from continuing to try.
Studying should be an enjoyable activity, that is another essential aspect to bear in mind.
Moreover, comfort is also important, if you feel your instrument is uncomfortable could lead the player to quit practicing.
Therefore, what makes a good starter's instrument is comfort, fun, and playability.
Some people will also add price, which is also relevant, but I'd rather focus on the characteristics of the instrument.
Are Les Pauls good for beginners?
Despite their extended fame, Les Pauls are not as wonderful as thought.
The design presents various inconveniences that could hamper your playing or even damage your instrument.
In the first place, Les Pauls are weighty wooden pieces and are not well balanced.
In comparison to the neck, the body is heavy as hell which will lead the player's back to suffer when playing stand-up.
Besides, their heavyweight could cause them to fall and get ruined.
Les Pauls's headstock design is quite fragile so they are prone to break easily at the minimum impact.
However, the sound of this model is great, their pickups provide a nice overall tone that will suit well to first learners.
Therefore, the decision of whether it is a good or a bad guitar for starters is up to each player's preference.
Les Pauls have as many pros as cons, everyone should consider their possibilities and likes.
In my view, I would suggest testing different guitar models and choosing the one that fits you better.
Are Les Pauls easy to play?
Restating what was mentioned before, what some guitarists find easy others might find difficult, it always depends on every musician.
In the case of Les Pauls, some players claim that they are not hard to play at all due to their short-scale length, which may improve the playability.
On the other side, some guitar players point out that this model doesn't provide comfortable access to the upper frets.
Besides, Les Pauls usually offer a higher neck width that may not be easy to get used to.
Nevertheless, if we compare Les Pauls to Strats, their string tension is lower, making it easier for first learners to get along the fretboard.
As you may notice, Les Pauls are double-edged swords in terms of playing comfort.
Regarding its controls, they are quite simple guitars, they offer two humbucker pickups, a three-way switch plus a tone and volume potentiometers for each pickup, resulting in four knobs in total.
Thanks to the humbuckers, these instruments are not noisy at all, due to the nature of the pickups you could play with high amounts of distortion without any interference.
Not every player will get accustomed to this guitar quickly, if you like its sound, you will have to put in the hours.
Playing a Les Paul would be neither hard nor easy, I would say they are somewhere in the middle.
What music genres are Les Pauls good for?
This amazing guitar was first introduced in 1952 and up to this point, everyone recognizes a Les Paul by how it looks.
Although it has suffered several modifications as the years passed by, is still one of the most desired pieces.
Les Pauls have been used by many glorious guitar players, the best and most well-known example is Slash including also Jimmy Page and the legend Zakk Wylde.
If you dive deeper, you will find that this instrument was employed in almost every music genre.
As the standard Les Paul's config consists of two humbuckers, you will find this guitar in styles such as rock, heavy metal, and punk.
That's because of the possibility of canceling hum the pickups present, leading to well-rounded high gain tones.
However, these wooden pieces also allow the player to achieve acceptable clean tones.
Therefore, is common to see country or pop players using a Les Paul, even the reggae legend Bob Marley used it!
In addition, with this guitar is possible to reach creamy, mellow tones perfect for blues, jazz, and soul as well.
As you may notice, Les Pauls are more versatile than thought, they could fit almost every music style, I encourage you to try them out.
Does it matter what brand of Les Paul or model you choose?
Gibson guitars are famous worldwide, although in the past years this company has declared bankruptcy, is still in the instruments business with the name Gibson Brands.
This enterprise popularized not only Les Pauls but also more iconic models such as SG, Explorer, and the semi-hollow body guitar ES-335.
Since the instruments produced by this brand are high-end pieces, their price tends to be quite expensive.
Fortunately, Gibson owns the Asian company Epiphone, it builds Gibson models but of an inferior quality which makes them more affordable.
In addition, there exist a lot of brands that provide Gibson models, they replicate quite accurately these instruments.
They offer faithful and reliable guitars, with some shape differences but of acceptable quality.
Gibson instruments are premium products and that is noticeable when you see their price.
Therefore, is common for first learners to look for more affordable alternatives.
Epiphone is the best of them, their pieces keep the same body and neck shapes as Gibson's meeting the desired standards.
What is more, Epiphone presents many price options, starting at really low costs, making it easier to get a new and good guitar.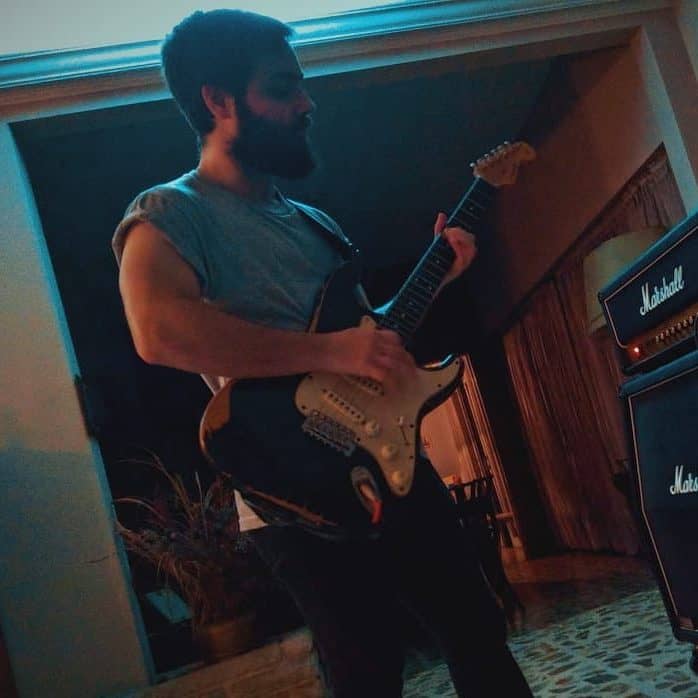 Hello there, my name is Ramiro and I've been playing guitar for almost 20 years. I'm obsessed with everything gear-related and I thought it might be worth sharing it. From guitars, pedals, amps, and synths to studio gear and production tips, I hope you find what I post here useful, and I'll try my best to keep it entertaining also.