To kick things off: Congratulations!
You're about to make a great choice. Whether you end up choosing the Gretsch G5422 or the G5622 you'll end up with an amazing instrument.
The Gretsch G5422 is a hollow body guitar while the G5622 has a center block. The G5422 is lighter, but the G5622 is thinner in depth (size). The former is similar to an Epiphone Casino while the latter is more like a Sheraton. The 5622 would be better for overdriven tones while the 5422 is twangier and jazzier.
We'll talk a bit more about the main specs of each of these models and help you decide which one is the best for you.
To do so, we'll highlight the main nuances that make the differences between these two and we'll also give actionable insights to make a better-informed decision.
Also, we'll give you some video references to check out how these guitars sound.
Be advised, though, that audio varies between setups and you should refrain from making a final decision based on Youtube content.
If it's within your reach go to your local music store and try the instruments back to back before ordering.
Let's get started!
Gretsch G5422 main features
This guitar is one of the most classy pieces of gear one can get.
Reading from the manufacturer's website the main specs for the tremolo version are:
These classic features are well suited for an ample range of genres, from jazz to rockabilly to rock and pop.
The main selling point of this instrument is its hollow body. That particular tone couldn't be matched with another construction type.
It might be polarizing, and it may take some time if it's your first time with a non-solid body guitar, but the payoff in sound will be amazing. Of course, if this is the kind of sound you're looking for.
Although, as we mentioned earlier, there are no real genre boundaries for an instrument, chances are the more clean-channel-oriented players will be the ones to gravitate toward this model.
The Gretsch G5422 would be comparable to an Epiphone Casino.
Gretsch G5622 main features
As for the G5622 things are pretty similar but essentially different.
Let me show you…
Again, based on the manufacturer's spec sheet, the main features for the tremolo version are:
Center block construction
Laminated maple body
Body depth 1.75"
Maple neck
Laurel fingerboard
Black top Broad'Tron pickups
Anchored Adjusto-Matic bridge
Bigsby B70 tailpiece
Again, there's nothing out of the ordinary in these specs, but as you might have noticed, there are some fundamental differences with the G5422
The G5622 is something closer to a Gibson 335 in its conception. Being the center block construction its main characteristic.
The semi-hollow body in this instrument might suit it better to work with more distorted sounds. Blues and rock players will surely enjoy giving it a try.
A good competitor for this model would be the Epiphone Sheraton.
Main Differences between the Gretsch G5422 and the G5622
Now that we've shown what are the strong points of each of these models, we'll put them side to side to further expose their differences
| | | |
| --- | --- | --- |
| Specs | G5422 | G5622 |
| Construction | Hollow body | Center block |
| Body material | 5-ply maple | Laminated maple |
| Body depth | 2.25" | 1.75" |
| Neck material | Maple | Maple |
| Fingerboard material | Rosewood | Laurel |
| Pickups | Filter'Trons | Broad'Trons |
| Bridge | Adjusto-Matic with rosewood base | Anchored Adjusto-Matic |
| Tremolo | Bigsby B60 | Bigsby B70 |
Things are clearer now, don't you think?
Which one should you get?
This decision is completely subjective, you'll have to weigh out what are your needs and your desired sound between other factors.
We chose an arbitrary set of details that might tip the balance for you
Feedback
Hollow-body guitars are more prone to sympathetic resonation and thus more susceptible to feedback.
If you're planning on playing on a high-volume setting with some distortion, the G5622 might be the one for you, given that the center block construction is best suited for less noisy overdriven experiences.
Pickups
To keep things simple, the 5422's Filter'Trons are more reminiscent of the '50s twangy classic rockabilly Gretsch sound, while the 5622's Broad'Trons are capable of a more modern rock 'n' roll sound.
Weight
If weight is a dealbreaker for you. You should choose the G5422.
Of course, individual guitars are different from each other, the hollow body construction will assure you that it'll be lighter than a G5622.
A 5422 will usually weigh between 6lb and 7lb
A 5622 will usually weigh around 10lb
Remember, though, that the 5422 is deeper in size than the 5622 (2.25" vs. 1.75")
Tremolo
Do you need a tremolo system?
If not, the G5622 has a configuration with no Bigsby.
12 string version
On the other side, if you were looking for a 12 string Gretsch, the G5422 has a version that might be what you need.
Overall feel
Both guitars are very well crafted and the decision here will depend on your particular needs.
A simplistic rule of thumb would be:
Are you afraid of feedback?
If yes, go with the G5622
If not, the G5422 will be waiting for you.
But please, don't take this as if the hollow body model would be an uncontrollable screaming banshee at the slightest presence of amp volume.
It all will be manageable, and perhaps some people will prefer the dynamic and availability of feedback of the G5422.
Aesthetic
Gretsch aesthetics are top-notch. No doubt about that. However, given that the quality is the same, you might decide by the different finishes and hardware colors available for each of these models.
We recommend you check out which one suits you better. You might feel like trying these with a tuxedo on.
Resell value
These are classic models so rest assured there'll be always people demanding them.
At the moment of writing this article, there are twice as many G5422 published in Reverb.com as G5622s.
This might mean that the 5422 is a more popular model. Or that the G5622 owners are not willing to sell their beloved stringed jewel.
Who should get the Gretsch G5422
The Gretsch G5422 is for those who are looking for a bigger, but lighter instrument with twangier jazzy tones.
Who should get the Gretsch G5622
The Gretsch G5622 is well suited for those who look for heavier blues/rock tones and are willing to cope with a few extra pounds hanging from their shoulders.
Video references for the G5422 and the G5622
Finally here are some video shootouts of these two models along with some other comparable ones.
Be aware that the playing style, the particular player's setup, and your listening setup are factors that might bias your perception.
We always recommend you go try the instruments in a shop, if that's possible, before rushing to a decision.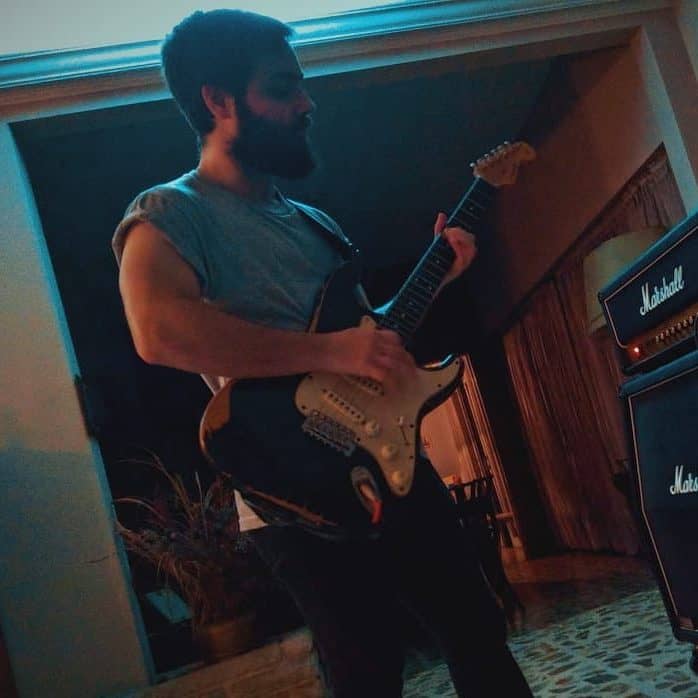 Hello there, my name is Ramiro and I've been playing guitar for almost 20 years. I'm obsessed with everything gear-related and I thought it might be worth sharing it. From guitars, pedals, amps, and synths to studio gear and production tips, I hope you find what I post here useful, and I'll try my best to keep it entertaining also.