It's time to talk about the other British royal family: Iron Maiden.
Fans in the USA may not even realize how much respect this band gets across the pond.
And they deserve it! These guys are talented, unbelievably prolific, and were on the frontlines of the new wave of Metal that happened in the 1970s thru 1980s.
But they have fans of all ages and it's definitely not uncommon to see someone wearing an Iron Maiden t-shirt when you're browsing gear demo videos on Youtube.
And these days they even have Trooper beer and a mobile phone role-playing game called Legacy of the Beast to capitalize on their name.
Basically, they are a brand at this point.
I guess that's a sign of the times but I'm all about the music!
For guitarists, this is a band that can be pretty intimidating though. I mean, their band name is a type of torture device and they have three guitar players in the band.
But their music is more approachable if you break it down into bite-size pieces because they can have quite a few sections to learn in one song.
Luckily for all of us, a lot of the difficult work has been done already by the kind folks on the internet, with plenty of tabs and tutorials suitable for beginner to intermediate players.
And you don't have to be able to play them at full speed right away, but eventually, you will need some quick fingers (including your pinky finger).
So although I love the idea of musicians who can pick up any cheap instrument and make it sound like a million bucks, I think this is a band where what gear you're using can make or break you.
You don't need an Ibanez "wizard" neck, but a guitar with a baseball bat neck is going to make things more difficult.
And an instrument with nice sustain, correct intonation, and strings light enough for your finger strength will pay huge dividends (I believe Maiden's Dave Murray mostly uses Strats with humbuckers).
Without further ado, here are some songs to get started with!
1. The Wicker Man
I've heard of Marshall stacks but that is quite a wall of Marshalls the band has amassed at this point!
This is a song that Maiden released in 2000, proving that age is just a number…of the beast.
And it's not too difficult to play, even if you're just a budding Metalhead. The riffs are pretty simple here, mostly riding the low E string and hitting power chords in between.
(On a quick side note, for all of these songs, I'm not really getting into the solos. You can do so at your own risk)!
So I would recommend watching the video linked below to get the timing of the song memorized and then try without it.
Here is a basic breakdown of the song's chords.
All of the chords are power chords and mostly played with the root note on the 5th string.
The exceptions are E, which combines the open low E string with the higher octave E at the 7th fret of 5th string, A, and G (G1 denotes root at 3rd fret of 6th string and G2 at 10th fret of 5th string).
Intro and Verse: Open low E string / E chord C G2
Pre Chorus: D C G2 (F# E)
D C G1 C
Chorus: E C G1 A E G2 C G1 A
And here's a lesson:
2. Run to the Hills
I don't know how it was in Great Britain, but Run to the Hills is the only Iron Maiden song that I ever remember hearing on FM radio in the USA.
And the song's lyrics are actually about America, when Europeans "settled" the country, destroying the native peoples of the land.
As far as playing it on one guitar, you can do the rhythm section pretty easily with a handful of easy chords.
If you're not used to playing Heavy Metal this is also an excellent introduction to what is called "galloping", a very fast picking / strumming style.
This one uses a lot of two-note chords so your best bet is to follow a video tutorial rather than chords, especially for beginners.
Check out JustinGuitar's in-depth guide below!
And here's a lesson:
3. 2 Minutes to Midnight
This song, which was released in 1984, is about global conflict and an impending nuclear holocaust. Unfortunately, I'm not sure that we've turned back the clock!
Anyway, if you were able to master The Wicker Man, this one should feel familiar.
Because instead of riding the E string, this one uses the A string while hitting double-stop chords on the middle two strings.
There are some sneaky three-string chords later in the song though, so again, this is one where a video lesson will be a huge help!
Just don't forget to add some vibrato on the final chord of the main riff, to make it sound more alive.
And here's a lesson:
4. Hallowed Be Thy Name
The Trooper might be the more famous song, but I think it's more difficult than Hallowed Be Thy Name.
Plus, when someone says Iron Maiden, this is the one that I always hear in my head.
And it's a song that sounds absolutely evil.
Yet somehow Gothic Metal band Cradle of Filth managed to record an even more terrifying version of the song that I recommend checking out too!
I'm not gonna lie; this song takes some time to master. But it's not as bad as it sounds if you just focus on doing one piece at a time.
For example, the intro is just plucking two strings at a time.
And if you have been practicing ascending and descending scales that will be extremely useful for some of the song's coolest parts.
Although there are detailed tutorials for learning this song, I have found that a playthrough with the tab on the screen is the most helpful for this one.
And although most of the guitar parts on this song aren't super fast, this is also where one of Youtube's handy playback features can be your best friend.
Adjusting the playback speed to ½ or ¾ will allow you to go at your own pace and really see and hear what's going on.
Other than that, it just needs a lot of single string/power chord riffs and when you put all the pieces together, you'll be able to play one of the best Heavy Metal songs of all time.
And here's a lesson:
5. Children of the Damned
6. Powerslave
7. Flight of Icarus
8. Stranger in a Strange Land
9. The Number of the Beast
10. Die with Your Boots On
11. Running Free
12. Wrathchild
13. 22 Acacia Avenue
14. Fear of the Dark
15. Afraid to Shoot Strangers
16. Aces High
17. Revelations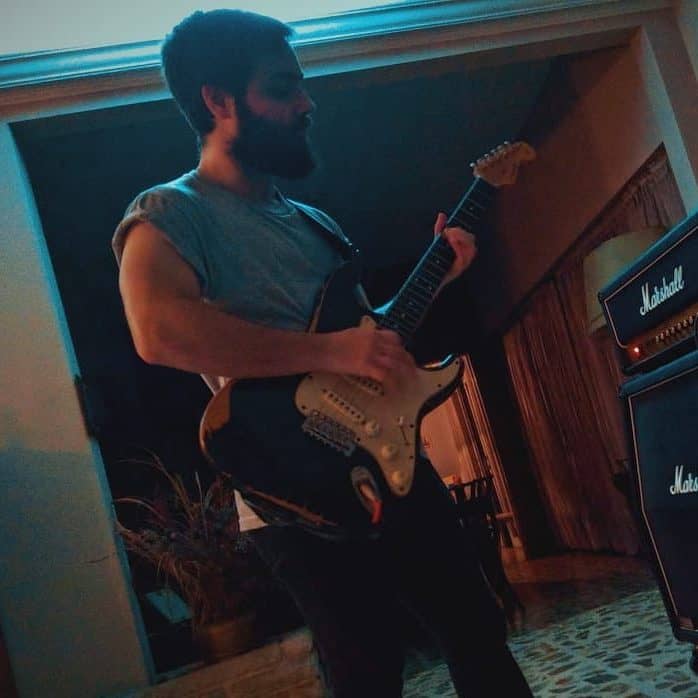 Hello there, my name is Ramiro and I've been playing guitar for almost 20 years. I'm obsessed with everything gear-related and I thought it might be worth sharing it. From guitars, pedals, amps, and synths to studio gear and production tips, I hope you find what I post here useful, and I'll try my best to keep it entertaining also.