Indie Rock is a type of music that has really outgrown its name at this point.
Because a moniker that started to describe bands that put out albums through "independent" (small) record labels, doesn't really fit anymore.
In fact, another term I've heard, College (radio) Rock, might be a little better: music that started in the 1980s that was mostly for young and hip listeners, complete with its own fashion and loads of gnarly attitude.
Some of those bands include The Cure, The Smiths, R.E.M, and Pixies, all of which have had huge success either underground or in the mainstream.
So it's mostly just a style of music these days, but personally, I think it's a pretty wonderful style.
And it exploded with a vengeance with the garage band Rock revival around the turn of the millennium.
Feel free to disagree with me, but mainstream Rock music really needed something drastic to happen; I could have counted the new Rock bands I listened to then on one hand.
Or as Ryan Reynolds so hilariously put it in the movie Deadpool, "I'm gonna do to your face what Limp Bizkit did to music in the late 90s!"
So The Strokes, The White Stripes, and the Yeah Yeah Yeahs were such a fresh and welcome change to many people.
But there were a whole lot more bands that deserve a listen and for guitarists, there is plenty of music to sink your teeth into.
So here are some bands that I think you should check out if you want to learn to play some new songs!
1. NYC – Interpol
I remember when Interpol was a new band, people were saying that they were like a new incarnation of Joy Division.
And since their tour was about to make a stop in my home city, that was the only recommendation I needed to go see the band perform live.
Let's just say I wasn't disappointed…
NYC was a standout track from their debut album Turn On the Bright Lights and although I admit I haven't kept up with all of their music since then, this track still sounds amazing.
And luckily it's simple to play on guitar too.
The guitar parts are layered and there is some synth going on to fill out the sound but the entire song is basically F and C chords.
Just use F then C for the verses and the chorus uses more of a C then F structure (if you're thinking in terms of the vocals).
If you have a multi-effects board or use "amp" software, it should sound pretty nice with some spacey modulation effects added in, so give it a try.
And here's a lesson:
2. Please, Please, Please, Let Me Get What I Want – The Smiths
The Smiths' singer Morrissey is a pretty divisive figure these days but there's no denying that this band is considered Indie Rock royalty.
And guitarist Johnny Marr is no slouch when it comes to musicianship.
But this song has plenty of the band's trademark of self-pity and misery isn't beyond the skill level of beginner to intermediate players.
There are quite a few chords at first glance, but some just involve adding an extra finger to make a sus4 chord. Plus the song is less than two minutes long and has a pretty simple strumming pattern.
Just check out the video below if you need help!
Here is how to play it (with a capo on the second fret).
Verse: Cmaj7 G C G Em Fmaj7 G Gsus4 G
First Chorus: Fmaj7 G C G/B Fmaj7 G Am Fmaj7 G Gsus4
The Second Chorus is similar but you should play C C7 after the final G, instead of Gsus4.
Outro: Fmaj7 G C G/B
Fmaj7 G C C/Bb
Em Am Fmaj7 G
And here's a lesson:
3. Last Nite – The Strokes
Another of my favorite bands to come out of the "garage band revival" are the Strokes, with their laidback style and catchy songs.
Last Nite is another song that uses layered guitars but you can strip this one down to a pretty simple version using the chord progression.
The real trick is feeling the rhythm and knowing when to double-time the strumming to give it its signature boppy sound but the video tutorial can help you nail it.
Here are (barre) chords to play the song.
Verse: C Dm G Em Dm (play three times for the first verse and twice for verses two and three)
Chorus: F G (repeat four times)
And here's a lesson:
4. Where Is My Mind? – Pixies
This one is a classic Indie song that has been passed down several generations at this point and I'm sure some people first heard it at the end of the movie Fight Club.
It's a pretty easy song to play as far as the chords go, with the same progression used for most of it and the slow tempo is suitable for beginners too.
And if you play acoustic guitar this is a great choice, although it does require that you can do barre chords.
Here is how to play the song.
Intro and verse: E C#m G# A (play twice for Intro and three times for Verse)
Chorus: E C#m G# A (three times)
E G# A Am C#m B
And here's a lesson:
5. Fell in Love with a Girl – The White Stripes
6. Motor Away – Guided by Voices
7. Somebody Told Me – The Killers
8. Are You Gonna Be My Girl – Jet
9. Maps – Yeah Yeah Yeahs
10. Float On – Modest Mouse
11. Yoshimi Battles the Pink Robots Part 1 – The Flaming Lips
12. Chasing Cars – Snow Patrol
13. In the Aeroplane over the Sea – Neutral Milk Hotel
14. Soul Meets Body – Death Cab for Cutie
15. Just Like Honey – The Jesus and Mary Chain
16. Space Song – Beach House
17. The Less I Know the Better – Tame Impala
18. Orange Crush – R.E.M.
19. Man on the Moon – R.E.M.
20. Fool's Gold – The Stone Roses
21. Little Lion Man – Mumford and Sons
22. Mind Over Matter – Young the Giant
23. True Love Will Find You in the End – Daniel Johnston
24. 505 – Arctic Monkeys
25. Anyone Else But You – The Moldy Peaches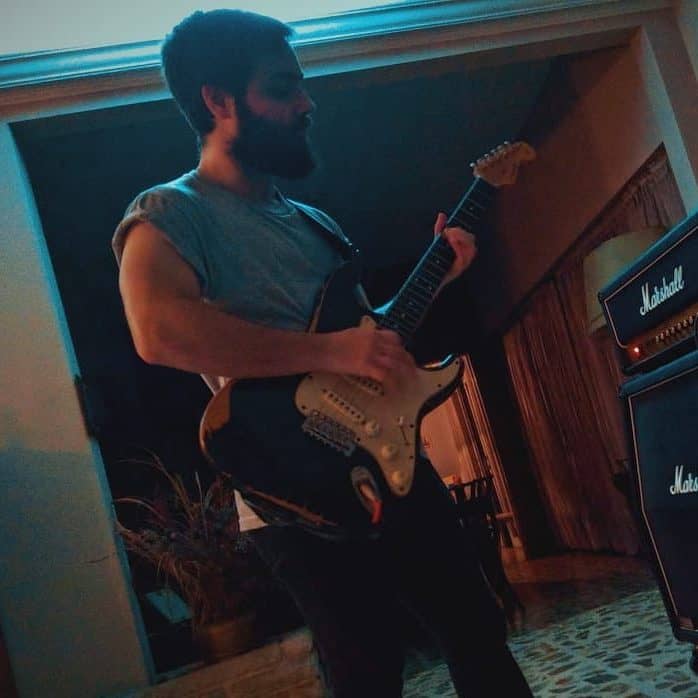 Hello there, my name is Ramiro and I've been playing guitar for almost 20 years. I'm obsessed with everything gear-related and I thought it might be worth sharing it. From guitars, pedals, amps, and synths to studio gear and production tips, I hope you find what I post here useful, and I'll try my best to keep it entertaining also.