If you're just starting out on the guitar, you'll be happy to know that you don't need to learn complex chord progressions to play some of the most popular songs.
In fact, there are plenty of well-known tunes out there that only require three chords to play.
Whether you're a beginner looking for some easy guitar songs or a seasoned player searching for a quick and fun way to add some new songs to your repertoire, you've come to the right place.
In this article, we've compiled a list of 31 three-chord guitar songs that are easy to learn and fun to play.
We'll explain how to play each song and provide links to both chords and tutorials to help you get started.
So grab your guitar, tune-up, and let's hit the road!
1. Twist And Shout – The Beatles
To begin with, we have one of the best-known songs by the group that cemented rock music.
Released in 1963 and included in the album Please Please Me, this is a perfect track to play at parties and gatherings.
Not only because everyone knows it but also because can be easily played just by using three basic chords: D – G – A.
The last A chord adds a 7th that you can play by fretting the third fret of the first string.

You can either play open chords, power chords, or even in a closed position, every option sound great and the progression is repeated throughout the whole track.
The only sections that vary are the solo, some plucked notes, and the bridge, an A7 chord played repeatedly.
Tutorial:
2. Sweet Home Alabama – Lynyrd Skynyrd
From the 1974 album Second Helping, we have this staple Southern rock song that just by playing the first tunes, everyone will instantly recognize it.
This track has a delicious country rhythm which makes it perfect to play on acoustic guitar.
Besides, its chord progression is so simple! D – C – G strummed during the entire track plus a hidden F/C chord that is easy to fake.
Once you get the hang of it you will play it right away.
Tutorial:
3. Used To Love Her – Guns N' Roses
Released in 1988 in the second studio album G N' R Lies, this track needs no introduction.
Although the original song is tuned half step down can be played in standard tuning as well.
The track is made of two main uncomplicated sections and a solo.
The first part plays D – A – G – A while the second variation is G – A three times and adds a D in the last one.
What lasts is the solo, a plucked section that uses both parts combined.
Therefore, you can just strum chords and play it as another rhythmic section.
Tutorial:
4. Free Fallin' – Tom Petty
Up to this point, this song is a classic known by young and old alike.
From the album Full Moon Fever released in 1989, this track will be echoing in your mind.
Likewise some of the previous pieces, this song repeats a chord progression from beginning to end.
The chords are F – Bb – F – C, most people play it using a capo in the first fret, though.
Simply put, a smooth song to sing along with friends next to a fireside and enjoy!
Tutorial:
5. Bad Moon Rising – Creedence Clearwater Revival
When it comes to three-chord songs this track couldn't be missed! Released in 1969 as part of the album Green River, this track is a timeless classic.
This song is amusing and easy to play because the verses play D – A -G – D, a simple progression of three major chords that repeats the first one at the end creating a hook.
The chorus consists of a similar progression (G – D – A – G – D) but starts with a G major chord and varies the rhythm a bit.
Then there's a solo that just involves the two sections connected.
By taking a look at the chords you will be instantly playing it!
Tutorial:
6. Royals – Lorde
Back in 2013 when it was released this song was a popular sensation.
Included in the album Pure Heroin, this track comprises a simple verse that keeps playing a D chord.
Besides, the pre-chorus and the chorus repeat a single chord progression (D – C – G).
Although the original song detunes the low E string to get a D note, it can be easily played using standard tuning.
Tutorial:
7. What's Up? – 4 Non-Blondes
Tutorial:
8. Chasing Cars – Snow Patrol
Tutorial:
9. Wild Thing – The Troggs
Tutorial:
10. TNT – AC/DC
Tutorial:
11. I Have A Dream – Abba
Tutorial:
12. Release – Pearl Jam
Tutorial:
13. Ring of Fire – Johnny Cash
Tutorial:
14. All The Small Things – Blink-182
Tutorial:
15. Dreams – Fleetwood Mac
Tutorial:
16. All Along The Watchtower – Jimi Hendrix
Tutorial:
17. Stir It Up – Bob Marley
Tutorial:
18. La Bamba – Ritchie Valens
Tutorial:
19. Guns Of Brixton – The Clash
Tutorial:
20. Seven Bridges Road – Eagles
Tutorial:
21. Walk On The Wild Side – Lou Reed
Tutorial:
22. Judy Is A Punk – Ramones
Tutorial:
23. Just The Way You Are – Bruno Mars
Tutorial:
24. Folsom Prison Blues – Johnny Cash
Tutorial:
25. Love Is A Rose – Neil Young
Tutorial:
26. What Makes You Beautiful – One Direction
Tutorial:
27. Blowin In The Wind – Bob Dylan
Tutorial:
28. The Middle – Jimmy Eat World
Tutorial:
29. Desire – U2
Tutorial:
30. Lonely Boy – The Black Keys
Tutorial:
31. Songbird – Oasis
Tutorial: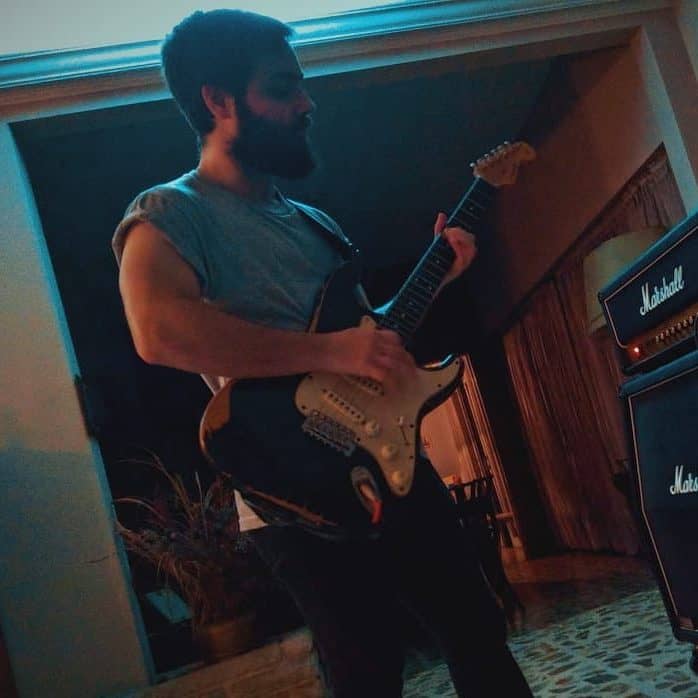 Hello there, my name is Ramiro and I've been playing guitar for almost 20 years. I'm obsessed with everything gear-related and I thought it might be worth sharing it. From guitars, pedals, amps, and synths to studio gear and production tips, I hope you find what I post here useful, and I'll try my best to keep it entertaining also.