Made famous by the great Charlie Christian from the 1930s to 1941 with his Gibson ES-150, the Charlie Christian pickups are regarded as one of the most famous pickups ever made.
If you are a Jazz player, I'm sure you have dreamt of playing with a CC pickup in your life. P90 pickups aren't as rare and I have found these to be a lot more versatile.
Apart from metal, you can play almost everything with a P90 especially if you like the sound of a single-coil pickup with a wider bobbin.
Although Charlie Christian and P90 both are single-coil pickups they are quite different. CC pickups are known for their warm, soothing yet powerful sounds. CC pickups are mostly used for jazz or country music. P90 pickups on the other hand are hotter and give you a wider range of options.
The clarity of a CC pickup isn't something I've found in any P90 ones but P90 tends to have a bit more power comparatively.
CC pickups tend to have a buzz or humming issue.
There are newer variations made which can control that humming but then you'll lose the vintage flavor.
The wider bobbin helps the P90 to produce music with more depth and volume while also reducing the humming of a CC pickup.
Finally, if you are a metalhead, probably none of these will work for you.
P90 though can be used for some meal or punk rock as the mid-range note options are much more versatile in a P90 than in CC.
A brief history of Charlie Christian pickups
In 1935 the first Charlie Christian pickup was shown in the Gibson catalog as the pickup for the Gibson Electric Spanish guitars, namely the ES-1950 one.
Originally this pickup was just known as "bar pickup" for Gibson.
In 1936, when Charlie Christian started playing, he was only known in Oklahoma and didn't endorse Gibson, so the pickup wasn't named after him then.
It was much later after his death that guitarists in general started calling this pickup the CC pickup. So in 1978 Gibson reintroduced the pickup and called it the Charlie Christian pickup.
CC pickup has a warm and soothing tone. Although the power in the CC isn't bad, it is not as heavy as some of the other alternatives. With a single coil setup, CC pickups are best suited to play jazz and country-rock music.
CC pickups have left me amazed by the clarity and purity of the sound if you can control the humming. You can even hear how the real CC pickup and their replicas vary in sound here:
CC pickups are most common in Fender electric guitars both in Stratocaster and Telecaster. You can also find them in bands in Epiphone and Ibanez.
A brief history of P90 pickups
P90 pickups, arguably the most versatile guitar pickups ever made, were first released in 1946. This was a development from the earlier released P-13 single-coil variant.
Back then, this was seen as a revolution and remained Gibson's standard pickup till the late 50s.
Playing with a P90, I found the sound not to be as warm as a CC pickup but the range in the P90 is more.
These pickups especially came in handy when playing the lead as I needed a lot more mid-range sound.
Blues, country, and rock are still the best fit for a P90 pickup. Listen to a P90 for yourself to see just how amazing they sound. Pete Townsend (The Who), Johnny Thunders (The New York Dolls), Mick Jones (The Clash), etc are some of the major players who use P90 pickups.
Main differences between P90 and Charlie Christian pickups
Although both the pickups are technically single-coil pickups, P90 tends to have a slightly wider bobbin which means the output is a bit higher in P90.
CC pickups are better suited for guitars with solid bodies, while for a hollow or semi-hollow guitar P90 is a better choice.
CC pickup has a clearer and brighter tone compared to P90 but the range of P90 can't be gained in CC.
P90 pickups have significantly less humming compared to their CC counterparts.
CC isn't great when it comes to metal music but P90 has its used cases for metal and a lot of famous punk rock/metal albums have had P90 used in them.
Would Charlie Christian pickups fit on P90 routings?
The original Charlie Christian pickups don't fit into a P90. The original one has 3 screw holes that won't automatically fit into a P90 routing.
As the CC pickups work best with a solid body, it'd be hard to make necessary adjustments to the routing too.
There are some replicas but still, you'd have to cut the pickup opening and then drill the holes.
Which one should you choose?
Depending upon what kind of guitar you are looking for, your choices might vary.
If you are looking for a lead guitar, you might look into a P90 as the mid-range sound is a lot more versatile and your range will be much bigger.
In the mood to play some vintage, warm music? CC pickups should be the best choice for you.
For slow, warm, and a bit dark jazz and country music, CC pickups should be your best bet.
When it comes to playing country rock or even a bit of metal, P90 is a much better fit.
If you are not a pro, staying away from the CC should be a good idea. CC pickups have a lot of humming so unless you are playing perfectly, you can run into a lot of noise.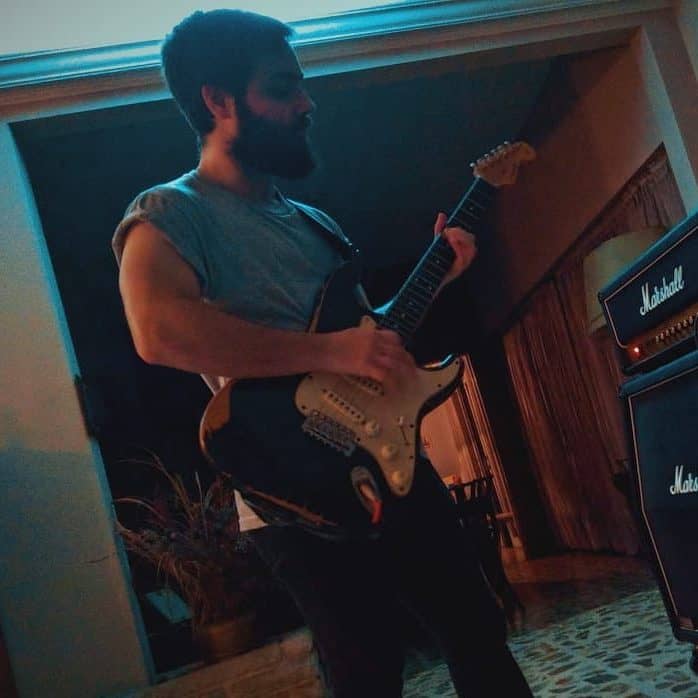 Hello there, my name is Ramiro and I've been playing guitar for almost 20 years. I'm obsessed with everything gear-related and I thought it might be worth sharing it. From guitars, pedals, amps, and synths to studio gear and production tips, I hope you find what I post here useful, and I'll try my best to keep it entertaining also.