Learning the guitar as a complete beginner is boring.
I know it because I had also been there at some point in my life.
The worst thing is that it can get even more boring if your teacher or what you find online points you to learning pieces of music from a genre you don't like.
Wasn't the idea behind grabbing such a beautiful instrument playing the songs that really resonate with you?
So, can you learn to play metal on guitar as a beginner?
You can learn metal guitar as a beginner, although you will have to dedicate the first weeks to learning the absolute basics of guitar. After you have the open chords down and can pluck some melodies, learning metal power chords, and experimenting with some palm muting riffs will not be that hard.
In this article, I will go in-depth about all there is to know about learning metal as a guitar beginner, or even a complete beginner.
After leaving this page you will have a clearer idea about what's the better path to get you playing those face-melting riffs you love as soon as possible.
Are you ready to get started?
Let's go!
Can you start with metal right away as a guitar beginner?
To answer this question it's important to define "right away".
Do you mean like the first time ever you pick up a guitar?
Well… I have bad news.
Metal requires playing with distortion, and distortion is hard to tame for an absolutely complete beginner.
But we are not talking years here, breathe.
At first, you will have to give at least a few weeks to understand how the instrument works. Maybe learn a few chords and pluck some easy melodies.
Once you get the hang of it, I don't see why you shouldn't start dabbling into some heavier stuff.
Know this: It will sound like crap.
But does that really matter? The important thing at first is to have fun and to push yourself into learning.
The thing with metal and distortion is that the electric guitar can be quite noisy if you don't know how to control it, namely how to mute the strings you are not playing.
This is not a big issue when playing with a clean tone, and that's why that's where we all started our journey.
Nevertheless, if you have a good teacher and the patience needed to tackle this hurdle, you will be on the fast track to shredding.
Is it recommended to focus on metal as a beginner?
All I can recommend is you eat your veggies and work out a few times a week.
Focusing on metal guitar is not such a big decision in life, isn't it?
The thing is, if you want to play metal, what else should be focusing on?
By all means, give it your entire life if this is the genre that plucks your strings (pun intended).
Would you suck at any other styles of guitar if you do this? Well, probably, but not that much.
You see, overall guitar technique is broadly the same across all genres. There are specific techniques and ways to do things, of course, but your progress will be easily translatable.
The only thing important as a beginner is to practice and put down the hours, the things you play are just an afterthought.
What could be some drawbacks of only learning metal guitar?
The good thing about metal or at least the more traditional genres of metal is that it's a very complete genre.
What I mean is that you get power ballads, you get dark clean guitar arpeggiated chords, and you get interesting rhythms and crazy solos.
Technique-wise you are pretty much covered.
The thing is, if you never play any other genres, you will never learn the licks and different stylistic languages they use.
Of course, it's almost impossible to be good at every guitar style, unless you are Guthrie Govan, but dipping your toes into some different types of music will only enrich the rest of your playing.
Another big drawback of metal and shredding is the lack of groove some players can develop by just running lightning-fast scales up and down the fretboard. Also, playing too much.
Finally, metal is a genre where improvisation is not that common, while that is one of the most fun things about playing guitar.
The good thing is, that everything I mentioned here is easily fixed or prevented with a bit of specific at-home practice and attention.
How to take your first steps with metal guitar?
Let's say you have the basic cowboy chords down, and you can play happy birthday without plucking the wrong strings.
Where should you go now?
Well, the first thing to dive into metal guitar would be learning power chords. But don't worry, they sound harder than they are. In fact, one can argue these are easier than most open chords you already know.
Once you nail power chords, perhaps start working on palm muting.
Now, with power chords and palm muting in your toolbox, you will be able to play almost any metal riffs that are not stupidly fast or jumpy.
The best thing, however, as I mentioned earlier is that you get a teacher to consult, at least, once a week or bi-weekly.
While taking your first steps with the guitar you can develop some nasty bad habits that a good that could hinder your progress, and any good teacher will identify and help you solve rather easily.
What guitars and amps are good for metal as a beginner?
A good rule of thumb for beginner metal players is that anything Ibanez makes will work for the genre.
Look at the brands your idols are playing, most likely there will be some decent guitars at the lower price points.
For more of a mid-tier thing, Schecter guitars are pretty damn good.
In terms of amps, I'd recommend you go for a digital one like the Boss Katana. You can't go wrong with them, and their distortion will sound way better than any other solid-state alternative you find.
Avoid cheap pedals as a source of distortion early on, until you understand how to use an overdrive pedal in front of your amp.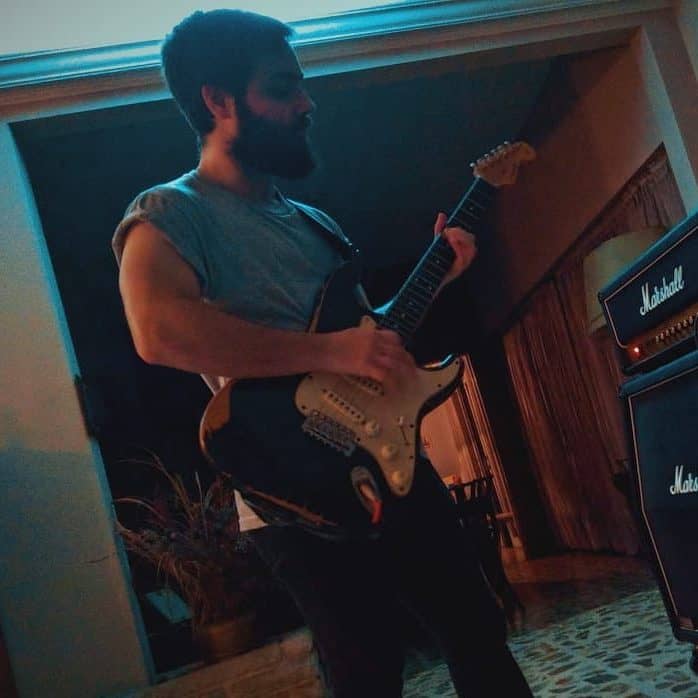 Hello there, my name is Ramiro and I've been playing guitar for almost 20 years. I'm obsessed with everything gear-related and I thought it might be worth sharing it. From guitars, pedals, amps, and synths to studio gear and production tips, I hope you find what I post here useful, and I'll try my best to keep it entertaining also.