The Stratocaster is one of the most iconic guitars presented in music history.
Made by the well-known Fender company, it has not only been used by a lot of great musicians but also imitated by a bunch of brands, trying to emulate their distinguishable shape.
Although a Strat in its purest form consists of three single coils placed on the bridge, middle and neck positions, many players have wondered if it is possible to change the bridge pickup by a humbucker.
Therefore, if you are thinking of doing this conversion you may feel confused but we are here to help you.
In short, you can definitely do this conversion but in some cases, your guitar will require some adjustments. As SSS and HSS strats are not always routed the same way, you may need a re-routing to make it work.
Let's dive deeper into this topic! Through this article, I will try to explain everything relevant to this issue.
I will evacuate every doubt that may come up from how must your guitar be routed to what you need to modify your configuration, in the end, you will know everything regarding this issue.
Are SSS strats routed for HSS configuration?
This is an important issue when making the pickup conversion because although you might find some models that come with HSS routing, it is not a pretty common routing for this kind of guitar.
However, for a long time, all the Mexican Fender Stratocaster bodies have been routed as HSS.
Furthermore, owners of this model can go from SSS to HSS configuration without any significant modifications.
Unfortunately, most SSS strats routing does not fit to HSS configuration, they are intended and designed to be SSS guitars.
Can you convert an SSS strat to HSS by just changing its pickguard?
Getting a loaded pickguard would be only a small part of the conversion, although they will make the job way easier, further adjustments will also be required to fully achieve the configuration.
This is intrinsically related to how the guitar is routed, as we mentioned before not every strat comes with a routing that matches a humbucker pickup.
That is because humbuckers are bigger than single coils, in fact, they double the size because they are made of two single coils put together so they wouldn't fit the bridge pickup cavity presented in the guitar.
If that is the case, you shouldn't worry because even though the pickups don't naturally fit, the conversion will be still possible.
Furthermore, although pre-wired strat pickguards come with the pickups attached, the guitar body must be routed to match the pickup type to fit properly.
Once you get the pickups and have the routing done, you will be able to convert an HSS to a SSS strat.
Will any humbucker pickup work for this conversion?
If you consider doing this transition you may think that extra work should be required but that is not always the case for passive buckers.
Contrarily to what you might believe, any passive humbucker will work in standardized circuits with no issues at all.
Nevertheless, the story is completely different if you employ active pickups. Despite being also possible, installing an active humbucker won't be as simple as installing a passive one.
That does not mean that will be impossible, you will need extra work but won't be out of the question.
Active and passive pickups work each in their own way thus their attachment will require not only new electronics but also further labor.
Would you be able to use the same electronics from an SSS on an HSS Strat?
As we mentioned above, humbuckers function with any kind of standard electronics, therefore you will be able to keep the same integrated circuit.
However, if we think especially about active humbuckers we cannot say the same.
That is because active humbuckers are like passive buckers but they have a preamp on the inside, they are also magnetized as every pickup but they possess fewer windings on their coils.
As they have an inferior amount of coil windings, they produce a lower output plus a weaker signal.
Here is when the preamp appears, through it, the pickup can boost and shape the signal via various filters.
The result is a low-impedance signal which is way hotter than the passive pickups.
The interesting thing about active pickups, and even their problem, is that the preamp needs a source of power to work.
They usually use a 9V battery or sometimes two, if they don't have the battery they produce no signal.
Therefore, in order to install active humbucker pickups, you will also need to have a cavity for the battery plus their required wiring.
Bear in mind that if you intend to do this you will have to do some modifications to your guitar.
Can anybody do this conversion?
When doing this conversion is relevant to take into account how your guitar is routed, Stratocasters are mainly designed to have a three single coils configuration so, they are routed for SSS setup.
Although swapping pickups is not that great of a deal, you will need more than just a pickups replacement.
If your guitar does not fit the size for a humbucker, you will need to re-route the pickup cavities of it.
For those who are used to doing woodworking or are experienced in this issue, you can do it on your own but what happens if you don't have any idea of it?
In those situations, is always recommended to make your strat serviced by an expert. In that way, you won't have to deal with things you are not comfortable with.
Is it better to take your instrument to a guitar tech to do this job?
A lot of players are for sure interested in playing, performing, studying, and learning, some may be also interested in issues regarding the instrument's electronics and construction.
The latter might be prepared to do these modifications while the other group won't be aware of how to perform this task.
Those musicians who only focus on playing aspects have the chance of sending their guitars to a store to make them adjusted by professionals.
When considering doing some variations to the instruments, it is always encouraged to have a guitar tech or luthier do all the destructive work in your instrument since they really know what they are doing.
Although we focused only on the unaware guitar players, even those who know about electronics and woodwork should bear this in mind too.
As guitar techs are professionals they are accustomed to working on mods plus the result will be better, when doing guitar modifications let the experts work on them.
Is this conversion reversible?
As a general rule, to attach a humbucker into a SSS strat you will have to re-route your guitar, as a result, the conversion will hardly be reversible.
That's because you will need a bigger hole for the new pickup and to do that the wooden body must be modified.
However, it won't be a big deal due to if you want to return to your old setup you will be able to do it.
Most SSS-loaded pickguards work on HSS routed strat so, by getting one of those pre-wired pickguards you could come back to the previous SSS strat.
Perhaps, you are not interested in coming back to a three single coils configuration but you want to convert your HSS to a SSS strat instead.
In that case, this article might help you a bit but we have another that will truly clarify your doubts about that issue, I will leave you the link to it below.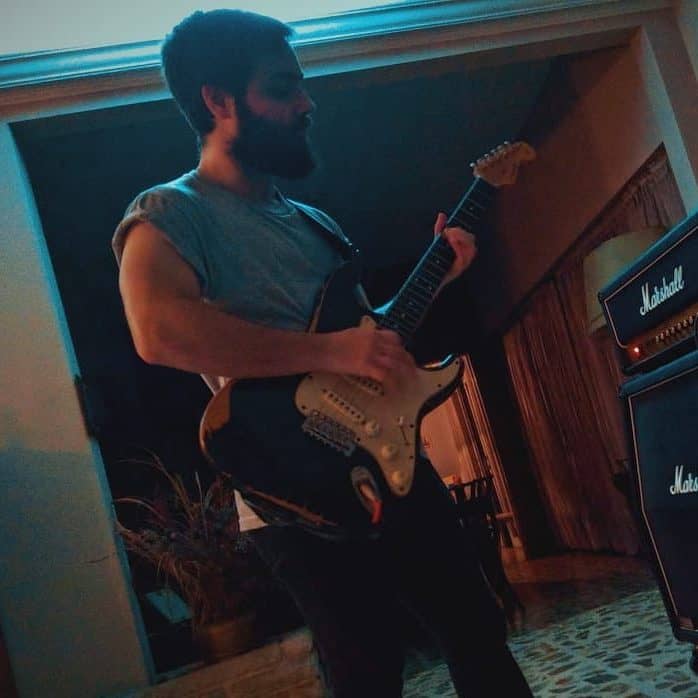 Hello there, my name is Ramiro and I've been playing guitar for almost 20 years. I'm obsessed with everything gear-related and I thought it might be worth sharing it. From guitars, pedals, amps, and synths to studio gear and production tips, I hope you find what I post here useful, and I'll try my best to keep it entertaining also.