Stripper music is a really wide umbrella term because as long as it's somewhat seductive and smooth, it can be counted as a stripper song.
Depending on your taste in music and what you consider seductive, you may disagree with some of these songs.
Either way, from rock to jazz to hip hop, there's a song in every genre that strippers have danced to.
1. Partition – Beyonce
Partition is actually a two-part song, with its first half being "Yonce".
Partition is a flat-out tale about sex with her man in the back seat of the car, with the lyrics shifting suggestively through the track's simple drum beat, finger snaps, and occasional pulsing synthesizer.
It's slow and beat heavy and makes for a good pole song.
2. Fever – Peggy Lee
Something a bit more mellow to dance to, but perfect for a slow strip.
It's the kind of song that gets a crowd worked up because of its theme, leaving a tension simmering just beneath surface due to its almost naked arrangement of just snaps and a gentle jazz drum beat.
3. Hot in Herre – Nelly
Released back in 2002, Hot In Herre was Nelly's first No.1 Hit on the US Billboard hot 100, and no wonder.
As far as a stripper track goes, the lyrics are perfectly suited for the theme and there's no doubt about the purpose of the song.
Hot in Herre makes for a great stripper song because of its heavy flow and intense beat, along with its lyrics outright telling you to take off all your clothes.
4. I Luv Dem Strippers – 2 Chainz
2 Chainz enlisted the help of his favorite Young Money-ite, Nicki Minaj to rap on this track about the magic of the night strippers.
The song features a typical hip-hop beat with a flow that makes it easy to dance and bump to, with a dark underlying melody that loops throughout, leaving you with a sense of angst, which makes for good tension during a stripping song.
5. Milkshake – Kelis
Everybody knows this 2003 hit from Kelis.
It was playing on all radio stations at one point and despite its apparent message, it manages to keep the imagery relatively tame for the ears.
That doesn't mean it's not a great song to get wild to, however.
With milkshake being a metaphor for something that makes women special, you're bound to get people to come to your yard when you dance to this song.
6. Cherry Pie – Warrant
One of the band's best-known hits, this song made it to number 10 on the pop charts back in the 80s and 19 on the rock charts.
Ironically, Warrant stated they don't like the song because of how it overshadowed many of their other, arguably better songs.
That aside, this song is a stripper staple due to its lyrical imagery and heavy rock beat, this song is basically one long double entendre.
7. I Kissed a Girl – Katy Perry
I Kissed a Girl is one of Perry's biggest pop songs and it was one of the ones that launched her to fame.
What makes this song great for dancing is that it has a great arrangement full of aggressive guitar parts and strong rhythms.
The imagery of the song is bound to get people worked up too.
8. Closer – Nine Inch Nails / In This Moment
I mentioned two artists for this song because, depending on your taste, you might prefer a male or female vocalist running the song.
In This Moment did a cover of this song on their Blood album and I have to say, it hits just as hard as the original, if not more, considering the sultry vocal delivery of Maria Brink throughout.
Closer is a song totally about the debauched and filthy side of sexuality and how it can be our most powerful desire.
Aside from the lyrics, the composition of the song will get you feeling extremely sexy and dirty at the same time.
9. Naked Hustle – Bizzle
Bizzle, otherwise known as Robert Labranche, was a Miami rapper who died after being shot in 2012.
Bizzle was known in the Miami area for his "strip -club anthems", but also for helping poor youth in his community.
This song is slow-moving and more of a story about a stripper, but it also tugs a bit at the heartstrings, which might make it great for a dancing session if you're looking to get people throwing money at you out of sympathy.
Either way, it's a pretty interesting song that takes a fresh look at the concept of a stripper song.
10. Shake That – Eminem Ft. Nate Dogg
A song soaked in hedonism and vulgarity and delivered in a hip package that makes it both titillating and fun to listen to, even if it does make you blush a little.
This song makes for a good stripper song because it very quickly steers everyone's thoughts in one direction, but more than that, the rhythm and beat of the song are just very easy to move to, considering it's a simple 4 beat rhythm to keep time to.
11. Booty – Jenny Lopez Ft. Iggy Azalea
Quite a fast-paced song to get people's hearts racing, if you have a big booty, this song is for you.
The beat of the song reminds me a lot of Latin dance music, with a Middle Eastern vibe to it as well.
The keyboard riff is distinctively Asian, while its lyrics portray Lopez inviting girls to the dancefloor to have a good time and dance while shaking their "booty".
At the bottom of it, all is a sleek dance track that makes for a perfect hip-shaker.
12. Porn Star Dancing – My Darkest Days
Something perfect for a dirty, dark horse-type performance.
Porn Star Dancing is an aggressive rock song that reminds me a lot of Nickleback's Next Go Round but it's slow enough that you can really move to it and lean into every beat.
The rock guitar riffs combined with the dancing are definitely bound to get hearts racing.
This song is perfect if you're into rock music and have a more aggressive personality and like to command the attention of a crowd.
13. Pour Some Sugar On Me – Def Leppard
Released back in 1987, this song still holds up today and still remains a gentleman's favorite while he sits in the lounge and enjoys your show.
Released off their Hysteria album, the song reached number 2 on the US Billboard hot 100 charts on 23 July 1988 and is considered the band's signature song.
Regardless of its accolades, Pour Some Sugar On Me is full of the necessary innuendo and musical grit to make for a staple stripper song.
14. Can I Get Paid – Gangsta Boo
A song with a straightforward beat always makes for a perfect dance song.
Can I Get Paid is really in your face, and it's kind of the perfect song when you're having a night where your patrons are either stingy or have stopped paying attention to the reason why they're there in the first place.
Gangsta Boo was a trailblazer for American female rappers in the Southern hip-hop scene, she rose to prominence as a member of the Three 6 Mafia.
She actually died on January 1 this year (2023) at the age of 43 but was a solo artist at the time of her death.
15. Girls Girls Girls – Motley Crue
With a simple straight drum beat and a heavy guitar riff to get you going, Girls Girls Girls is all about strippers and how enticing they can be, which is a perfect mood setter for any dancer.
Motley Crue was never known for being a clean rock band, and its history is laced with debauchery.
This song is right up that alley and aimed directly at strippers, considering that the song makes mention of a multitude of strip clubs throughout the United States.
Girls Girls Girls was released as the first single off the album of the same name and are just another of what Motley Crue does best.
16. Candy Shop – 50 Cent
17. You Shook Me All Night Long – AC/DC
18. I Just Wanna Love You – Jay-Z
19. Hot For Teacher – Van Halen
20. Bad Girlfriend – Theory Of A Deadman
21. Back That Azz Up – Juvenile
22. Feeling Good – Muse
23. Pony – Genuwine
24. Buttons – The Pussycat Dolls
25. Marilyn Monroe – Sevdaliza
26. Birthday Cake – Rihanna
27. Dangerous – Kardinal Offishall
28. Love Sex Magic – Ciara and Justin Timberlake
29. More Than A Woman – Aaliyah
30. No Diggity – Chet Faker
31. Way Down We Go – Kaleo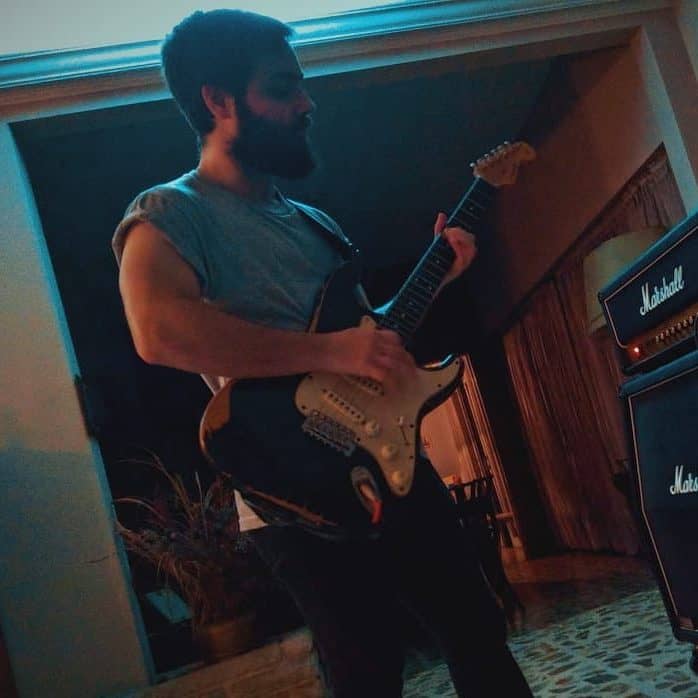 Hello there, my name is Ramiro and I've been playing guitar for almost 20 years. I'm obsessed with everything gear-related and I thought it might be worth sharing it. From guitars, pedals, amps, and synths to studio gear and production tips, I hope you find what I post here useful, and I'll try my best to keep it entertaining also.