Relationships are like tides: both are full of highs and lows.
Naturally, the highs are always fun and games. In those moments, couples believe that everything will work out for the best and that they'll live happily ever after.
Unfortunately, the story is very different when they are at their lows. The lowness could be interpreted as either a momentary fight or a lack of "feeling" or compatibility between both.
Some couples may find themselves in quarrels and arguments every now and then, which is not uncommon in any relationship. The real problem is when the tide is generally lower, and rises almost never.
Oh, and let's not forget that if the tide is too high, then you may drown…
But one way or another, musicians have found the beauty of this instability on the sea level and created incredible songs with it.
Here you have 17 of them for you to sink your head into this sea of musical greatness.
1. The Tide Is High – Blondie
We kick off this list with a cover originally written by The Paragons.
As it tends to occur, the cover gained more recognition than the original one and even reached the top of the list in the UK and USA.
The song revolves around an endurable lover who's patiently waiting for the tide to get low so he can meet with his special other once again.
The Tide Is High is a reggae, which shows the musical richness and diversity that this band could accomplish.
2. And The Tides Rushes In – The Moody Blues
And The Tides Rushes In was written by Ray Thomas, one of the members of The Moody Blues.
If Blondie's song was about determination in choosing your life partner and facing Hell or high water to stay together, then this one's the opposite.
The tide is a metaphor for the partner's attempt on building a successful marriage.
These positive constructions and buildings are like sand castles that end up crumbling down once the tide gets higher.
3. High Tide or Low Tide – Bob Marley & The Wailers
Again, a love song where the tide somehow makes itself the protagonist.
This Marley's track stands out from the rest of the songs on the list because it's also about friendship.
The core message is that whether life's tide is high or low, it won't matter at the end of the day. That special person will always be by your side.
Naturally, the strongest relationships are forged in hard times.
4. The Rising Tide – The Killers
Singer Brandon Flowers stated that The Rising Tide emerged after a family-related problem where he felt he couldn't escape from the rising tide.
Once again, artists seem to relate relationship-oriented issues with a high amount of water rising suddenly.
5. Black Tide – Dirty Three
We don't need to explain why a song with "Tide" on its title fits so well on an album called Ocean Songs.
Among other titles, we find Sirena (Spanish translation of mermaid), Distant Shore, Deep Waters, Backwards Voyager, and The Restless Waves.
Now you know it. Next time you sail toward the seemingly endless horizon, don't forget to pack this record in your bags.
6. A Prophecy – Asking Alexandria
Stand Up and Scream is the debut album from the English metalcore band Asking Alexandria.
It contains A Prophecy, a song about a flood and how it ruins the protagonist's present (and probably, his future).
One line says "I should've known the tides were getting higher", as if the narrator is thoroughly regretting not having secured himself.
Needless to say, A Prophecy has more to do with ignoring red flags than with an actual flood.
So now you know it, don't let the tide rise above your head.
7. Ships + Tides (One Night In Malibu) – One Republic
One Republic mixes pop and alternative rock in such a unique way that it has guaranteed them a noteworthy career.
In Ships + Tides (One Night In Malibu) the singer concludes that he has the power to choose between two resolutions: either sinking or rising.
But which path will the narrator take? Naturally, one line of the song states that the singer is "knocking out on your door", letting us know that he has returned with his ex.
Now, will that decision sink or rise the teller's ship? That answer we cannot tell.
8. God of Ocean Tides – Counting Crows
Counting Crows is mostly remembered for being the group behind Accidentally in Love, a song that appears in Dreamwork's classic movie Shrek 2.
Of course, Counting Crows has more than just that song (yet another Smash Mouth-like result, I guess).
Take God of Ocean Tides, for example. It's a relaxing track made with a gentle acoustic guitar sound and cushioned keyboard notes.
It also has a slight country music influence that only makes the song more emotional still.
9. Tides – Ed Sheeran
Do you have regrets? Don't worry, everyone has them!
Even those who pride themselves on not having them whatsoever.
What's important is not to live with them, but to learn from them.
Take songwriter Ed Sheeran for example. He regretted a hundred decisions taken during his teenage years but found redemption by changing his life direction and writing this song.
10. Dark Moon, High Tide – Afro Celt Sound System
11. Awaken The Tides – Malefice
12. Tides – Jack & Jack
13. Time and Tide – Paul Kelly
14. Tides – Gone West
15. The Tide – Niall Horan
16. Tide Turns – Phish
17. Slowing The Tides – Manu Katché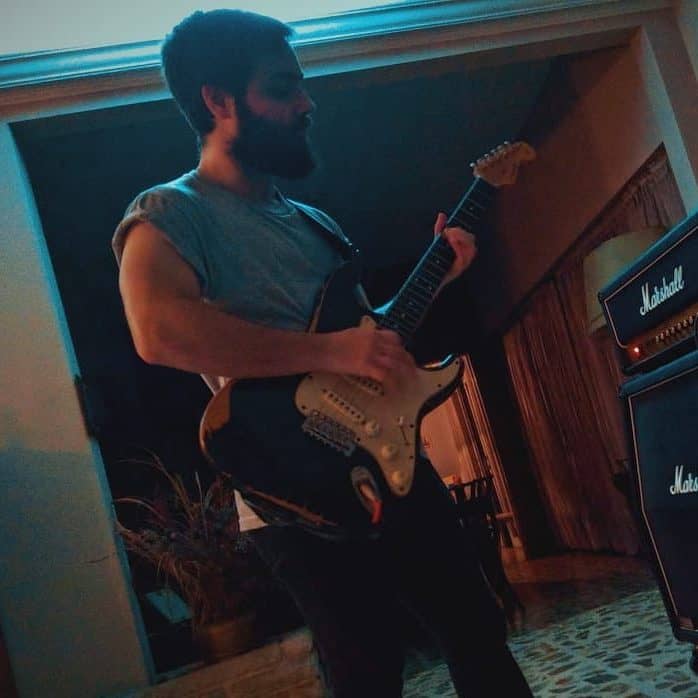 Hello there, my name is Ramiro and I've been playing guitar for almost 20 years. I'm obsessed with everything gear-related and I thought it might be worth sharing it. From guitars, pedals, amps, and synths to studio gear and production tips, I hope you find what I post here useful, and I'll try my best to keep it entertaining also.