Dramatic and emotional music can be great at times but occasionally you just want something light-hearted and amusing.
Or maybe you're feeling hungry…
Either way, tacos can satisfy your craving and they are more popular than ever in the USA these days.
Before food truck culture became common in America a few decades ago, most people enjoyed eating "Mexican" food.
But they didn't realize what they were usually eating was Tex Mex food or in the worst cases fast food Tex Mex like Taco Bell.
And when people discovered and took a liking to the traditional Mexican style of tacos, bars, and restaurants quickly stepped up to the plate with weekly events like taco Tuesday.
I love spicy and savory food so I'm certainly not complaining.
There are even songs about tacos and especially taco Tuesday.
But since it's nearly impossible to write serious lyrics about food these will mostly be fun and silly songs.
So grab a Tecate and a slice of lime and let's see what musicians think about these delicious treats.
1. Taco Tuesday – Migos
This song was released as a single without being on an album and did pretty well all things considered.
And Migos also has a song called Stir Fry so this might be kind of a trend for them to write songs about food.
Anyway, it's nice to hear some energy in the Rap and Hip Hop scene after the mainstream popularity of Crunk Rap and Migos can certainly bring the noise.
So at the basic level the song really is about cooking tacos on a Tuesday (note that a lot of places were closed due to quarantine when this came out).
But before you go playing this one in front of young kids, take a close listen to the lyrics because there's more going on here than just making tacos. It's pretty dirty!
I know it's cool to flaunt a bad reputation in the Rap game, but after a peek at their biography I have to say Migos are keeping things a little too real for me.
Written by: Migos
Year Released: 2020
Album: (single only)
2. Satan Gave Me a Taco – Beck
This tune that was originally from an early Beck demo tape tells a story, I mean a nightmare, about eating a devilish taco.
And parts of the lyrics in the middle of the song actually remind me of old Johnny Cash songs about bad luck, cocaine/whiskey, and clashes with the law.
But this song doesn't take itself seriously at all; it is just a celebration of weirdness like something Frank Zappa and the Mothers of Invention would have done decades earlier.
Is it about taking drugs? Is it about suffering from food poisoning? Is it about the dangers of making a deal with the devil?
Sure, but it's mostly about tacos.
Written by: Beck
Year Released: 1994
Album: Stereopathic Soulmanure
3. Tacos and Margaritas – Coffey Anderson
For Country music's take on the taco scene, look no further than this track.
It's a love song, because of course it has to be a love song in this genre, doesn't it?
The lyrics are goofy and mention many foods and famous couples, including onion and cilantro, which are traditional toppings on "real" tacos.
But apparently, he and his girl are made for each other and go together like tacos and margaritas.
I'm not going to lie, that is a winning combination in my opinion, although I'd be just as happy with a burrito and Mexican beer as well.
And if your girl doesn't run away screaming when you sing lyrics like "I'm kind of hungry for your loving" I'd say she's a keeper.
Written by: Coffey Anderson
Year Released: 2016
Album: This Is Me
4. Tacos, Enchiladas, and Beans – Doris Day
A swing jazz song about tacos? I guess everything really has been done already!
This song sung by the beautiful starlet Doris Day basically states that if you want to be with her, you better get in line because you have three competitors ahead of you.
And you are going to be competing with her love for three very specific foods, which include tacos.
I don't mind this song at all as most music from this period tended to be playful but either Ms. Day nor her record company executive didn't think much of it.
Because although the song was recorded in the 1940s, it remained unreleased for over 50 years!
Written by: Mel Torme and R. Wells
Year Released: 1999
Album: Golden Girl: Columbia Recordings 1944 – 1966
5. Taco Tuesday – Lil John
What is this song exactly? It sounds a bit like an anthem or something a cheerleader squad would perform to me.
But that doesn't mean that I don't like it.
It's fun, simple, and talks about a lot of delicious Mexican dishes with some Mexican-inspired backing music for extra ambiance.
And it's nice to know that Lil John has a sense of humor since Dave Chappelle made so many jokes about him on his Comedy Central show (WHAT?!!!).
For someone who was practically turned into a meme on one of the most popular TV shows of the time, he seems like an all-right dude.
And this song contains some explicit lyrics but it's pretty wholesome compared to Migos' riff on taco Tuesday.
Written by: Lil John
Year Released: 2019
Album: (internet single)
6. Taco Taco Tacos – Peelander-Z
This band is made up of some Japanese (American?) guys who dress up similar to The Mighty Morphin Power Rangers and play Punk Rock.
While they may not be remembered like Queen or the Rolling Stones they had their moment of (minor) fame and went on tours with their simple but energetic music.
At least I remember them anyway and I think Punk Rock that doesn't get preachy or involve politics is great.
A lot of their music consisted of just a few words shouted over and over such as "steak" but this song was about what many of us consider to be the holy grail of food, tacos.
Yeah, it's stupid, but it's stupid in a good way and I love it.
Written by: Peelander-Z
Year Released: 2010
Album: P-TV-Z
9 More Great Songs About Tacos
| | |
| --- | --- |
| Title | Artist |
| Taco Truck from Hell (skit on MTV's Diary) | Tenacious D |
| Taco Grande | "Weird Al" Yankovic |
| Gringo Tacos | Kenny Segal |
| Tacos | Little Big |
| Fish Tacos Party | Alexandros |
| Muerte por Tacos | Pangolin |
| Tacos for Two | Tommy Hancock |
| Best Fish Tacos in Ensenada | Adam Freeland |
| I Want Tacos | Desmond Dennis |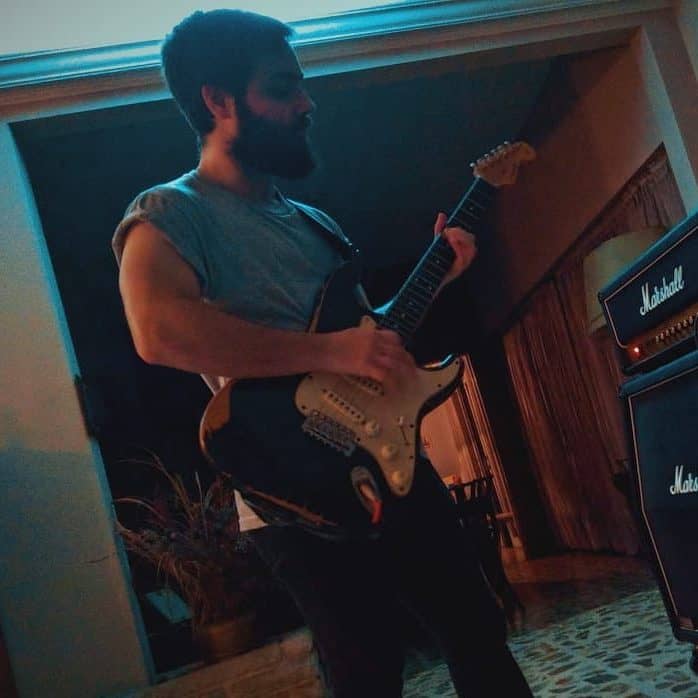 Hello there, my name is Ramiro and I've been playing guitar for almost 20 years. I'm obsessed with everything gear-related and I thought it might be worth sharing it. From guitars, pedals, amps, and synths to studio gear and production tips, I hope you find what I post here useful, and I'll try my best to keep it entertaining also.