What is it about sharks that people find so fascinating?
From blockbuster movies to the popularity of Discovery Channel's Shark Week, people just seem to love sharks.
Until they actually see one that is. Then they run or swim away screaming bloody murder.
Rightfully so, because legend has it that sharks can smell a drop of blood in the ocean from miles away or something like that.
And though they don't attack people often, when they do I think it's unlikely any "how to fight off a shark" survival tips will work.
But what about sharks in the musical world?
Of course, I know you've all heard Pinkfong's Baby Shark kids song that took over Youtube. Ughh.
But are there actually any good songs about sharks?
Grab your harpoon because these are some of the finest (or funny) songs about these terrifying ocean creatures that you can listen to.
1. Main Title (Theme from Jaws) – John Williams
This classic terror-inducing track is a master class in how to convey emotion with only instrumental music.
And that emotion is fear.
In fact, I'd say these days the theme song is more popular than the actual film from 1975 that spawned it.
But if you've never watched the film, what are you even doing with your life?
Composer John Williams did the film scores for a lot of famous movies but this is one of his best works in my opinion.
The sharp notes, percussion, and rising tension let you feel the fear of being stalked by a marine killer.
As you listen, just imagine seeing a giant shark's fin poking through the surface of the water and knowing you're about to die or at least lose an arm or a leg. Yikes!
Written by: John Williams
Year Released: 1992 (recorded in 1975)
Album: Jaws: Original Motion Picture Soundtrack
2. Loanshark Blues – Rory Gallagher
Mr. Gallagher is often talked about among musicians as one of the most talented guitarists who was unappreciated during his lifetime.
And he can definitely play, so I think he deserves the accolades even if many people discovered him after he was already gone.
This particular track deals with a human version of sharks called loan sharks.
In other words, the interest rates on the loans are so high and the terms so brutal that people call it predatory lending.
Because like sharks, these shrewd businessmen and women can smell the scent of blood from miles away.
If you are more of a "visual learner", most films or TV shows about the Italian Mafia have at least one scene that deals with this practice.
And there is one situation in particular from the hit show The Sopranos that this song reminds me of.
So take it from Rory and eat Ramen noodles or rice and beans every day before you screw around with a loan shark!
Written by: Rory Gallagher
Year Released: 1987
Album: Defender
3. Sharks – Imagine Dragons
Imagine Dragons' take on this subject again turns to the issue of unsavory people.
A lot of people and especially children think it must be fantastic to be rich and famous but there are a lot of songs about struggles with fame.
This recent song could really deal with a lot of different situations such as high school cliques.
But lyrics such as "You're hot then you're cold" and "First you're in then you're out" sound like the music business or Hollywood to me.
Because anyone who senses weakness or a chink in your armor is waiting to dethrone you or eat you like a shark.
And often your most dangerous enemies (or competitors) are your "friends" who hang around all the time.
It kind of reminds me of how Kim Kardashian used to work for Paris Hilton. It's funny how that worked out, isn't it?
I guess you can safely swim with sharks and many people do it but the trick is to keep them well-fed so they don't start looking at you as food!
Written by: Imagine Dragons, Robin Fredriksson and Mattias Larsson
Year Released: 2021 and 2022
Album: Mercury – Acts 1 & 2
4. Jaws – Lemon Demon
If the name Lemon Demon didn't give you a clue, this song is a mashup of music and comedy.
It's basically a silly retelling of the script of the Jaws film and while it's amusing, I think this sort of thing is best in small doses.
But who am I to argue with someone who has had a lot of success on online platforms, racking up millions of views on some skits and songs?
And this is certainly not on the level of bands like Devo or Oingo Boingo, who wrote some really great songs.
But if you asked one of those bands to do a cover of Baby Shark, I imagine it would turn out sounding something like this.
Written by: Neil Cecierega
Year Released: 2014
Album: Nature Tapes
5. Tiger Shark – Bill Wolfgramm and His Islanders
Enough with the killing… enough with the bloodshed!
Not every song about sharks has to be scary and evil, as this one demonstrates so beautifully.
Mr. Wolfgramm was from the Polynesian island of Tonga and worked with a backup band from New Zealand (The Islanders).
I guess Tonga music wasn't considered a very good marketing strategy so he played Hawaiian-style music with a lap steel guitar.
And I absolutely love the sound of this style of music even if I'm nowhere near a beach with white sand and deep blue water.
It reminds me that a powerful creature like a shark can still be graceful as it glides through the warm water above a coral reef.
And a lot of songs such as this used to be very hard to find so I am glad that digital music has ensured that gems like this aren't lost forever.
Written by: Peter Hodgkinson
Year Released: 2021 (originally from the 1950s?)
Album: Hawaiian Tattoo
6. Fins – Jimmy Buffett
For this track Mr. Buffett tries to put himself in the shoes of a young woman from Ohio who has traveled south for a vacation in the sun.
But his perception is colored by his experience of being a man.
Because he warns her that wherever she goes there are men around who are looking at her like a shark looks at its next meal ("sharks who can swim on the land").
It reminds me of how in Japan there are special subway train cars that are for women only so they can travel to work in peace.
I mean sometimes you just want to be left alone.
Written by: Jimmy Buffett, Tom Corcoran, Deborah McColl, and Barry Chance
Year Released: 1979
Album: Volcano
15 More Great Songs About Sharks
| | |
| --- | --- |
| Title | Artist |
| Mack the Knife | Bobby Darin |
| The Rapper Eater | Lil Wayne |
| Mr. Jaws | Dickie Goodman |
| Sharks | The Tragically Hip |
| Fast As a Shark | Accept |
| Shark Attack | Grouplove |
| A Swim with the Sharks | Powerman 5000 |
| Sharks Can't Sleep | Tracy Bonham |
| Shark | Dwight Tilley Band |
| Rocking the Boat | Ice Nine Kills |
| A Shark in Jets Clothing | Blondie |
| Lydia | Highly Suspect |
| Shark | Oh Wonder |
| Shooting Shark | Blue Oyster Cult |
| Shark Attack | Split Enz |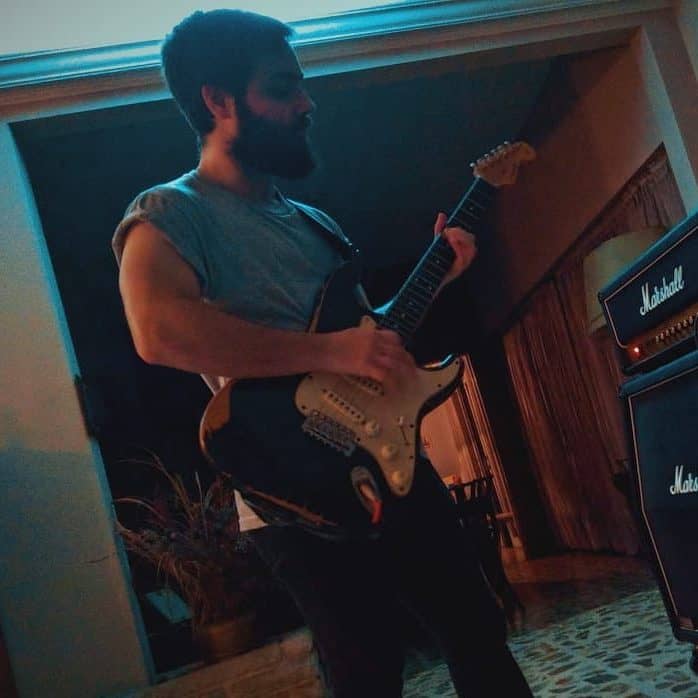 Hello there, my name is Ramiro and I've been playing guitar for almost 20 years. I'm obsessed with everything gear-related and I thought it might be worth sharing it. From guitars, pedals, amps, and synths to studio gear and production tips, I hope you find what I post here useful, and I'll try my best to keep it entertaining also.