Some people say that variety is the spice of life and the same thing can be said of relationships too.
Because love can manifest itself in many forms, including secret love!
But even that term encompasses many types of relationships and musicians have explored almost all of them!
And Taylor Swift in particular seems to be obsessed with the idea for whatever reason.
So on the lighter and innocent end of the spectrum, we have songs that deal with love from afar.
In other words, secret admirers who don't or can't get up the courage to profess their love to the target of their affection.
But that doesn't mean they are cowards either. I think it's natural to be shy, especially when you are young and don't know how to process and express your feelings.
And then there is the topic of forbidden love and this comes in many varieties as well.
There are relationships that are frowned upon because the lovers are too young (such as I Think We're Alone Now), or because of an age difference.
And though it's common these days, interracial relationships used to be pretty taboo back in the day too.
And then there is the uglier side of things with illicit love affairs and people who cheat on their significant others.
That's usually a pretty closely guarded secret because it can create one heck of a mess if it comes to light!
So close the blinds and let's check out some great songs about love in the shadows.
1. Hello – Lionel Ritchie
Starting off with the topic of "love from afar" or a secret admirer, we have Lionel Ritchie's classic track about love that borders on obsession.
But it's a very sweet song, especially considering how easily this sort of thing could get creepy.
In other words, his intentions are good.
Although he has daydreamed about a relationship with the girl a thousand times, he hasn't even said "hello" yet.
But while the beginning of the song is basically the singer trying to work up the courage to divulge his feelings, the structure of the chorus changes later on as if he finally took the plunge.
And in the music video, the story is expanded by having a blind woman play the part of his secret crush, so it really is as if he feels like he is invisible to her.
Written by: Lionel Ritchie
Year Released: 1983
Album: Can't Slow Down
2. Back Door Man – The Doors
The Doors' classic debut album found the band performing a cover of a song originally recorded by Blues legend Howlin' Wolf.
And the title and lyrics refer to Southern slang for a married woman's lover covertly slipping in and out of the house through the back door.
Of course, it's not really a nice topic but the song is still great.
And the line "You men eat your dinner, eat your pork and beans. I eat more chicken than any man ever seen" gives it some humor and never fails to make me laugh.
Written by: Willie Dixon and Chester Burnett
Year Released: 1967
Album: The Doors
3. Last Christmas – Wham!
This song is one of the most popular Christmas songs of our time and even people who don't like Christmas music enjoy it.
And the secret love here involves an ex-lover who still catches the singer's eye although he is in a relationship with a new lady.
In fact, in the lyrics, he seems to be trying to convince himself that he is happy with his current lover but can't quite manage to do it.
And the music video adds another aspect to the song as his ex also has a new lover. But that doesn't stop them from exchanging some meaningful glances now and then.
And don't miss the ridiculous early 80s hairdos. What were they thinking?
Written by: George Michael
Year Released: 1986 (released as a single in 1984)
Album: Music from the Edge of Heaven
4. The Long Black Veil – Johnny Cash
This Country staple originally sung by Lefty Frizzell deals with infidelity in a tale that ends in tragedy.
And we all know Johnny Cash couldn't resist songs with tragic endings, recording a studio version of this song for one of his albums as well as performing it for his famous live album at Folsom Prison.
And in the story related to the song, a man is wrongfully accused of murder and opts for the death sentence rather than admit that he was having an affair with his best friend's wife.
If you think about it, that's a pretty honorable thing to do for someone involved in such a wholly dishonorable situation.
But I guess their love was pretty special after all because the long black veil refers to a veil worn by his lover when she secretly visits his grave at night.
And while I like the song a lot, I do sometimes feel like older Country music took itself a little too seriously at times.
Written by: Marijohn Wilkin and Danny Dill
Year Released: 1965 and 1968 (Folsom Prison)
Album: Orange Blossom Special and Johnny Cash at Folsom Prison
5. Cupid – Sam Cooke
For something on the lighter side with no tragedy or infidelity, look no further than the inimitable Sam Cooke.
I love this guy! Not only was he an incredible singer but he wrote his own songs as well.
This is another case of a young man overcome by shyness ("For I love a girl who doesn't know I exist"), who tries to enlist help from the god of love in Roman mythology.
It's so sweet, playful, and romantic. What more could you want from an old R&B love song?
Written by: Sam Cooke
Year Released: 1961
Album: Cupid (single)
6. Pale Blue Eyes – The Velvet Underground
7. It Wasn't Me – Shaggy
8. Crimson and Clover – Tommy James and The Shondells
9. Hot for Teacher – Van Halen
10. Secret Love Song – Little Mix feat. Jason Derulo
11. Secret Love – Bee Gees
12. Dirty Little Secret – Kelly Clarkson
13. Dirty Little Secret – The All-American Rejects
14. Dirty Little Secret – Zack Knight and Nora Fatehi
15. Dirty Little Secrets – Pat Benatar
16. My Brother's Wife – Butthole Surfers
17. If You Only Knew – Natalie
18. If You Only Knew – Shinedown
19. Secret – Ann Marie feat. YK Osiris
20. My Best Friend's Girl – The Cars
21. Your Love – The Outfield
22. This Kiss – Carly Rae Jepson
23. I Think We're Alone Now – Tommy James and The Shondells
24. Dancing with Our Hands Tied – Taylor Swift
25. Into You – Ariana Grande
26. The Girl from Ipanema – Stan Getz and João Gilberto feat. Astrud GIlberto
27. The End of the Affair – Laura Marling
28. My Little Secret – Xscape
29. Slip Away – Clarence Carter
30. Undercover – Kehlani
31. Secret Love – Stevie Nicks
32. Greatest Love Story – LANCO
33. Does Your Daddy Know About Me – Lonestar
34. Because I Got a Girl – Nate Dogg
35. Diary – Alicia Keys
36. You've Got to Hide Your Love Away – The Beatles
37. Rewrite the Stars – Zac Efron and Zendaya
38. Illicit Affairs – Taylor Swift
39. Love Story – Taylor Swift
40. Do You Want to Know a Secret? – The Beatles
41. I Feel Like Breaking Up Somebody's Home Tonight – Ann Peebles
42. Lie About Us – Avant feat. Nicole Scherzinger
43. Talking in Your Sleep – The Romantics
44. She Don't Have to Know – John Legend
45. Secret Lovers – Atlantic Starr
46. They Don't Know About Us – One Direction
47. I Know Places – Taylor Swift
48. Secret Love – Hunter Hayes
49. Confessions Part I – Usher
50. Confessions Part II – Usher
51. Confessions Part III – "Weird Al" Yankovic
52. Whenever You Come Around – Vince Gill
53. Starcrossed – Ash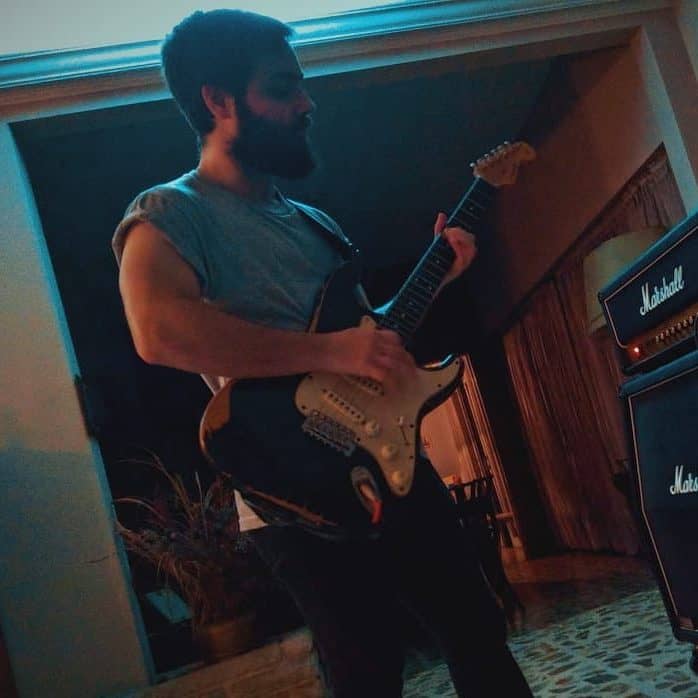 Hello there, my name is Ramiro and I've been playing guitar for almost 20 years. I'm obsessed with everything gear-related and I thought it might be worth sharing it. From guitars, pedals, amps, and synths to studio gear and production tips, I hope you find what I post here useful, and I'll try my best to keep it entertaining also.