Pigs, porks, swine. No matter the word, we immediately think about a pinky, fatty animal swimming in mud and eating junk.
But of course, using a pig as a reference in a song is to say something else.
More often than not, pigs are considered dirty creatures that enjoy bathing in their own filth.
It might be understood when we think about the animal, but it's a different meaning when we consider it a human being trait.
But we're not here to judge anyone. Instead, we'll let the musicians be the judge and jury.
Check these 14 songs about pigs and let us know what's your opinion behind the lyrics' meaning.
1. War Pigs – Black Sabbath
Black Sabbath released the classic album Paranoid in 1970.
The opening to this majesty of heavy metal is War Pigs, a song that hides a deeper meaning that the mere title provides us with.
War Pigs is a critique of the generals and politicians that sent the troops to war. While the young soldiers were dying on the battlefield, the warheads were eating, sleeping, and doing nothing.
One thing that makes War Pigs stand out so much is its ending. By the end of the war, everyone has passed away, including the politicians and generals.
Unfortunately for them, they have to face the consequence of their acts. They ask for God's mercy, which won't be granted.
Meanwhile, Satan is nearby, laughing and smiling at the event.
2. Pigs (Three Different Ones) – Pink Floyd
From the masterpiece Animals comes this 11-and-a-half minute-long song.
In this album, the pigs substitute the people that believe to be moral authorities.
To be more precise, Pigs (Three Different Ones) is based on Mary Whitehouse, a British activist that was strongly against transmitting anything related to sex live on TV.
3. Pigs for Swine – Backyard Babies
Backyard Babies published Stockholm Syndrome in 2003.
The record could be considered one of the top 5 Hard Rock albums of the 2000s.
It contains incredible tunes like Minus Celsius and A Song for the Outcast.
Pigs for Swine is track N°5, a fabulous hard rock composition that deserved more recognition.
4. Three Little Pigs – Green Jelly
Do you happen to know the story of the Three Little Pigs? I'm sure you do.
In fact, you must probably have heard it a hundred times already.
Easy, we have a different version that you might like even more.
Check this Green Jelly music video and you'll never see the tale the same way.
5. Piggies – The Beatles
Written by George Harrison and appearing in the White Album, Piggies is a critic of the upper class.
Naturally, some listeners believed it was about police brutality, which couldn't be further from the truth.
6. March of The Pigs – Nine Inch Nails
This track from Downward Spiral is a very intense and violent song.
Not to mention, it presents quite an interesting meter that alternates between three 7/8s and one 4/4s.
For some, the lyrics are a representation of all the fake friends that frontman Trent Reznor has encountered while climbing the ladder of fame and success.
For others, though, it has a different meaning. What's your opinion about it?
7. Generation Swine – Mötley Crüe
This album is not too recognized in Mötley Crüe's discography.
It's not a surprise, considering that the Californian Glam metalheads had published top-sellers such as Shout At The Devil, Dr. Feelgood, and Too Fast For Love.
Not to mention, the title track has not turned into a Crüe classic (not even close).
However, it's great to see pigs wearing suits and a tie with the American flag behind them on the album cover.
8. Bein' A Pig – Sesame Street
Yes. It would have been a sin to leave this one out of the list.
Either you love it because of nostalgia, or because you are a five-year-old.
Hey, who said that this list should be age-restricted?
9. Run, Pig, Run – Queens Of The Stone Age
It starts as an innocent memory from childhood when the narrator used to play hide and seek with his friends.
However, the more we read (or listen), the more we realize there's a more sinister meaning behind it.
This might not be the most memorable track on Era Vulgaris, but it's worth listening to nonetheless.
10. Pigs In Zen – Jane's Addiction
According to the fans, Pigs In Zen is the "anything goes" track that the band would jam to find more interesting tracks later on (as a result of the jamming).
The lyrics are a bit strange but could be related to someone else. That is to say that the "pig" is another unbearable person.
What do you think this one's about?
11. Deliverance – Manhunt Soundtrack
If you are into video games, then you most probably know about Manhunt.
Manhunt is a survival horror developed by Rockstar (the company behind the well-known GTA and Red Dead Redemption series).
Manhunt hit the stores in 2003, but it caused a significant polemic because of its morbid gameplay.
Long story short, the game is about murdering people in atrocious ways, using various objects that go from axes and razors to plastic bags.
Okay, the video game is indeed stomach-sickening. But what's the correlation between this and the list theme?
Glad that you've asked.
Deliverance is the song from the final stage of the game, where you meet the final boss.
This boss is no other than a big man with a pig head stitched to his face, who runs after you with a chainsaw.
Sweet dreams.
12. Pigs – Cypress Hill
The lyrics are quite shocking, describing plenty of crimes at the hands of robbers, killers, and narcos.
13. Hungry Pig (Choo Choo Charles) – Horror Skunx
Yet another horror video game song makes it to the list.

This time, however, there are no pigs whatsoever.
Choo Choo Charles is about a demonic train with spider legs that chases you.
Anyway, let's say that the "hungry pig" is the train and call it a day.
14. Swine – Lady Gaga
Artpop by Lady Gaga has to be one of the most underrated pop albums of her career.
It's packed with hidden gems, including this track.
Swine has the New York singer telling someone off for being a pig inside its human skin.
In other words, someone absolutely disgusting. If you happen to know someone that fits the description, then I hope you find comfort in this song.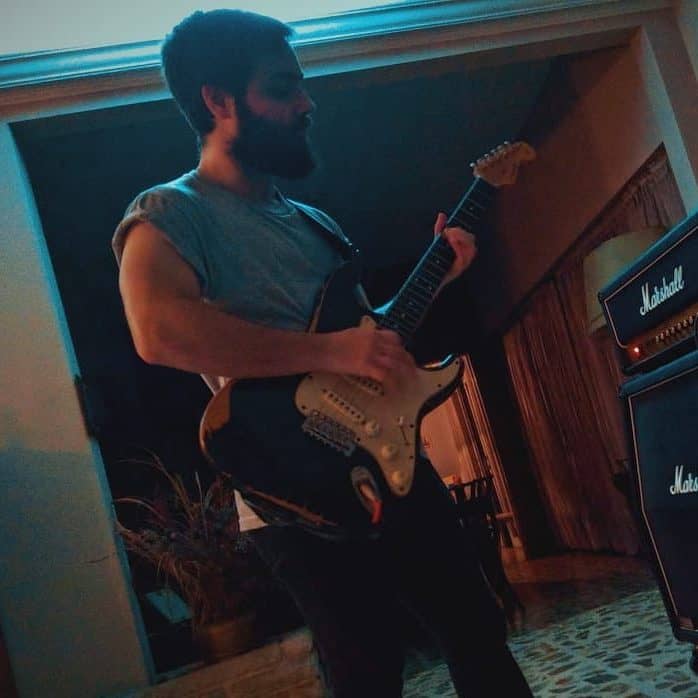 Hello there, my name is Ramiro and I've been playing guitar for almost 20 years. I'm obsessed with everything gear-related and I thought it might be worth sharing it. From guitars, pedals, amps, and synths to studio gear and production tips, I hope you find what I post here useful, and I'll try my best to keep it entertaining also.