Patience is a valuable virtue that has been admired and sought after throughout history.
Many great minds have emphasized the importance of patience in achieving success, happiness, and inner peace.
In the same way, artists and musicians have also been inspired by this timeless virtue, creating numerous songs that beautifully capture the essence of patience.
In this article, we will explore 27 songs that delve into the concept of patience, examining their lyrics and narratives to gain a deeper understanding of their many dimensions and their role in our lives.
The tracks we will discuss come from various genres, including rock, electro-pop, indie folk, and psychedelic rock, among others so there will be alternatives for everyone.
Through the lens of these songs, we will explore patience as a powerful tool in achieving one's dreams, as well as a means to overcome adversity and cultivate spiritual growth.
We hope that this article will offer a fresh perspective on the subject of patience, inspiring readers to cultivate more patience in their own lives and appreciate its beauty.
1. Patience – Guns N' Roses
The first song that stuck to your head when you hear the word "patience" is this one for sure.
Released in 1989 and included in the album G N' R Lies it's well known because of the acoustic guitar intro and amazing Axl Rose vocals.
The theme of the song revolves around waiting in a relationship, Axl Rose sings about the difficulties of maintaining it and the need for patience to make it work.
The singer asks his partner to be patient and hold on to what they have together despite the challenges they may face.
2. I Will Wait – Mumford & Sons
This folk-rock track was the first single from the 2012 album Babel and is about the challenges of maintaining a relationship through the struggles of life on the road.
The lyrics tell the story of someone willing to wait for their lover to return, no matter how long it takes.
The track is about the struggles of being separated from your partner but also the hope and longing to be reunited in the future.
Overall, a song about waiting, being patient, and being committed to loving.
3. Patience – Tame Impala
Released in 2019 as a single, this track was the first single since 2015 and embodies the very essence of its title.
The piece reflects on the inevitable unfolding of life and the value of remaining patient through it all.
The song's lyrics evoke emotions associated with personal growth, further illustrating the significance of pacing oneself and embracing metamorphosis as a necessary part of life's journey.
Therefore, Patience becomes an evocative piece that resonates deeply with its listeners, encouraging them to persevere and accept the transformative power of time.
4. Waiting – Green Day
Green Day's song Waiting was released in 2001 as a part of their sixth studio album Warning and explores the concept of anticipation and the passage of time.
The song delves into the emotions involved in eagerly awaiting an event considering that patience is a fundamental element necessary to navigate through life's challenges.
The song highlights the signature punk rock sound of the group while addressing these universal themes as well.
The track effectively captures the essence of the human desire for growth and change, emphasizing the importance of patience in the process.
5. The Waiting – Tom Petty And The Heartbreakers
Another song that embodies the theme of patience is The Waiting by the amazing Tom Petty and his band.
The singer was inspired by something Janis Joplin said on TV about performing live.
Joplin expressed she loved being on stage and the rest was just waiting, quite an optimistic thought.
The track was released in 1981 and included in the album Hard Promises, and apart from Janis' quote, the piece is about waiting for one's dreams and having uncertainty if they will be reached or not.
6. I'll Be Waiting – Adele
I'll Be Waiting is a soulful song released in 2011 as part of Adele's acclaimed second studio album, 21.
This emotive track is characterized by its exploration of the theme of patience, as the singer reveals her readiness to wait for a loved one's return.
Adele's powerhouse vocals, combined with the upbeat tempo, give an air of resilience and determination to the song.
The theme of patience not only reflects Adele's personal experiences with love but also serves as a reminder of the importance of waiting in various aspects of life and captivates listeners from different backgrounds.
7. Patiently Waiting – 50 Cent ft. Eminem
Included in the 2003 album Get Rich or Die Tryin' this song is about those moments in life when the only thing we can do is just wait.
The rapper expresses this feeling of uncertainty through the track lyrics, mentioning hypothetical situations where patience will be your best and only companion.
8. Waiting In Vain – Bob Marley
This reggae song carries the pleasant and slow rhythm Bob Marley has accustomed us to.
Released in 1977 in the album Exodus, the title perfectly describes what themes the piece touches.
That frustrating feeling of having waited too long for something that didn't end as expected is something that has happened to all of us and makes someone feels that wasted time.
The song had moderate success, in 1981 a reissue of it was released, and some artists such as Annie Lennox and the jazz musician Lee Ritenour made covers of Waiting In Vain.
9. Right Here Waiting – Richard Marx
Like many songs about waiting, this piece comes from the feeling of longing to be with a loved one.
Included in the 1989 album Repeat Offender, this track was written to Marx's wife (at that moment not married though) because she was working in South Africa and hadn't seen each other for two entire months.
In the singer's words, the song serves as a letter from him to her.
Right Here Waiting was a hit and reached number 1 on Billboard Hot 100.
10. Waiting For The Miracle – Leonard Cohen
With his deep and strong voice, Leonard Cohen created this lovely ballad in 1992 to be later part of his album The Future.
The track is about a woman who is in love with the singer but he isn't fully convinced about her so he keeps on waiting for someone better.
11. Perhaps, Perhaps, Perhaps – Doris Day
12. I'd Wait A Million Years – The Grass Roots
13. Time Is On My Side – The Rolling Stones
14. Love Takes Time – Orleans
15. Tired of Waiting – The Kinks
16. I'll Wait – Van Halen
17. Vienna – Billy Joel
18. Patience Gets Us Nowhere Fast – Capital Cities
19. Wishin' and Hopin – Dusty Springfield
20. Not In A Hurry – Michael Ketterer & Will Reagan
21. I'm In A Hurry (And Don't Know Why) – Alabama
22. Patiently – The New Birth
23. Waitin' on a Woman – Brad Paisley
24. Wait – Maroon 5
25. I've Been Searching So Long – Chicago
26. Sister Christian – Night Ranger
27. Waiting For A Girl Like You – Foreigner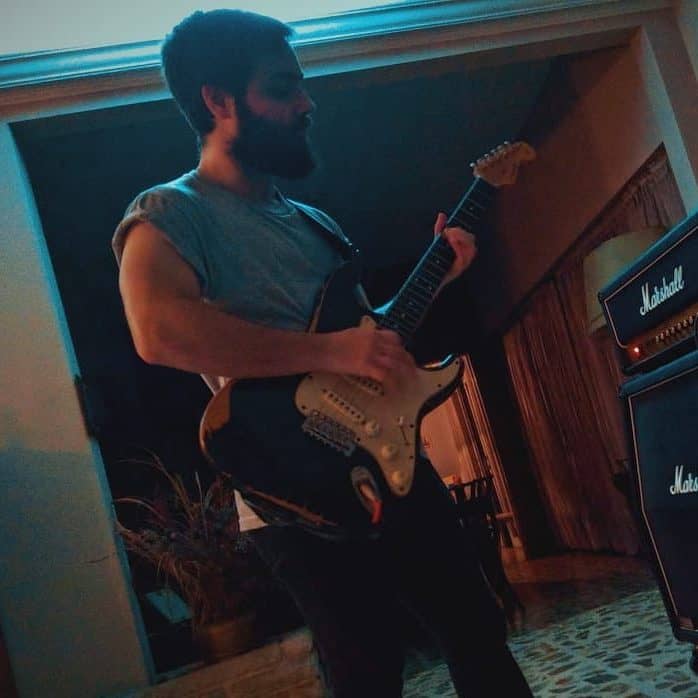 Hello there, my name is Ramiro and I've been playing guitar for almost 20 years. I'm obsessed with everything gear-related and I thought it might be worth sharing it. From guitars, pedals, amps, and synths to studio gear and production tips, I hope you find what I post here useful, and I'll try my best to keep it entertaining also.