We've all probably met at least one Mary in our lives, at one point it was a pretty common baby name in the US, and due to this, the name has become quite common in musical expression.
For some reason, Mary pops up in all kinds of songs, perhaps it's because of the biblical Mary and the cultural prominence of her as a figure.
Either way, whether you know a Mary or want to dedicate a song to a Mary, this is the list for you.
1. Mary Jane's Last Dance – Tom Petty
A song about a girl named Mary Jane, who doesn't like to stay in one place for too long.
Tom Petty wrote this song with his band the Heartbreakers back in 1993 and it turned out to also be the last song that drummer Stan Lynch would play before his departure in 1994.
A lot of people have speculated that it's a song about drugs since Mary Jane is a common nickname for marijuana, but when asked about it, guitarist Mike Campbell said: "… if that's what you want it to be, it very well could be but it could also just be a goodbye love song."
2. Proud Mary – Creedence Clearwater Revival
A song everyone knows by sound but might not know by name.
Proud Mary is a song about a Mississippi steamboat named Proud Mary and the song sings about how the protagonist escapes his city life to live on this boat and experience a more simple way of living.
It's a catchy song and even takes inspiration from Beethoven's musical style, which I find pretty cool.
3. Now Mary – The White Stripes
The White Stripes is easily one of my favorite rock bands out there, especially because of how Jack White brings such attitude to his music.
This one's a bit more toned down than a couple of his other songs, with a constant ebb and flow from clean to distorted guitar.
The song seems to be about a girl named Mary who has a tendency to abuse the singer, constantly changing her mind about things she likes and expecting him to change to fit with what she likes.
It's a good "thank you, but no thank you" song for when you're interested in a girl for her looks but she turns out to be a bad person.
4. Bloody Mary – Lady Gaga
Bloody Mary, according to Lady Gaga, is about living halfway between reality and fantasy.
Gaga cites Mary Magdalene as her inspiration for the song, as well as her red Rolls Royce III which she named Bloody Mary.
The song borrows from a lot of biblical themes, with Gaga stating that she felt Mary Magdalene was "the ultimate rockstar's girlfriend" because she followed Jesus around during his ministry.
It's a good song as far as composition; frankly, I find the inspiration a little odd, but that's just my opinion.
5. The Wind Cries Mary – Jimi Hendrix
Hendrix wrote this song as a reconciliation love song for Hendrix's then-girlfriend, Kathy Mary Etchingham. He also wrote a number of poems with the lyrics from this song featured in them too.
According to Kathy Mary, he wrote the song after an argument with her about her cooking lumpy mashed potatoes.
Bit of a weird thing to learn about a song with many beautiful poetic lines, but even the line about "sweeping up the broken pieces of yesterday's life" is possibly a reference to the dishes Hendrix had to sweep up after Kathy threw them at him.
6. Ave Mary A – P!nk
Pink wrote this song about how she feels the world has lost the plot and become really messed up.
It's a pretty standout song on Pink's fifth studio album "Funhouse" with a very strong social commentary on the world around us.
7. Mary Of The Wild Moor – Johnny Cash
This song is known today as an old folk ballad, because of how long ago it was written (back in the 19th century or 1800s, if you will).
The text first appeared on broadside sheets in England in the early 19th century.
It was a pretty popular Ballad, with at least 36 printers not only from London but from all over Britain having published the song.
8. Mary, Don't You Weep – Aretha Franklin
Also known as "Oh, Mary Don't You Weep", this song was originally called a spiritual song written back when many black Americans were still under slavery, making it a pretty politically charged song today.
Aretha Franklin takes this old track and gives it a rich soul with her powerful voice.
Definitely, an interesting song, filled with coded messages of hope and resistance from back before the American Civil War era, with the song describing the story of Mary of Bethany and her pleas to Jesus to raise her brother Lazarus from the dead.
9. Mary, Mary – The Monkees
The Monkees covered this song, originally written by Michael Nesmith and recorded by the Paul Butterfield Blues Band for their 1966 album East-West.
The Monkees recorded the song a little while later, with it becoming an upbeat swing-like song with the vocals being made to sound like the background of the song.
Personally, it's not my favorite song, but for the right occasion, I could probably enjoy it.
10. Cousin Mary – John Coltrane
This song is just titled about a girl named Mary, but it's an instrumental piece.
John Coltrane was one of the most influential and acclaimed figures in Jazz history and experimented with different sounds and instruments throughout his life.
This song is a pretty good example of his masterful composing skills as a Jazz musician. Enjoy feeling classy while you listen to it.
11. Mary Goes Round – Mr. Big
Mary Goes Round is a bit more melancholy than a lot of the other songs on this list, Mary seems to be an uplifting character that comes around to make life a little better for the protagonist in this song.
Throughout the song, there's a framing of the protagonist starting out sad and listless and slowly being changed by Mary's love.
12. Mary Jane – Alanis Morissette
Mary Jane was Morissette's love letter to the sweet and service-oriented feminine women of this world who seem to be sacrificing their own joy to please others.
She stated that she wrote this song partly as a letter to herself, listening to it while on the road as if it were another woman singing to her.
The song tells the story of a character who has lost enthusiasm for living.
Withdrawn from the world and sleepless, she diets and denies herself the freedom to cry in order to appear different from how she really feels.
She also takes risks that are to her own detriment and doesn't think clearly about the consequences of her choices.
13. Hail Mary – 2Pac
This song is a weird baroque-style rap song that 2Pac wrote and recorded in 30 minutes.
The song captures 2Pac zoning out all the violence and negativity surrounding him, trying to have a conversation with his "Spiritual Mother." 2Pac released Hail Mary when he had repeated visions of himself dying in the near future.
Young Noble had stated in an interview, that he didn't quite like the beat of the song because it reminded him too much of a church beat, and they were more used to a strong Hip-Hop beat where they were from.
14. Mary Pickford – Katie Melua
Mary Pickford was written by Mike Batt for Melua to sing.
The song was inspired by a daily facts calendar that Batt owned that stated that film actress Mary Pickford used to eat roses.
The lyrics talk about her and other founders f the United Artists; mentioned in the song are Douglas Fairbanks, Charlie Chaplin, D.W. Griffith, United Artists, and Pickfair.
15. Buddha for Mary -Thirty Seconds to Mars
What a strange song for this list, a bit of a religious commentary strapped inside metaphorical poetry.
A very cool rock song filled with intense imagery.
Buddha for Mary seems to either be about a religious girl that loses her religion and turns to non-theistic beliefs while experiencing more perversion in religion than in her atheistic life, or it's about Mary as a metaphor for Christianity that has fallen and faded with time.
10 More Songs About Mary
| | |
| --- | --- |
| Title | Artist |
| Cross-Eyed Mary | Jethro Tull |
| The Thoughts of Mary Jane | Nick Drake |
| Blind Mary | Gnarls Barkley |
| Mary from The Dairy | Max Miller |
| Old Mary | The Dead Weather |
| Take a message to Mary | The Everly Brothers |
| Sweet Lady Mary | Faces |
| Mary Long | Deep Purple |
| If Mary Were Here | Harry Chapin |
| Mary | The Scissor Sisters |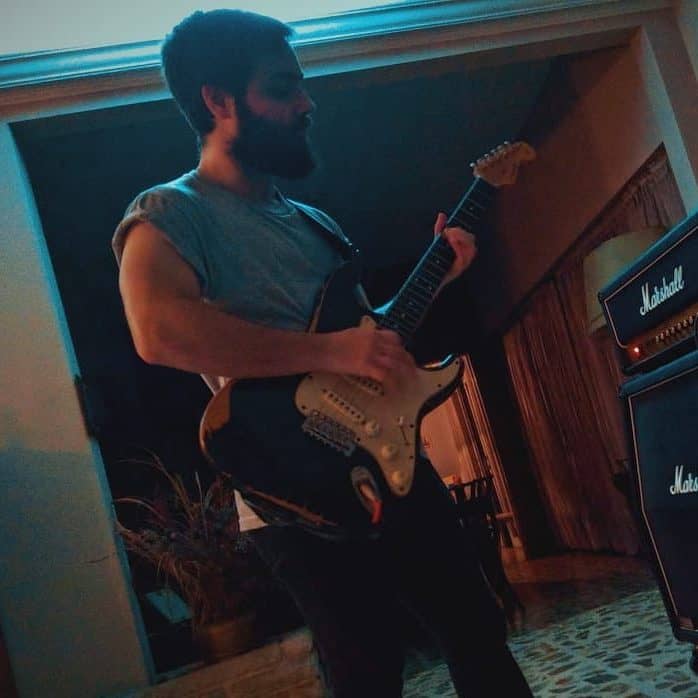 Hello there, my name is Ramiro and I've been playing guitar for almost 20 years. I'm obsessed with everything gear-related and I thought it might be worth sharing it. From guitars, pedals, amps, and synths to studio gear and production tips, I hope you find what I post here useful, and I'll try my best to keep it entertaining also.