Sometimes life can suck and the friends that you always depended on and thought would always have your back can disappear from your life.
When you're a kid it can happen when your parents decide to move and you have to change to a different neighborhood and school.
And even as an adult, life can be a weird journey and we meet many people along the way so sometimes friends just drift apart due to distance, time constraints, etc.
Or other times there is a rift, an argument, a change in lifestyle, or sometimes a death that drives a wedge between us.
But I do like to think that some friends last forever.
And there are some people that I can hang out with like we haven't seen each other in a week, even if it's been 5 years.
Why is that? Probably because I still think about them even if they're not around.
And musicians also tend to keep their friends close and often write songs as memoirs to those who aren't around or who have left the world too soon, especially their bandmates or other musicians who they admire.
Or course some musicians have also been known to write some nasty revenge songs about people who they feel have wronged them!
So no matter what you're feeling about your old friends, there are sure to be a couple of songs here that will resonate with you.
1. Let Me In – R.E.M.
This song may not seem like it's about the loss of a friend upon first listen, but R.E.M. singer Michael Stipe's lyrics are notoriously obtuse and hard to decipher.
According to Stipe himself, the song was written about Nirvana's Kurt Cobain who committed suicide the same year that the album featuring this song was released.
Obviously, many people knew that Cobain was going through some rough stuff and apparently he was interested in quitting Nirvana and doing a different style of music or at least working with different people.
And Stipe and Cobain had made some plans to write some music together, which never happened as Kurt later canceled the trip.
So the chorus here of "Let me in" can be taken as a plea to get through the barrier that Cobain had erected between others and his deeper self as he dealt with depression.
Written by: R.E.M.
Year Released: 1994
Album: Monster
2. Under the Bridge – Red Hot Chili Peppers
This is another 90s song with some interesting biographical history.
At the time the song was written, Chili Peppers' singer Anthony Kiedis had been dealing with not only depression but drug addiction.
And addiction can not only ruin friendships and relationships, but if you decide to quit the drug lifestyle and all of your friends (bandmates) still use drugs or alcohol then you basically have to quit your friends too!
So that is the basis for the famous lyric about how Los Angeles (the City of Angels) was his only friend at the time.
Thankfully for all of the guys in the band and their many fans, they found a way to continue to work together and are still putting out music over 30 years later.
Written by: Anthony Kiedis, Michael Balzary, John Frusciante, and Chad Smith
Year Released: 1991
Album: Blood Sugar Sex Magik
3. Highway Patrolman – Bruce Springsteen
This is a contemplative song that tells a story about a man who works as a police officer and his brother.
But since the two characters are grown and hang out together like friends, I think it illustrates a situation that can just as easily arise between friends who have grown up together.
And the main character in the song is constantly torn between his duty to the law and his brother (a war veteran) who "ain't no good".
And for friends who drift in opposite directions, sometimes hard decisions need to be made to benefit both parties.
As for what happens in the song, I won't spoil it because I think it's better that you listen to it and find out for yourself!
Written by: Bruce Springsteen
Year Released: 1982
Album: Nebraska
4. That's the Way – Led Zeppelin
This is a slower and more introspective composition than a lot of what Led Zeppelin had previously released.
And it deals with a doomed friendship between two young boys ("I don't know how I'm going to tell you I can't play with you no more").
But it's not a problem between the two boys in the song, rather the protagonists' parents don't want their kid to hang out with a long-haired kid who came from "the darker side of town."
I don't think the song is necessarily written about an experience from Robert Plant's childhood but there was some influence from how Rock and Roll bands and Hippies were shunned in the era.
And sadly, some people can probably remember their parents choosing their friends when they were young, and though the parents have probably forgotten all about it, kids' minds can be very impressionable.
Written by: Robert Plant and Jimmy Page
Year Released: 1970
Album: Led Zeppelin III
5. Wish You Were Here – Pink Floyd
Here we have what I consider the best song to listen to when you are missing someone.
And there are two interpretations according to singer Roger Water, with one dealing with a desire to be consciously present at the moment, something we could probably all do a little better at these days!
But the other aspect of the song serves as a tribute to Syd Barrett, a former member of Pink Floyd who led a very wild life and enjoyed a lot of psychedelic drugs, even spending some time in a psychiatric ward.
So while I think the first interpretation of the lyrics is interesting, when I hear this song I always find myself thinking about friends I haven't talked to in a while and it inspires me to reconnect with them, thus having a positive effect on my life.
6. One Sweet Day – Boyz II Men feat. Mariah Carey
7. My Old Friend – Tim McGraw
8. Fire and Rain – James Taylor
9. See You on the Other Side – Ozzy Osbourne
10. Daniel – Elton John
11. My Sweet Fracture – Saves the Day
12. I Miss My Friend – Darryl Worley
13. Who You'd Be Today – Kenny Chesney
14. Seven – Taylor Swift
15. Bad Blood – Taylor Swift feat. Kendrick Lamar
16. See You Again – Wiz Khalifa feat. Charlie Puth
17. Somebody That I Used to Know – Gotye feat. Kimbra
18. How Come – D12
19. Tha Crossroads – Bone Thugs-N-Harmony
20. Jumper – Third Eye Blind
21. Broken Halos – Chris Stapleton
22. Buttermilk John – Vince Gill
23. You Should Be Here – Cole Swindell
24. I Lost a Friend – Finneas
25. Has Anyone Ever Written Anything for You? – Stevie Nicks
26. Friends Never Say Goodbye – Elton John
27. Really Gonna Miss You – Smokey Robinson
28. I Ain't Mad at Cha – 2Pac feat. Danny Boy
29. 10 Years Today – Bullet For My Valentine
30. We Used to Be Friends – The Dandy Warhols
31. When We Were Friends – Cee-Lo Green
32. The Last Carnival – Bruce Springsteen
33. The Carter Family – Carly Simon
34. True Friends – Bring Me the Horizon
35. The F Word – Cannibal Ox
36. Brendan's Death Song – Red Hot Chili Peppers
37. Seasons in the Sun – Terry Jacks
38. Gone Too Soon – Michael Jackson
39. I'll Be Missing You – Puff Daddy feat. Faith Evans and 112
40. Me and Bobby McGee – Janis Joplin
41. All Those Years Ago – George Harrison
42. Hells Bells – AC/DC
43. Ventilate – Swollen Members feat. DJ Babu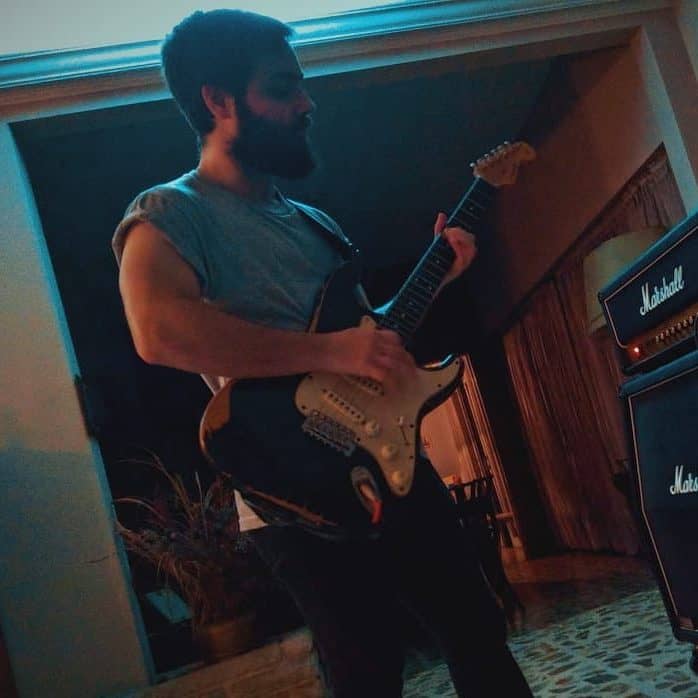 Hello there, my name is Ramiro and I've been playing guitar for almost 20 years. I'm obsessed with everything gear-related and I thought it might be worth sharing it. From guitars, pedals, amps, and synths to studio gear and production tips, I hope you find what I post here useful, and I'll try my best to keep it entertaining also.