Forgiveness can be a difficult thing for some, but it's always a necessary aspect of relationships and life.
If you don't forgive, you can not move forward from something and as the saying goes, forgiveness is also for your own heart.
Forgiveness is the topic of this song list, and some musicians have written in agreement with the above statement, while others have written about times when forgiveness seemed impossible, so you're bound to find a relatable song no matter your situation.
1. If I Could Turn Back Time – Cher
If I Could Turn Back Time was part of Cher's 19th studio album, "Hear of Stone".
Released back in 1989, the song was hugely successful around the globe, seen as a major comeback for Cher.
The song wasn't written by Cher, and originally she hated the song, but it turned out to be one of her most iconic hits.
The song is about remorse for previous actions and wanting to turn back the clock to take back the things you said.
I think most people can relate to that feeling of regret, having at least once said something and gone too far with their words.
2. Back to December – Taylor Swift
Back to December is another of Swift's "break up" songs in a sense. It's about asking for forgiveness and is similar to Cher's song.
It's about wanting to go back to a specific time, but the difference is that Swift tends to dwell on that better time, rather than wanting to change it.
It's a pretty nice love ballad layered with remorse overall, but it manages to stay bright enough to leave you feeling hopeful and not too sad.
3. I Forgive You – Kelly Clarkson
I forgive you is a song about exactly what its title says, about forgiving someone else.
It's centered around past hurts of a romantic relationship where the narrator admits mistakes were made on both ends and is letting go of that past hurt.
It's a pretty standard Kelly Clarkson pop-rock song with the smashing straight drum rhythm and her typical vocals.
A standout sound in the song is a synth warble running through the verse.
4. Pray For Forgiveness – Alicia Keys
Alicia Keys delivers a very soulful and sorrowful piano ballad in this song.
It seems to be more of a song about forgiving yourself for the guilt of the past and realizing that forgiveness begins with you.
I think a lot of people will relate to this song as sometimes the hardest person to forgive is you.
5. Purple Rain – Prince
Purple Rain is oddly a song about the end of the world and being with the one you love.
It's also about new beginnings.
Purple, is the color of the sky at dawn, and rain is the cleansing factor.
This was Prince's definitive power ballad which peaked at #2 on the Hot 100 in 1984, just behind Wham's "Wake Me Up Before You Go-Go".
A bit of history on this song: it was the last song Prince ever played live, closing out his concert in Atlanta on April 14, 2016.
6. Hello – Adele
Adele has a tendency to give us songs that make you miss your ex, it seems at a time she was quite hung up on the past and this song is no exception.
Hello was one of Adele's exceedingly popular power ballads, with her raw emotions on display, showing off her vocal prowess.
Hello is a song about seeking to reconcile with a past lover, but unfortunately being resigned to the silent treatment as they've moved on.
7. Apology Song – The Decemberists
A simple song about giving an apology for a stolen bicycle.
The Decemberist lead singer Colin Meloy begs for forgiveness in an upbeat organ-driven classic.
The song is pretty happy, despite the dramatic aspect and the balladesque chorus, frankly, it's amazing that they made a whole song about a lost bicycle.
8. Forgiven – Sanctus Real
Forgiven is about forgiveness from a Christian perspective, with the center of the song being the forgiveness for past sins found in Jesus.
The song is about receiving forgiveness most of all and forgiving yourself when it's the hardest thing to do.
The song was released in 2009 with Matt Hammitt of Sanctus Real explaining the meaning of the song:
"The working-out of forgiveness is so key to our growth and maturity as followers of Jesus.
The very idea that we have been forgiven for so much wrong moves, reforms, transforms, and heals us…"
9. Forgiveness – TobyMac
A more upbeat take on forgiveness from a Christian perspective, TobyMac gives more of a hip-hop take on calling out for forgiveness (I guess you can't have a song list about forgiveness without finding a few Christian tracks).
The message of the song is that forgiveness is a sweet release from suffering and that you're never too far from God to be forgiven, which is true, as most Christians would agree that nothing can separate you from God.
10. Sorry – Justin Bieber
At one point in time, nobody's ears could escape this song.
Being played on repeat on radio stations all around the world, sorry is very plainly a song about asking for forgiveness, albeit delivered in a shallow, mass-production pop package.
The song was Bieber's informal apology to his ex Selena Gomez and also serves as a more general apology to the world for his mistakes.
I guess it's fair to say that the mistakes he made were the same as anyone would have, he just had it more magnified because of the spotlight after all.
11. All Apologies – Nirvana
All Apologies was dedicated to Cobain's wife Courtney Love and their daughter, Frances Bean.
It's a fan-favorite acoustic song that famously features a cello played by Kera Schaley and Lori Goldston on separate occasions.
The song was a dedication to how happy he felt with his family, with Cobain stating back in a 1993 interview with Michael Azerrad for the Come As You Are: The Story of Nirvana biography:
"I like to think the song is for them, but the words don't really fit in relation to us… the feeling does, but not the lyrics."
12. Ms. Jackson – Outkast
Ms. Jackson was Outkast's apology to the mother of the mother of his child.
There were a lot of rumors floating around at the time, some being that Andre 3000 had been avoiding looking after their child.
Andre and Big Boi pulled from personal experiences to create the song with the titular Ms. Jackson being the mother of Erykah Badu, who actually embraced being the song's inspiration to the point of buying a license plate that says "MSJACKSON."
13. Posthumous Forgiveness – Tame Impala
Posthumous Forgiveness is a song related to estranged parental relationships.
The song is split into two parts, with the first half singing about Kevin Parker's dislike of his father and the second addressing his desire to have spent more time with him.
Originally the song was never meant to be a two-part song, but he couldn't let go of the two ideas of "confused rage" and "sunshine after the rain" so he just combined them.
14. Sorry Seems to be The Hardest Word – Elton John
The lead single of Elton John's 1976 Blue Moves album is a ballad about a failing relationship.
Delivered with a melancholy minor key leading the song, and keeping it nearly bare with just John, a Piano, and a few backing vocals leading most of the song.
It's a pretty good song when you're in a state where you want to say sorry and get over pain, but can't seem to get to it and being left in that state.
15. Cleanin' Out My Closet – Eminem
A song with an odd mixture of apology and vitriol, with Eminem apologizing for hurting his mom, but at the same time airing their dirty laundry.
This song has left hurt between Eminem and his mom, with her stating in an interview years later that she regrets a lot of what she did and said and that the song hurt her a lot.
Eminem also seems to have matured, because he addressed his old song in "Headlights" back in 2013.
16. My Stupid Mouth – John Mayer
17. Reunited – Peaches and Herb
18. How To Save a Life – The Fray
19. Baby Come Back – Player
20. Don't Think Twice, It's Alright – Eric Clapton
21. Always on My Mind – Willie Nelson
22. Send My Love – Adele
23. The Heart of the Matter – The Eagles
24. Amazing Grace – Elvis Presley
25. People Change – Mipso
26. Let's Kiss and Make Up – Shania Twain
27. For What It's Worth – Liam Gallagher
28. We Can Work It Out – The Beatles
29. Record Year – Eric Church
30. Back to You – Selena Gomez
31. Forgive and Forget – You Me at Six
32. House of the Lord – Phil Wickham
33. Please forgive Me – Bryan Adams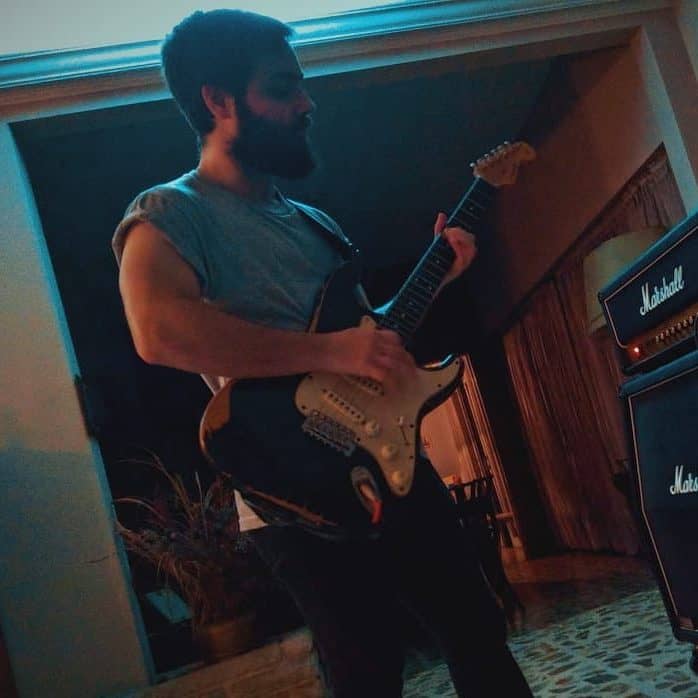 Hello there, my name is Ramiro and I've been playing guitar for almost 20 years. I'm obsessed with everything gear-related and I thought it might be worth sharing it. From guitars, pedals, amps, and synths to studio gear and production tips, I hope you find what I post here useful, and I'll try my best to keep it entertaining also.